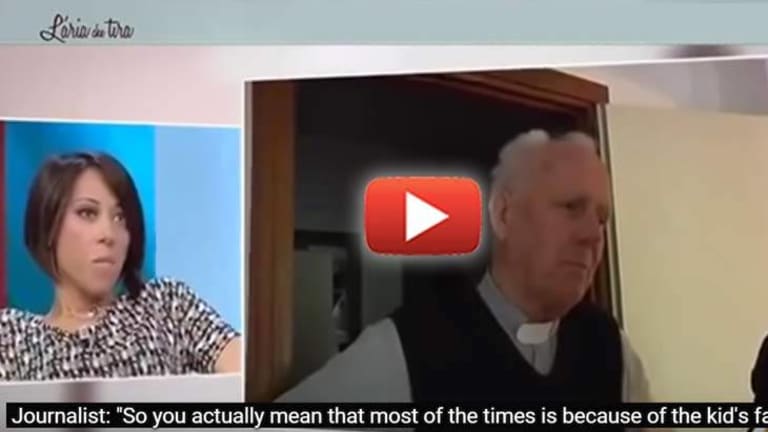 Catholic Priest Defends Pedophilia During TV Interview, Says it's the Child's Fault
In a jaw-dropping and infuriating video, a high-ranking catholic priest defended the act of pedophilia and blamed it on the children.
Trento, Italy -- A Catholic priest was suspended this week after defending pedophilia during a television interview.
During the interview, the reverend Gino Flaim claimed to "understand pedophilia" and said it's caused by the child's attempt to find affection.
He told Italy's La7 television channel, "I've been to lots of schools, and I know children. Unfortunately, there are children who seek affection because they don't receive it at home and I understand that some priests can give up. Pedophilia is a sin, and like all sins has to be accepted."
When the interviewer asked Flaim, "So, you actually mean that most of the time it's because of the kid's fault?"
Flaim responded by saying, "Yes, most of the time."
After condoning pedophilia and blaming it on the child, this holy man went on to bash homosexuality, calling it a "disease."
According to UPI, Flaim's comments resulted in his immediate suspension from his position at Trento's San Giuseppe and Pio X parish, and came as Pope Francis convened a global synod of 300 bishops on family issues, including the church's attitude toward homosexuality.
Immediately after Flaim's suspension, the Pope released a statement urging the church to "move forward," noting it is not "a museum to keep or preserve." In other words, "nothing to see here, move along now."
Last year, Pope Francais admitted that "about two percent" or 1 in 50 Roman Catholic priests are pedophiles. He then promised solutions to the history of the church essentially condoning the horrid practice. However, it appears that his solution is to sweep it under the rug.
It is no secret that the Vatican has been sweeping the issue of pedophilia under the rug for many years. Just last year, the UN issued a scathing report, blasting the Vatican for protecting pedophiles.
The U.N. committee's main human rights investigator, Sara Oviedo, led the most intense grilling the Holy See has received on the issue, according to a report by The Associated Press.
Given the "zero tolerance" policy of the Vatican, she asked, why were there "efforts to cover up and obscure these types of cases?"
Another committee member, psychologist Maria Rita Parsi, added: "If these events continue to be hidden and covered up, to what extent will children be affected?"