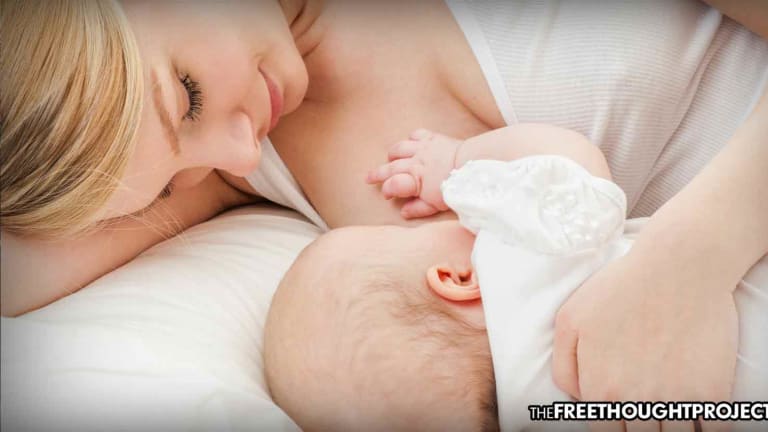 Academics Push 'Chestfeeding' Term for Inclusivity, Claim 'Breastfeeding...May be Ethically Problematic'
Academia pushes the use of the terms chestfeeding and chest milk, because "promoting breastfeeding as 'natural' may be ethically problematic."
Controversy has erupted online this month after a hospitals began issuing guidance to midwives to concentrate less on the term breastfeeding in order to be more supportive of transgender and nonbinary parents. Midwives are being instructed to use terms like "chestfeeding" and "chest milk."
According to a report from the UK Times, Brighton and Sussex University Hospitals NHS Trust is the first in the country to formally implement a gender inclusive language policy for its maternity services department, which will now be known as "perinatal services".
Staff have been instructed that "breastmilk" should be replaced with the phrases "human milk", "breast/chestmilk" or "milk from the feeding mother or parent."
Other changes include replacing the use of "woman" with "woman or person" and "father" with "parent", "co-parent" or "second biological parent", depending on the circumstances.
"BSUH always aims to meet the needs of our local populations and provide the best possible, individually tailored care for every person. By adding to the language we use we will support more inclusive care and ensure that people who identify in a different way feel the service includes and represents them," reads a statement on the hospital's website.
"Adding to the language we use is something people who use our services have been asking for, for some time. Our aim will always be to treat everyone who uses our services as an individual, providing care that is personal to them, that meets their needs and uses language they are comfortable with," said BSUH Chief Nurse, Carolyn Morrice.
This is not a trend reserved solely for the UK either as several universities in the United States are on the same page.
"We are concerned about breastfeeding promotion that praises breastfeeding as the 'natural' way to feed infants," wrote Jessica Martucci of the University of Pennsylvania Perelman School of Medicine and Anne Barnhill of Johns Hopkins University in the journal Pediatrics. "Promoting breastfeeding as 'natural' may be ethically problematic, and, even more troublingly, it may bolster this belief that 'natural' approaches are presumptively healthier."
This mirrors a push by Harvard Medical School last year when the Harvard Med Postgraduate and Continuing Education Twitter account put out a tweet, describing those who give birth as "birthing person," not woman.
After thousands of social media users mocked Harvard Medical School the school posted a follow-up tweet to clarify.
"The webinar panelists used the term 'birthing person' to include those who identify as non-binary or transgender because not all who give birth identify as 'women' or 'girls,'" explained the tweet. "We understand the reactions to this terminology and in no way meant for it to erase or dehumanize women."
However, many people see this push as doing exactly that — despite academics claiming these new "inclusive" terms are to be used "alongside" the old terms and not to replace them.
This "alongside use" does not seem to be the direction they are going. In fact, advocacy groups who use the term "mother" and "breastfeeding" instead of "birthing parent" and "chestfeeding" are already being lambasted for being "non-inclusive."
In 2019, the World Alliance for Breastfeeding Action (WABA) "was immediately hauled up in comments for being "non-inclusive," and for using the phrase, 'Breastfeeding is in the mother's domain.'"
As Feminist Current reports:
The message is clear: terminology that accurately describes a female parent and positions her in relationship to her baby, partner, or others is insensitive. Mothers, on the other hand, must accept being subsumed into an amorphous catch-all term regardless of whether this properly reflects their identity or material existence.
According to Nicole Jameson, many feminists see this move as an absurd and misogynist betrayal of mothers, simultaneously denying the sex-based oppression of women while removing their ability to name and thereby resist it.
While there is certainly controversy on both sides of this issue, it appears that one aspect is being entirely ignored — both biological males and females have breast tissue. 
Breast tissue consists of milk-producing glands (lobules), ducts that carry milk to the nipples, and fat. During puberty, women begin developing more breast tissue, and men do not. But because men are born with a small amount of breast tissue, they actually have breasts which is the reason they can still develop breast cancer.
The most important aspect to this entire debate, according to Dr. Cecilia Banga who specializes in delivering babies and notes that breast tissue is not specific to a single gender, is that babies get milk from a human.
"I think it's important to note that regardless of the origin. It's very important for infants to get milk that comes from humans. Depending on what we want to call it, breast milk, chest milk, human milk. That depends on the patient and what they are comfortable with. It doesn't change the fact that the milk is coming from humans and that it's coming from the breast," said Banga.
As WREG reports, the North Carolina doctor says that despite the term, milk itself is an essential necessity to babies' health.
"Breast milk is a huge first step towards a baby developing a strong immune system because it is chock full of multiple nutrients," said Banga.
She couldn't be more right and regardless of what you call it, it needs to happen more.
A 2016 analysis of global breastfeeding levels estimated that "increasing breastfeeding to near-universal levels for infants and young children could save over 800,000 children's lives a year worldwide, equivalent to 13 per cent of all deaths in children under two, and prevent an extra 20,000 deaths from breast cancer every year."
Sadly, it appears people are more concerned over what to call it than to actually implement it. This is the world in 2021.