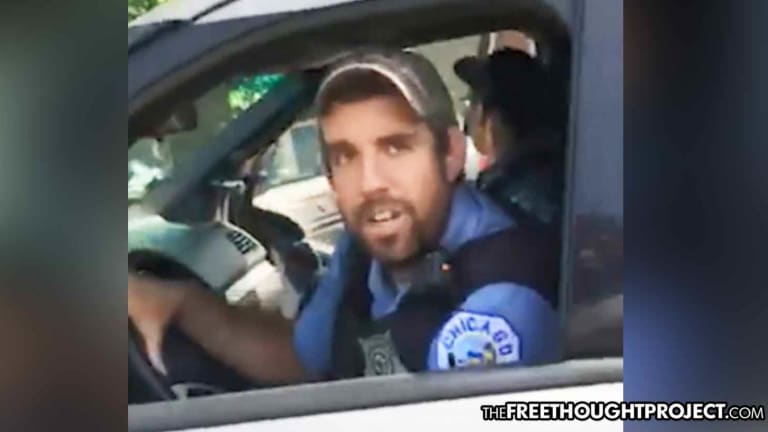 WATCH: Killer Cop Brags, "I Kill Muthafu**ers!" and is Promoted to Team to 'Strengthen Community Trust'
A cop with the worst record in Chicago, who killed a teenager, was caught bragging about killing the teen and then promoted.
Chicago, IL — The Free Thought Project first brought you the story of Chicago police officer James Hunt back in 2018. In a viral video, the cop was caught describing his job on camera as he candidly stated, "I kill motherfu**ers." The CPD officer apparently made the comment more than once as a citizen journalist caught him on camera apparently reiterating his statement.
Illustrating just how out of touch, corrupt, and apparently deadly the Chicago police department is, after he was caught on video bragging about killing people, Hunt was assigned to CPD's Community Safety Team around the time it was formed in July 2020. It was essentially a promotion.
CBS Chicago reports the team was intended to combat violent crime and "build and strengthen community relationships citywide," according to the head of the team, Deputy Chief Mike Barz.
Hunt — the cop who bragged about killing people as he threatened and falsely arrested random strangers — remained on this team for 8 months until investigators with CBS 2 found out he was on it.
This killer cop was not lying either. Hunt has killed in the past and his victim was a teenager. As CBS 2 reports:
Hunt meant it when he said he'd killed a person. In 2014, he shot 17-year-old DeSean Pittman 10 times. And during his time as a CPD officer, he's racked up more use of force reports than almost any other officer. With 28 reports between 2016 and July 2020, he has the fifth-most reports during that period, along with three other officers, according to CPD data analyzed by CBS 2.

His troubling track record extends beyond his frequent use of force. It also includes at least 24 complaints made by civilians for everything from using racist language to excessive force to illegal searches and false arrests, according to records from the Civilian Office of Police Accountability (COPA), which handles citizen complaints against police.
Even during his tenure on the team to strengthen community relations, Hunt was terrorizing the citizens of Chicago. According to COPA records, he was accused of racial profiling and harassment — all in an effort to strengthen community relations, of course.
The fact that Hunt was appointed to this team after the disturbing video below speaks to the corruption within the Chicago police department. Couple this video with the fact that Hunt killed a teenager and has one of the most heinous and brutal records in the department shows the CPD actually rewards violent cops.
As TFTP reported at the time, Hunt became YouTube famous for violating a citizen's right to film in public while bragging about his murderous past.
"Don't try to film me dude, all right?" Hunt says as he notices Kenneth Lee holding a video camera. Seemingly aware his comments are being recorded, the officer, who was in an unmarked Ford Explorer, then turned his attention toward Lee.
"How about I lock you up for walking in the street?" he asks. Clearly Lee was on the sidewalk but diverting the attention away from the explosive comment must have been a necessary defense mechanism.
Exiting the vehicle, Hunt then claimed Illinois is a "two-party state" implying it was also illegal to record police officers. That statement is also incorrect. Illinois police officers have no reasonable cause to believe their police actions are protected under the state's recording laws as he is a law enforcement officer engaged in his peace officer duties in public. Private citizens cannot be recorded when one of the parties involved is unaware such a recording is taking place. It is not a crime to film police.
After his comment, Hunt must have known he was in big trouble so he then escalated the police contact. As he casually walked directly behind the two young men who called him out for his egregious comment, he forced his shoe to make contact with the youth. "You just hit my shoe!" he said, as the trio headed to the community park.
Hunt then falsely arrested Lee using his position of power as a police officer to intimidate Lee and failed to extend "human dignity to every citizen," according to the COPA investigation.
According to reports, Lee later went on to sue the city and was awarded a $100,000 settlement for Hunt's abuse. Instead of firing one of the most violent and corrupt cops on the force, the CPD when on to promote him to a team that's ostensibly supposed to strengthen the bond between the police and the policed. However, it did the exact opposite. Nice work Chicago.