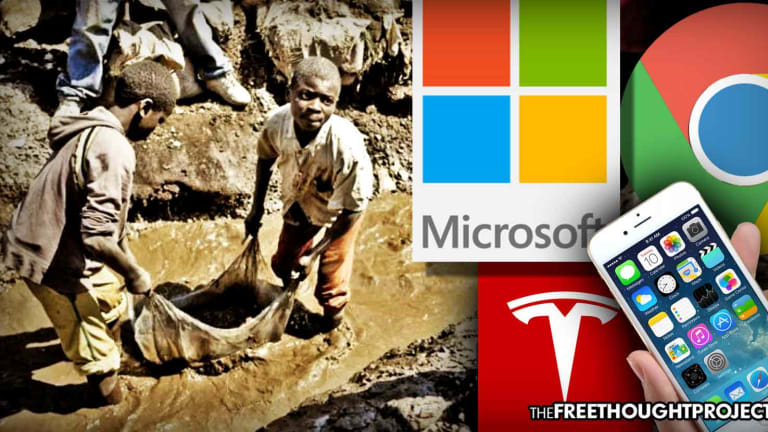 Apple, Google, Tesla, Microsoft 'Complicit' in Death of Hundreds of Kids in Cobalt Mines—Lawsuit
A lawsuit accuses Apple, Google, Microsoft, Dell and Tesla of complicity in the deaths and maiming of hundreds of children mining cobalt for batteries.
A disturbing lawsuit filed this month accuses some of the largest technology companies in the world of complicity in the deaths and maiming of hundreds, possibly thousands of children in Africa. The children work in cobalt mines under incredibly dangerous and unhealthy conditions to mine the mineral used in the production of lithium batteries to power devices for Apple, Google parent company Alphabet, Microsoft, Dell and Tesla.
The lawsuit was filed last week in the U.S. District Court in Washington D.C. by the non-profit organization International Rights Advocates, on behalf of 14 anonymous plaintiffs from the emocratic Republic of Congo ("DRC"). The plaintiffs are the guardians of children killed or maimed while mining the cobalt.
The lawsuit states that the children were either killed in tunnel or wall collapses while mining cobalt in the DRC or were maimed in such accidents. According to the lawsuit:
The DRC has the world's largest deposits of cobalt, an essential element of rechargeable lithium-ion battery in products made by all tech and electric car companies. The tech boom has caused an explosion in demand for cobalt, but in one of the most extreme contrasts imaginable, cobalt is mined in the DRC under extremely dangerous stone age conditions by children paid a dollar or two a day to supply cobalt for the expensive gadgets made by some of the richest companies in the world. The lawsuit names Apple, Alphabet, Dell, Microsoft, and Tesla as Defendants.
The conditions in which these children work are no secret. In fact, last year, a CBS investigation that followed a scathing report by Amnesty International revealed the horrifying conditions in which these children were working.
In the mines, women and children help with the so-called artisanal mining, but don't be fooled -- it is no quaint cottage industry. At barely 10 years old, children lug heavy sacks of cobalt to be washed in rivers. From as early as four, they can pick it out of a pile.

Even those too young to work -- dust-covered infants clinging to their mothers and playing on the dirty ground -- spend much of the day breathing in toxic fumes.

Officials deny there's child labor, but it was plain to see. Whenever a camera or security person or policeman appears, the children are chased away quickly.
According to the new lawsuit, the plaintiffs in the case have documented evidence that Apple, Alphabet (Google), Dell, Microsoft, and Tesla "aided and abetted the mines that abused and profited from forcing Plaintiffs and other children to mine cobalt under conditions that led to their deaths or serious, crippling injuries."
Over half the world's cobalt comes specifically from the DRC and the latest research by the United Nations Children's Fund (UNICEF) estimates 40,000 children are working in DRC mines. The tens of thousands of children working in these mines coupled with the demand for cobalt on the market means that there are likely more tech companies complicit in the death and maiming of children outside of Apple, Alphabet, Dell, Microsoft, and Tesla.
According to the lawsuit, a research team working on behalf of the plaintiffs is investigating other tech companies who may be participating in the suffering of these children.
It is well-documented that the young children mining Defendants' cobalt are not merely being forced to work full-time, extremely dangerous mining jobs at the expense their educations and futures; they are being regularly maimed and killed. Rather than step up to help these children with a negligible portion of their vast wealth and power, these companies do nothing but continue to benefit from cheap cobalt mined by kids robbed of their childhoods, their health, and for far too many, their lives. 
Sadly, child slave labor is a norm around the world when it comes to massive corporations. As TFTP reported in 2016, Nestle became embroiled in controversy, as the company went public with the admission that slave labor had been found in the multinational company's supply chain in Thailand. Nestle claimed at the time that they would promise to self police and rid themselves of this problem. As we reported last year, however, that never happened and evidence of Nestle's lack of follow through on self-regulation can be clearly seen.