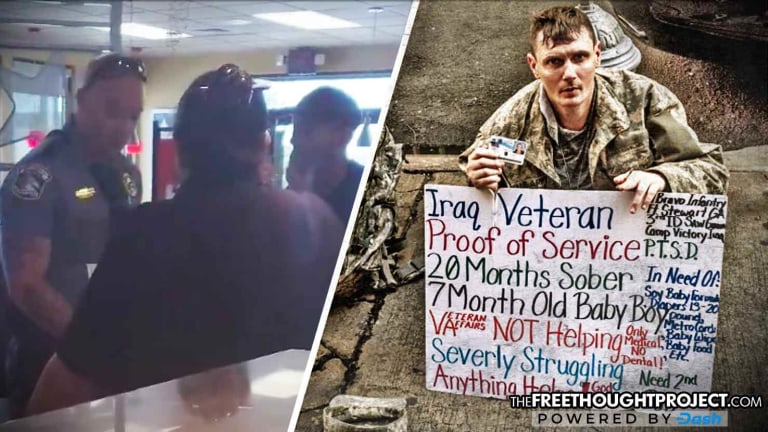 WATCH: Cop Called to Hardee's to Remove Homeless Vet—Instead of Arresting Him, He Buys Him Food
When police received reports of a homeless veteran begging for money, an officer responded with compassion and bought the man a meal.
Myrtle Beach, SC – When police received complaints about a homeless veteran begging for money, the officer who responded could have aggressively demanded that the man leave the area, and then use physical force if he did not immediately comply. But instead, the officer did something unexpected, he bought the man a meal.
When Horry County Police officer CJ Mullinax arrived at a local Hardee's Restaurant, he found a homeless man who just wanted a meal. Footage of the encounter was
" target="_blank" rel="noopener">posted on Facebook by Victoria Paige Summer, an employee at the restaurant. She said employees were giving the man food and allowing him to hang around but that one unhappy patron decided to call 911 instead.
Leading by example, Mullinax arrived, had a simple conversation with the man, reached into his wallet, and bought him a meal. The video has now gone viral.
"Police were called to our restaurant today because a homeless man was asking people for their scraps to eat," Summer said. "This police officer bought the homeless man food and handled the situation amazingly!"
While many individuals feel the need to film police encounters because they are worried about what could go wrong, Summer told WMBF News that she started recording because she was thrilled to see that Officer Mullinax "had so much compassion."
This is not the first time Mullinax was caught on camera conducting community policing with positive results. In 2015, when he was working for the Bennettsville Police Department, the officer was caught on camera playing football with kids in the community.
At the time, Mullinax told ABC News that he hoped the public would see the interaction as his way to gain the community's trust.
"Whenever I have interactions with someone, despite what they've done, I'm going to treat them how I would want to be treated," Mullinax said. "We're all human, we all make mistakes, but at the same time, it's my responsibility as a cop to help fix anything wrong, and I want to do that in the most respectful way possible."
Not all police encounters in Horry County have a happy ending. Just a few months ago, in another viral video, a Myrtle Beach police officer was caught on camera showing a homeless man getting kicked out of McDonald's for the crime of being homeless. The man filming the encounter was enraged the police kicked the man out apparently for simply for being unkempt.
The man who filmed the encounter, Yossi Gallo, told The Sun News that he was ordering food at the McDonald's and when he found out that the homeless man was unable to pay, he said he would buy his meal for him. Five minutes later, a police officer arrived at the scene and attempted to force the man to leave.
"He was very quiet, very polite, didn't cause any kind of problem," Gallo said. "He didn't smell. He doesn't act up. He wasn't doing anything that you would not want in a restaurant."
This week, as the eyes of the mainstream media, will be turned toward the "Coward of Broward County," or former Parkland High School Resource Officer Scot Peterson, it should be noted that not all police officers are cowards. Not all cops harass the homeless, not all cops abuse their badges, and not all cops trample citizens' Constitutional Rights. Some cops, such as Officer CJ Mullinax, actually take the time to act in the best interest of the community by helping their fellow citizens.
The homeless man in the latest video has been identified as a veteran named "Donald," according to a Myrtle Beach resident who told the New York Post that he is "the nicest guy."
"He served in the Army from 1978-1981 then got out, worked in construction and then hit a wall which brought him to a point in his life that walked him down the road to homelessness," the resident said.