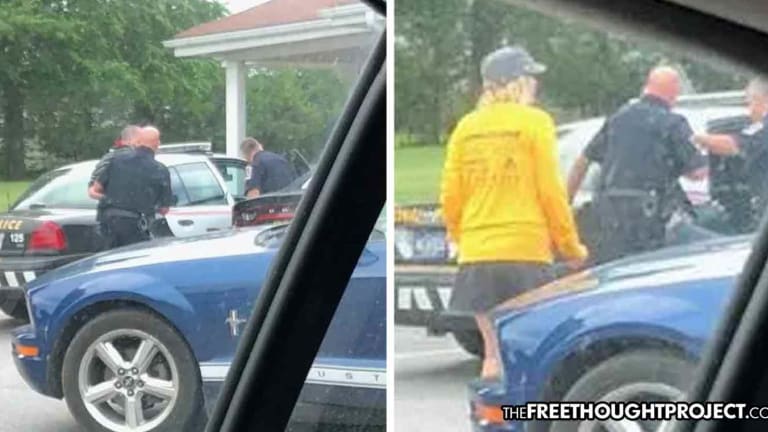 Judge Denies Cop Blue Privilege After He Shot a Handcuffed, Non-violent Mentally Ill Man
A cop has been fighting repeatedly to have his case dropped after shooting an handcuffed man, but his privilege is being denied.
Spring Grove, PA — Six months after police shot 32-year-old Ryan Smith, while he was handcuffed in the back of a police car, an officer was charged. Officer Stuart Harrison is facing a second degree assault charge after claiming he 'accidentally' shot Smith in the leg for not getting into the patrol car fast enough. Hanson stated that he thought he was holding his taser while attempting to force Smith's leg into his cruiser.
Harrison claimed that he meant to grab his taser and instead grabbed his gun which is heaver, has a skinnier grip, a different trigger, and is not yellow.
Since the day he was charged, the officer's defense team and even the prosecutors, who are apparently extremely pro-cop, have repeatedly asked for the case to be dropped. This week, in a rare move, the York County District Attorney's Office stated they cannot drop the criminal case against Harrison thanks to a judge who is refusing to give Harrison blue privilege.
President Judge Maria Musti Cook made the decision in the case wondering why Harrison is being treated differently than anyone else who would have shot a mentally ill restrained man in the leg.
"I have to say — I'm trying to say this politely — I found it quite lame," Cook said of the legal reasoning set out in the motion to dismiss, according to the York Daily Record. "Why is this case so different than all other cases that come before this court?"
The answer to that question, of course, is the fact that Harrison wears a badge.
On the day in question, Harrison, now 59, responded to a call at a bank about a man who was clearly mentally ill and refusing to leave. Smith had tried to withdraw $500,000 and didn't have an account at the bank. His family said he had been released from the psychiatric hospital the day before.
Amanda Cozio took photos during Smith's arrest, which document her claims that he was posing no threat and had no reason to be shot.
"He didn't even warn him," the 25-year-old woman said. "He pulled his gun out and shot ... No warning, nothing. The guy didn't do anything. He was sitting there ... For him to be handcuffed and sitting down, why?"
Police immediately admitted to shooting Smith. However, when asked if he was in handcuffs at the time of the shooting, they chose to remain silent. It has since been determined that he was indeed handcuffed.
In the images above, it appears that there is no struggle and the man appears to be cooperating.
According to police, and the 911 call below, officers responded to a disturbance call of a man who apparently refused to leave the bank.
Pennsylvania State Police issued a statement noting that "responding officers encountered a male subject inside of the bank that resulted in a confrontation."
That confrontation was captured on witness cellphone and Smith never appeared to be violent.
After engaging Smith and cuffing him on the ground, officers are seen escorting him out, apparently without any trouble.
"I seen them bring a gentleman out in handcuffs," Cozio said. "They walked him over to the car, slammed him on the side of the police cruiser and searched him."
The woman seen in the photo above was apparently yelling at the police, "He's not in his right state of mind, you don't understand," Cozio said.
According to Cozio, after the brief spat of yelling, the man was placed in the back of the police car, but with his legs our and his feet on the ground. The car door was open, and the officer shot him.
"And they shot him," Cozio said. "They shot him in the back of the car ... while he was sitting down in the back of the cruiser ... I don't understand how this could happen."
Moments later, according to the 911 scanner, the officer then radioed in "shots fired," indicating that he'd shot the man in the leg. Police then asked dispatch to send EMS.
According to police, Smith was shot in the leg and the bullet hit an artery, causing severe bleeding.
After he was shot, Smith fell to the ground causing the woman who was with him to go into full panic mode. The woman began yelling, "You didn't have to shoot him, why did you shoot him? He's not in his right state of mind," according to Cozio.
After watching this scene unfold, Cozio says she decided to step in and help the woman out so they didn't shoot her too.
"I worried about, 'Let's get (her) back, so they don't shoot her," Cozio said. "She was crying and shaking."
Smith pleaded guilty to defiant trespass and disorderly conduct for one year of probation over the incident and his family has since filed a lawsuit.