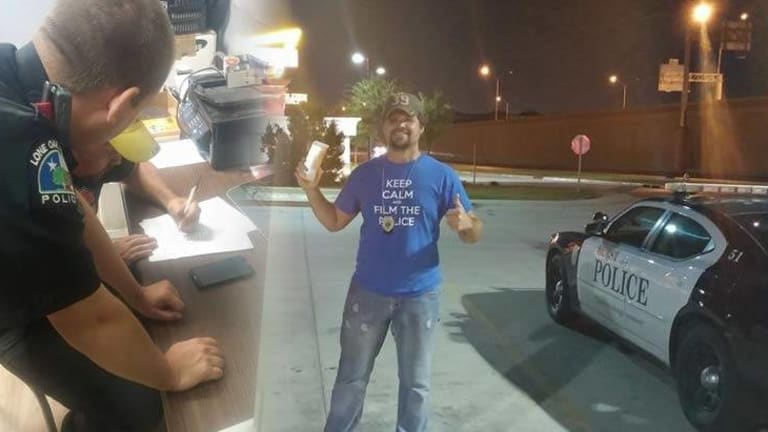 Cop Watchers Help Save Woman's Life, Team Up With Local Cops to Catch Gun Wielding Kidnapper
A heartening story unfolded Wednesday night as Cop Watchers and cops joined together to thwart a murder and catch a criminal.
Lone Oak, TX -- A heartening story unfolded Wednesday night as Cop Watchers and cops joined together to save a life and catch a criminal.
Cop watchers Kory Watkins and Kenny Lovett were at a city council meeting Wednesday night when the incident began.
Watkins explains how it unfolded,
I was in the city council meeting and Kenny was in the parking lot waiting on me. Kenny witnessed a guy pull a gun on a women in the car next to him. Kenny said the guy took off in a van.
After the man pointed the gun at the female driver, he then apparently forced her to drive away in the minivan. Watkins continues,
He (Lovett) sent me a message to let me know what he had seen. I grabbed the police chief and we went outside.
Watkins explains that the chief then took off in pursuit and he and Lovett went searching too. Had these two not taken action after seeing this assault with a deadly weapon, the woman could very well be dead today.
Below is the video taken by Watkins and Lovett while they were in pursuit of Hogue.
The suspect, who was allegedly holding the driver of the van hostage, was Roger Dale Hogue. Hogue had just been released from prison for a murder he committed in 1998.
Hogue and his victim were later found driving down a dirt road by a local resident, Lonnie Jordan.
"As I turned a corner there was this blue minivan just stopped in the road," Jordan said.
Jordan also witnessed Hogue pointing a weapon at the woman inside. He then called Officer Mike Parker with the Hunt County Fire Marshal/Environmental Enforcement Office.
According to the Herald-Banner Newspaper, 
Parker catches up and pulls the minivan over in the vicinity of FM 1571 and County Road 3405, near the entrance to the Villages of Lone Oak. He noticed the woman driver was extremely upset, but was able to remove her from the vehicle as Smallwood and Hunt County Sheriff's Deputy Brown also arrived.

Brown discovered a .380 ACP caliber pistol in the glove compartment next to the passenger seat.

"He told us that's where he put it," Parker said.

It was at this point that Hogue was identified.

"His exact words were, 'I just got out of prison for murder,'" Parker said.
The woman inside the vehicle was hysterical and explained to officers how she was being held against her will at gunpoint by this crazed man.
Through the coordinated efforts of citizens and police interested in stopping actual crimes, a woman's life was saved.
This story should serve as an example for those who claim that police accountability activists are cop haters. This is simply not true. Cop watchers care about the preservation of life and the prevention of injustice. We police the police out of love, not hate.