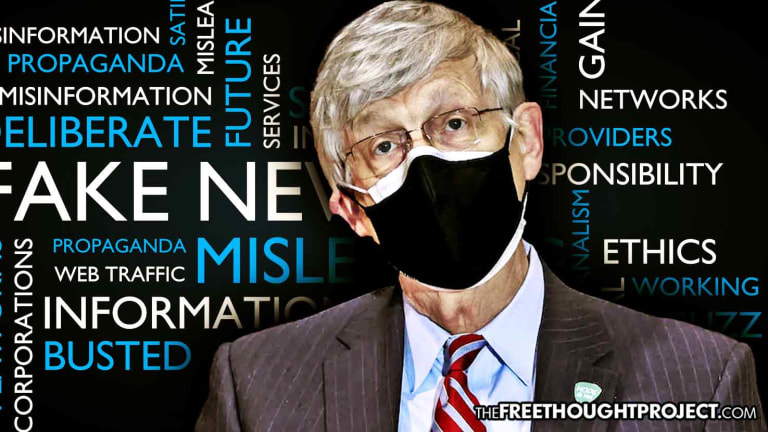 NIH Director Calls for Anyone Who Spreads COVID 'Misinformation' Online to be 'Brought to Justice'
The thought police might literally be police if we don't resist this misinformation narrative.
Earlier this month, TFTP reported on a dangerous narrative being weaved into the mainstream as Pfizer CEO Albert Bourla called people who spread misinformation on Covid-19 vaccines, "criminals" and claimed they have cost "millions of lives." His comments are in line with a sentiment being pushed by the rabid mandatory vaccine crowd and sadly enough, they are being embraced by many.
Fast forward to this week and the Washington Post is helping to further that narrative in an interview with the National Institutes of Health (NIH) Director Francis Collins who is calling for anyone who spreads "misinformation" about COVID-19 online to be "brought to justice."
"Conspiracies are winning here. Truth is losing. That's a really serious indictment of the way in which our society seems to be traveling," Collins told the Washington Post.
Citing an onslaught of angry messages directed at Dr. Anthony Fauci -- who deserves every one of them -- Collins claimed that those responsible for such behavior should be identified and "brought to justice."
The article used an example of what they called "misinformation" which was Fauci's alleged involvement in the horrific torture of beagle puppies. Though fact checkers claimed Fauci had nothing to do with the experiments, it is a fact they occurred under his leadership.
Exactly what constitutes "misinformation" has been a goal post playing hopscotch over the last several years. The establishment has waged war on anyone who questions the official narrative, and those who do, are memory holed, censored, banned, and wiped off the internet.
In multiple instances, these same people have been censored into oblivion only to be proven right and vindicated months later as the establishment is forced to admit they were wrong. This vindication carries no reward however, as the bans remain in place and those who put out the truth first have no recourse.
As we reported several weeks ago, the British Medical Journal published an incendiary report exposing faked data, blind trial failures, poorly trained vaccinators, and a slow follow-up on adverse reactions in the phase-three trial of Pfizer's Covid jab. Is that not misinformation?
What about the CDC director stating that the vaccine is 100% effective? Or Fauci saying not to wear masks and then telling Americans to wear two masks before claiming that all three vaccines are 100% effective?
Of course, none of that "misinformation" will ever be acknowledged by those who purvey it. In realty, the medical industrial complex, in coordination with the federal government is waging a massive campaign to control the narrative on the vaccine.
Those who report being injured by the jab or who express legitimate concerns are censored into oblivion as the establishment keeps shifting goal posts with booster shots and even changing the definition of vaccination.
Misinformation is entirely subjective and as we've seen over the past two years, what is previously deemed misinformation and censored into the darkness, often turns out to be true down the road. Making posts skeptical of the vaccine online could easily be deemed misinformation and people could go to jail for their free speech if these people get their way.
In fact, in the UK, legislation is already being rammed through that could do just that. The "Online Safety Bill," which ostensibly punishes social media companies that allow harassment may be expanded to include new criminal penalties for individuals who engage in mean speech online.
"Trolls could face two years in prison for sending messages or posting content that causes psychological harm under legislation targeting online hate," the Times of London reports. "The Department for Culture, Media & Sport has accepted recommendations from the Law Commission for crimes to be based on 'likely psychological harm.' The proposed law change will shift the focus on to the 'harmful effect' of a message rather than if it contains 'indecent' or 'grossly offensive' content, which is the present basis for assessing its criminality."
If this narrative continues to move forward without resistance, it won't be much longer that legislation like this makes its way to the United States.