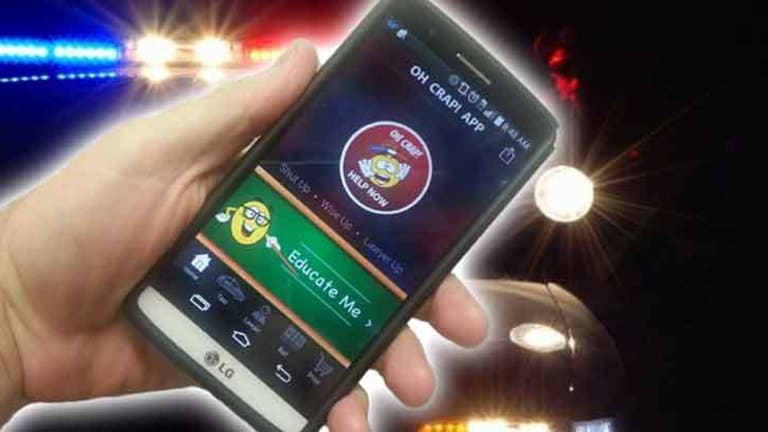 "Oh Crap App" Helps You Out When You're Stopped by Cops. Police Say it Promotes Drunk Driving
This Free app guides you through a police encounter as well as records it. This is apparently threatening to law enforcement.
(West Des Moines, Iowa) Less than a year after stirring up controversy with their Iowa specific DUI App, three Iowa attorneys have now launched a national version of their app, available and active to users across the entire nation.
Aptly named the "Oh Crap App," the app is a crash course for citizens on what to do and what not to do when pulled over or confronted by law enforcement. It explains citizen's basic legal rights and DUI specific rights, features an emergency button which records the initial interaction between the driver and the law enforcement officer, and provides immediate contact with a lawyer in the user's geographic proximity. The information it provides is state specific based upon the location of the user at the time the app is used. The newest version also provides users with a list of Taxi or alternative ride services in their area as well.
The launch of the newest version comes on the heels of national demonstrations and unrest in response to alleged police misconduct across the nation. Co-Founder, Robert Rehkemper said: "The overwhelmingly positive response we received from the public following the release of our Iowa specific app back in March, really let us know that a tool like this was needed on a national level, and not just for drunk driving situations." Rehkemper further explained: "Everyday citizens are faced with a variety of situations, not just in the drunk driving context, where knowing and exercising their rights can have important life implications. This is not just a drunk driving app; it is a police interaction app."
The app is FREE on iTunes and Google Play Store and with over 80,000 downloads nationwide, the popularity of the app is soaring but is not without controversy. Law enforcement is concerned that the app may promote drunk driving or confrontation with officers while its founders explain that its true purpose is to educate the public and document the invocation of their rights in the appropriate circumstances.
According to Rehkemper, "The majority of the public does not know the extent of their legal rights or are misinformed on what their rights truly are. Uncertainty and misinformation create unnecessary conflict. This app will assist both law enforcement and the citizens by correctly educating users on their legal rights."