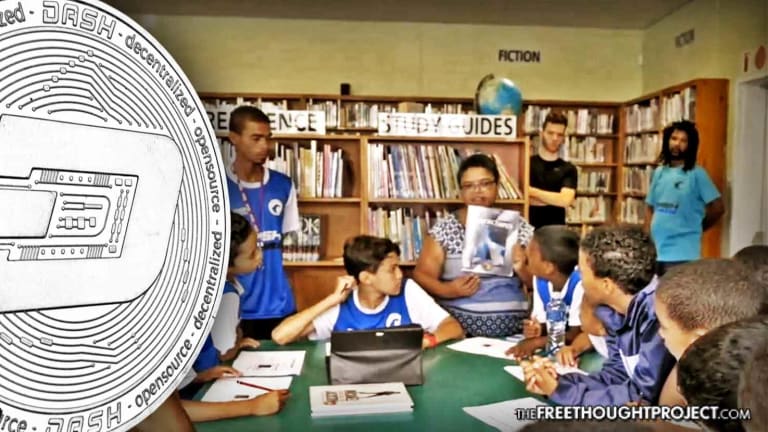 Not Just for Day Trading, Cryptocurrency Is Funding and Helping to Educate Children In Africa
Dash is sponsoring youth programs in Africa, where children have access to healthy food, an extensive library, and athletic activities.
When it comes to mainstream media coverage of cryptocurrency, the silicon valley bros with their mansions and lambos seem to be getting all of the attention, but there is another much more important side of this community that is using their newfound wealth to make a difference all over the world.
Earlier this month, we reported that the Dash cryptocurrency has made numerous partnerships with alternative media outlets, including Ben Swan, Adam Kokesh, We Are Change, and your very own, Free Thought Project. While keeping the alternative media alive is a mission that is near and dear to our hearts, Dash has their hands in a number of projects that are even more important.
For example, Dash is also sponsoring youth programs in Africa, where children have access to healthy food, an extensive library, and athletic activities. The program centers around a soccer team called the Dash Leopards and they are the first in the world to be funded by blockchain technology.
The effort was organized by Slottle Addams, a software developer, network engineer, and university lecturer, who is also responsible for Dash-Africa, a group dedicated to promoting cryptocurrency in the region and organizing programs and events to enrich local communities. Addams then hired Hangberg coach and mentor Ricardo Phillip, who is well known for getting kids involved in sports.
"The aim of Dash Leopards is to motivate the kids and provide them with life insights so that we can send them on their way to successful lives," Phillips said. "In Hangberg our kids are faced with a lot of negativity, so our aim is to introduce something positive into their lives. With the addition of the under-15 players in February, our numbers will be up to 45 so we are growing all the time."
A sponsorship from Dash pays for everything the organization needs—from uniforms, balls, and goal posts, to meals and other amenities. Thanks to this program, 25 young soccer players from Hout Bay had the opportunity of a lifetime to compete in an overseas tournament later this year.
"The kids are over the moon about the trip. We believe this experience can give them a taste of what they can become if they work hard," Phillips said.
There is actually much more charity and goodwill in the cryptocurrency space than most people commonly hear about.
Late last year, Ethereum co-founder Vitalik Buterin donated $2.4 million in Ether to the SENS Research Foundation, a charity funding research for treating age-related diseases.
According to cointelegraph.com, the SENS Research Foundation has already received two large donations totaling $2 million in Bitcoin (BTC) from the anonymous Bitcoin-only charity fund, Pineapple Fund—the first million dollars in December 2017 and another $1 million in BTC on Feb. 2.
The Pineapple Fund is a philanthropic effort started by an anonymous individual to give away 5,057 Bitcoins to charity. The fund has already donated to a variety of different causes, including a $1 million donation to the psychedelic research and legalization non-profit MAPS (the Multidisciplinary Association for Psychedelic Studies).

These are just a few of the great charitable efforts made by the crypto community, but the technology itself is also a vehicle for great change, especially for those of us who live in parts of the world that don't have access to traditional credit or banking.
Many people in developing countries use crypto on a daily basis for most of their services. It is a normal part of life for them, it is not a novelty as it is for many in the U.S. These are likely the people who will lead the crypto revolution in terms of full use and adoption since these are the places where people can get the absolute most out of the technology—and Dash is leading the pack.
Cryptocurrency will become more and more relevant as the fiat currencies issued by governments continue to collapse, and as we have seen in places like Venezuela and India, governments will attempt to co-opt the technology and implement their own blockchain currencies, which will likely not have the privacy features that crypto enthusiasts have come to expect. Regardless, governments will not be able to shut down crypto and will be forced to compete on the market for a change.
The media talks about the criminals that use cryptocurrency, and they talk about the millionaires too but rarely do they speak of the average consumer who is actually using this technology to improve their own lives. It is likely that the western world will see more regulation of crypto and slower widespread adoption, but that won't stop the technology from taking hold in the places where it can be most useful. If you want to see how Dash is already being adopted by businesses across the planet as an accepted form of payment, forever changing the face of the monetary world, check out Dash.org and create your wallet today.