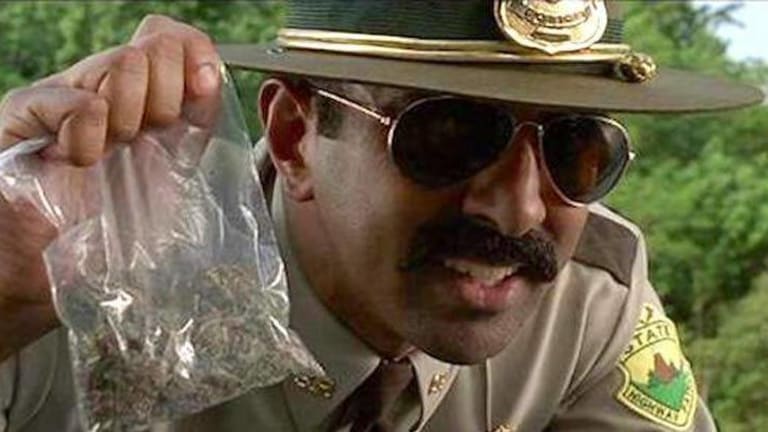 D.C. Man Walks into Police Station, Asks for his Seized Weed Back... Cops Gave it Back
Now that marijuana has been legalized in the nation's capital, there is no reason for the police to hold this man's pot any longer.
A Washington, DC man walked into a police station, and asked for marijuana. The cops gave it to him. It's no joke or riddle, but the reality of pot legalization in the nation's capital. However, there is a hitch ‒ the weed already belonged to him.
A resident of the District's Ward 7 ‒ a more economically depressed area that largely lies east of the Anacostia River ‒ walked into a Metropolitan Police Department (MPD) 6th District (6D) station Monday night to take advantage of a little-noticed aspect of DC's recent marijuana legalization.
"He walked in to recover his property from a recent arrest," Ward 7 Councilmember Yvette Alexander, who was told of the exchange by a staff member who witnessed it, told WAMU."He walked in and said, 'I want my property back, and want to make sure I get my weed back'."
"Dude said, 'I want my weed back'," she told the Washington City Paper. "The police gave him his weed back. He knew the law."
Over 70 percent of District residents voted to legalize recreational pot in November, and the law went into effect on Thursday, despite a federal law banning the city from spending any money on enacting it and congressional threats against DC's mayor.
The day before pot became legal, Mayor Muriel Bowser and MPD Chief Cathy Lanier outlined the rules and enforcement plans for the new law. It allows adults aged 21 and older to lawfully possess up to two ounces of marijuana and use it on private property.
They may also transfer up to one ounce of marijuana to another person, "as long as no money, goods or services are exchanged and the recipient is 21 years of age or older," and grow up to of six plants.
MPD also distributed a Special Order to its officers on the legalization and possession of marijuana, and how they are to handle various situations dealing with pot. According to the order:
A person whose marijuana or marijuana-infused edible goods was seized pursuant to Part IV.D. [Possession of Two Ounces or Less of Marijuana by Persons Appearing to Be Under 21 Years of Age] may seek the return of their property by visiting the station in the District where the marijuana was seized no sooner than 24 hours after the seizure
The person must provide the designated District station member with a copy of the Notice of Violation (NOV), and a government-issued ID proving they are at least 21 years old. The order also states that confiscated legal marijuana must be placed in a heat-sealed bag for storage, and warns: "Treat it as prisoner's property."
The man missing his marijuana had been arrested last week on a charge unrelated to drugs, the Washington Post reported. Along with his pot, police confiscated his belt, money, wallet and keys.
"This property was less than two ounces of marijuana, and was returned to the arrestee with the other property held at the time of his arrest," said Gwendolyn Crump, MPD's chief spokeswoman.
Dexter Humphrey, Alexander's associate director for constituent services, witnessed the interaction between the man and the police. He and the council member were at the station for a community meeting. He told the Post that the officer initially appeared confused by the man's request for his weed back.
"To the officer's credit, he said 'This is a first for me, I never did this before'," Humphrey said.
Humphrey said he asked the officer, "Have you ever arrested a suspect, found marijuana and turned around given it back to him?"
The officer ‒ who told the aide that he had been on the force for 11 years ‒ said, "No, I never did that before."
Alexander was pleasantly surprised.
"They gave him his weed back!" she told WAMU.
"Only in 6D," the councilwoman added, laughing.
Any seized, legal marijuana that is not claimed within 30 days will be destroyed as contraband under the Special Order.