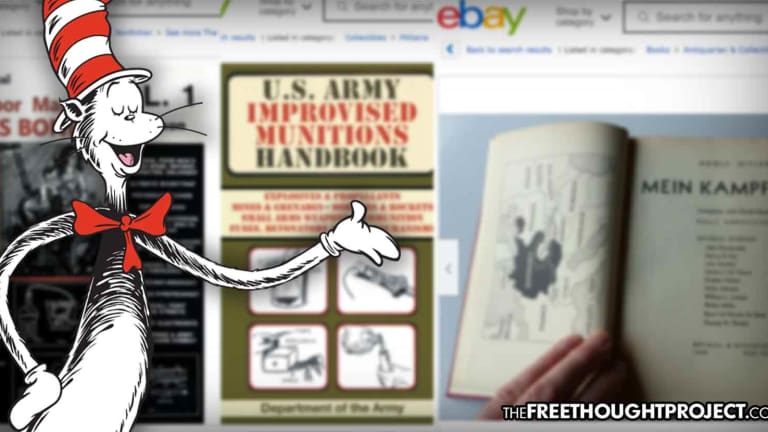 If Nazi & Bomb Making Books Can Openly Sell On eBay, Why Did They Cancel Dr. Seuss?
As eBay and others moved to cancel Dr. Seuss books, they openly allow the sale of Nazi propaganda, bomb making, and improvised weapons.
Earlier this week, the internet was in an uproar amid the controversy over the company who owns the rights to Dr. Seuss announcing that several of their titles will no longer be sold because they were deemed to contain "insensitive and racist imagery."
Dr. Seuss Enterprises, which preserves the author's legacy, announced this week six books - "And to Think That I Saw It on Mulberry Street," "If I Ran the Zoo," "McElligot's Pool," "On Beyond Zebra!," "Scrambled Eggs Super!," and "The Cat's Quizzer" – would no longer be printed.
"These books portray people in ways that are hurtful and wrong," Dr. Seuss Enterprises told The Associated Press in a statement.
"Ceasing sales of these books is only part of our commitment and our broader plan to ensure Dr. Seuss Enterprises' catalog represents and supports all communities and families," it said, noting that they came to the decision internally.
Whether planned or not, the companies decision to stop selling these six titles sent sales of Dr. Seuss books through the roof. As of Thursday "The Cat in The Hat," "Oh, The Places You'll Go" and "Green Eggs and Ham," three of Seuss's best-known works, were all out of stock on Amazon and other places.
For a brief moment, the banned books were gaining premium prices of several hundred dollars on eBay as well.
People aren't buying these now-cancelled books for hundreds of dollars each to preserve the imagery of the controversial content so they can teach their children racial stereotypes. They are simply snagging — what they think will be — a valuable collectable in the future because of nostalgia and to make sure the books don't entirely disappear; which they should absolutely be doing.
While outlets like Amazon and others all continued to sell Dr. Seuss's works, sites like eBay quickly moved to ban the sale of these six titles in a failed attempt at virtue signaling that was embarrassing on many fronts. What's more, it exposed a hypocrisy that runs deep in the realm of big tech.
On eBay right now, there are multiple auctions for books on how to make improvised explosives and racism. Yet the auction giant is worried about questionably offensive children's books with messages on how to be a good person.
Kurt Saxon, 88, is a former member of the American Nazi Party and author of The Poor Man's James Bond, a series of books on improvised weapons and munitions. Currently, there are dozens of copies of these books for sale on eBay.
If Nazi bomb making isn't your thing, there are also dozens of copies of the U.S. Army Improvised Munitions Handbook US Army Survival Paperback for sale on the platform.
In fact, there are countless "controversial" books that remain for sale on eBay despite the auction giant cancelling Dr. Seuss.
As the LA Times reported Thursday:
EBay allows people to sell Adolf Hitler's Mein Kampf on its site, as well as the infamously false and anti-Semitic Protocols of the Elders of Zion. Peter Pan, laden with stereotypes about Native Americans, is for sale there, along with the many books of the Little House on the Prairie series, which includes minstrel shows, refers to Black people as "darkies" and contains many negative depictions of Native Americans even though the white protagonists were illegally squatting on Indian land.
Here's the kicker... Despite the racist and offensive nature of these books and others like them — none of them should ever be banned, cancelled or otherwise removed. 
Badly written books with insensitive content should not be wiped from our memories through cancellation. It is history and is there as a reminder. History is not ours to change. It is a reminder of where we have been, how to learn from it, and to make sure we never repeat it. Those who attempt to change history by erasing it through cancelling, banning, or censoring, are doing a disservice to humanity by deleting our previous mistakes so we cannot learn from them.
To be clear, Dr. Seuss once drew entirely racist advertisements for companies, up to and including using the n-word. He also harbored anti-Japanese sentiment during World War II and produced several cartoons that could be seen as defending U.S. internment camps. However, like people do over time — by learning from their historical mistakes — Dr. Seuss changed his views and began publishing clearly anti-racist cartoons.
If we erase Theodor Seuss Geisel's older offensive material, future generations will not see the possibilities that obstinance and ignorance can be transformed into compassion and acceptance. They will not see that learning from mistakes is possible — because the mistakes will be gone. This is not a future we should be promoting.
This is why cancel culture is so dangerous — not because conservatives are pissed when liberals gang up on them on Twitter — but because it promotes historical amnesia that sets us on a path to fulfill the popular aphorism, "Those who cannot remember the past are condemned to repeat it."
How about we stop cancelling things and start learning from them? After all, the phrase Learning Culture is far more appealing. Who's in?