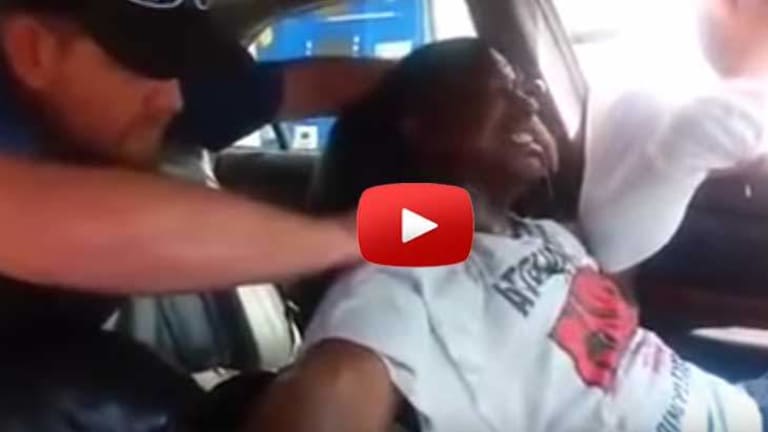 Dramatic Video of Heroic Good Samaritans Shows What the World Would Be Like Without Police
A dramatic video shows good samaritans thwart a robbery and detain the suspect, without any police action.
Nashville, TN – A video uploaded to Facebook this week shows what vigilante citizens do in the face of danger, and without police.
According to WKRN,
A woman fought back after a man tried to steal her purse from inside her car at a West End Avenue gas station on Tuesday.

The woman was loading items into her car at the Exxon Tiger Market at 3400 West End Avenue when Ezell Graham, 31, allegedly reached into her car and took her purse and a box of doughnuts.

The victim reportedly ran after Graham and took her purse back from him, which was when bystanders in the parking lot noticed and rushed to help her. Three men restrained Ezell until Metro police arrived.
The dramatic video shows the men holding the would-be robber as he cried about being caught. A man in the back seat applied pressure point holds to stop the man from struggling.
This crook was subdued by three ordinary citizens who did not have to deploy a baton, a taser, much less fire a weapon -- they didn't even have handcuffs.
Eventually, the police would show up to haul Graham off to jail, but the entire incident was thwarted and handled prior to their arrival.
What this video illustrates is that police cannot and will not be everywhere at all times.
The idea that police protect you is a misconception as they will seldom prevent violence. They normally show up after the violence or crime has been committed and then try and find a culprit, or not.
The average response time to a 9-1-1 call is 10 minutes nationwide. In some cases, the dispatchers do not even take the caller seriously and the victim ends up dead, when a crime could have actually been prevented.
The reality is that police act as revenue collectors for the state and exist to enforce the law only.
In a perfect world, police would show up prior to a crime and stop it, or at least during a crime, but this is simply not a reality.
Police in America also do not "protect and serve." If you doubt this claim simply refer to Warren v. District of Columbia, in which the Supreme Court ruled that the police do not have a constitutional duty to protect a person from harm.