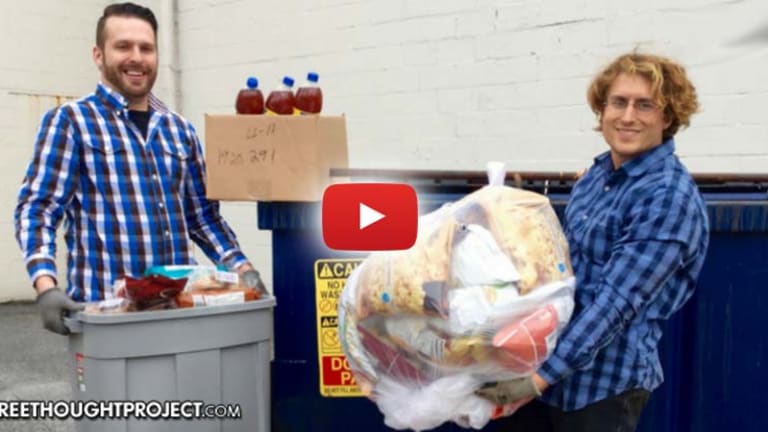 Good Samaritans Arrested for Taking Perfectly Good Food from Dumpsters to Give to Charity
Two good Samaritans found solutions to food waste and hunger -- however, they were shut down by police for their selfless acts.
According to the USDA, Americans waste between 30 and 40 percent of their food supply, which translates into 133 billion pounds and $161 billion worth of food per year, and waste continues to rise. Corporate retail food and restaurants account for a great deal of waste, throwing out arbitrarily expired food products, and dishes left unsold. But even household food waste accounts for a whopping 120 pounds per month, per family of four, according to a CBS News report. Enter Anthony Moyer and Samuel Troyer, residents of Lebanon, Pennsylvania, who knew about the wasteful habits of such corporate entities, and decided to do something about it.
The brothers-in-law thought it would be a good idea to see what they could salvage from local food markets, pharmacies, and other retail establishments. They would wait until about 10 pm, and then head off to the market, although they weren't there to make purchases. Instead, the two went dumpster diving for the valuable goods, which were sealed and unopened, simply discarded and headed for the local trash dump.
As Penn Live reports, At first, they'd bring their haul home and share it with their family and friends. When it got to be too much, the two men started donating whatever they had left to charitable organizations around central Pennsylvania.
Everything seemed to be going fine until the authorities showed up and arrested the dynamic duo for trespassing.
Their arrest came in October after the pair had been dumpster diving for almost 10 months. "Moyer and Troyer were charged with loitering and prowling at night time and defiant trespassing, both misdemeanors of the third degree," writes Penn Live, after they were caught going through a CVS Pharmacy trash heap in Hershey, PA.
Quickly coming to the aid of Moyer and Troyer, however, is anti-waste activist Rob Greenfield, who's set up a GoFundMe page, called the Dumpster Divers Defense Fund. The fund is to help cover some of their legal expenses and encourage other dumpster divers to take up their cause and reclaim those corporate losses.
Greenfield is the founder of The Food Waste Fiasco, which according to their website, seeks to prevent hunger by reclaiming food losses and distributing them to the poor, needy, and most of all, hungry. On his Facebook page, Greenfield praised the two men for their actions saying,
"These two incredibly nice guys were rescuing food from a CVS dumpster to give to people in need and were ARRESTED. I've started the Dumpster Divers Defense Fund to help them and any future food waste warriors who get hassled by the law. Please, please donate!"
Greenfield documented Moyer and Troyer's story in a crafty little Youtube video, which shows their brotherly commitment to ending as much hunger in their community as possible. The two can be seen, boxes of food in hand, making a charitable donation to the Alpha & Omega ministry in their hometown.
The video claims the dumpster at the Hershey CVS had no signs stating "no trespassing," the fencing was open, and that dumpster diving is not even illegal in the State of Pennsylvania.
Even CVS stated that they did not want to pair arrested. "While we do not condone dumpster diving, we have no plans to press charges against these individuals," said Mary Alfieri, manager of corporate communications for CVS Health.
But the two are now capitalizing on the attention their story is receiving, having raised $1,500 of their measly $5,000 goal. It seems clear their intention isn't to get rich off of their misfortune but rather to expose the wasteful habits of some retail establishments across the U.S., the subsequent crackdown on their legal act, and make a difference.
The GoFundMe account is calling on authorities to drop all charges against the two and promises to hold excess donated funds to help defend from prosecution other dumpster divers across America who may find themselves in trouble with the law.
Business Insider stated in a recent report there are several reasons why grocery stores and retail food stores are so wasteful. First, their product displays are overstocked, leading to more food than can be sold before the food expires. Second, customers are to blame for having cosmetic perfection expectations on the product. In other words, while bananas can be eaten even after their peelings have spotted and faded, picky customers simply won't but them with that appearance. Third, the sell buy dates keep customers from purchasing the food, even though the food can be consumed after the dates on the food have passed. Fourth, and lastly, damaged goods, outdated promotional items, and unpopular items simply have nowhere to go but the trash heap.