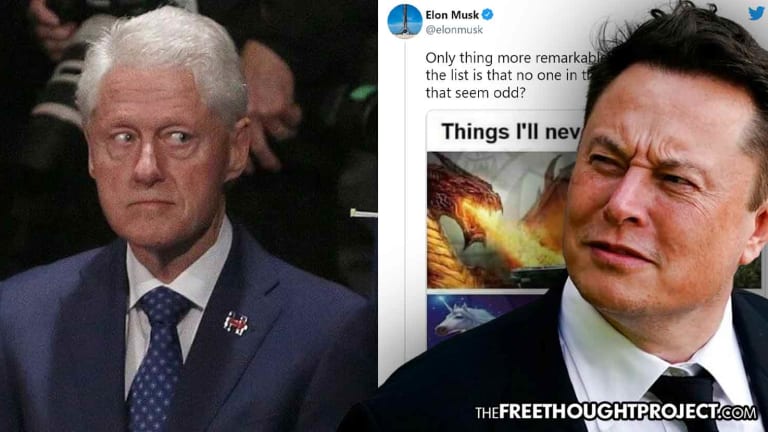 Elon Musk Blasts DoJ for Covering for Epstein's Clients and Refusing to Go After Maxwell's Customers
Love him or hate him, Elon Musk is consistent when it comes to speaking his mind and calling out the establishment.
Love him or hate him, Elon Musk is consistent when it comes to speaking his mind. From calling out Twitter censorship to child sex trafficking in the United Nations, Musk has proven that he is unafraid of blasting the criminals in his elite ranks. Over the weekend, he proved it again — this time calling out the US Department of Justice for failing to expose the client list of the now-deceased pedophile Jeffrey Epstein and his convicted partner in crime, Ghislaine Maxwell.
"Only thing more remarkable than [the] DOJ not leaking the list is that no one in the media cares," Musk said on Saturday in a Twitter post. "Doesn't that seem odd?"
Musk attached the comment to a meme from our friends at Liberty Memes entitled "Things I'll never see in my life," showing illustrations of a fire-breathing dragon, a dinosaur and a unicorn, along with the words "Epstein-Maxwell client list."
In response to his Tweet, some folks brought up the fact that he was pictured with Ghislaine Maxwell at an elite party. Instead of ignoring it, Musk responded.
"Ah yes, Maxwell photobombing me at a @VanityFair Oscars party – you should [ask] them why they invited her. The same people who push this photo say nothing about prominent people who actually went to his island a dozen times. Also very strange…" Musk responded.
As of yet, the only person on that client list to be named publicly — subsequently paying out millions of dollars to an alleged victim — is Prince Andrew, who is not a US citizen.
Andrew was sued for the sexual assault of Virginia Giuffre, a girl trafficked by Epstein while she was under the age of consent. The case was settled out of court in February, with Andrew making a "substantial donation" to Giuffre's charity supporting the rights of victims of sexual abuse.
But hundreds of other public figures, ranging from Hollywood actors and musicians to high-profile politicians, are known to have associated with Epstein, including former president Bill Clinton, who flew on the financier's plane, the 'Lolita Express', to his private island at least 26 times, as well as Donald Trump, Bill Gates, former Senator John Glenn, former Senate Majority Leader George Mitchell, actors Kevin Spacey and Chris Tucker and violinist Itzhak Perlman, who are also reported to have made the same trip.
Last December, Maxwell was found guilty for her crimes — which consisted of delivering children to rich pedophile men. Unfortunately, however, it is extremely likely that the men who participated in this child sex trade, will never face any consequences, which is why Musk made the tweet.
Instead of pressing Maxwell to reveal her clients, in April, a court quietly decided to reduce her sentence by ten years.
As TFTP has reported, since Epstein's arrest, multiple revelations have come to light which show how difficult it is to hold those accountable who aided and abetted this trafficking ring.
The revelations led to a myriad of connected insiders getting exposed for their roles in helping to cover up the abuse but none of them have fallen.
In 2019, a federal judge made a bombshell ruling which stated that the prosecutors who worked under former Miami U.S. Attorney Alex Acosta—later appointed to Trump's Labor Secretary—broke the law when handling the case of the billionaire pedophile.
However, instead of accountability, Acosta was ruled to have used "poor judgement" and was allowed to step down from his position and quietly fade away without going to jail.
This has been the status quo since Epstein was first convicted. This man was a convicted child molester and sexually abused no less than 40 underage girls. Despite this fact, Acosta protected him while serving as a U.S. Attorney in Florida.
Instead of going to prison for life, as he should've considering the evidence against him, Epstein only got 13 months and was allowed to stay in the Palm Beach County Jail in his own private cell where he was allowed to leave the prison six days a week for "work release."
This is why no one else will likely go down and the little black book with everyone's name in it will fade into the background, eternally in the shadow of the "current thing."