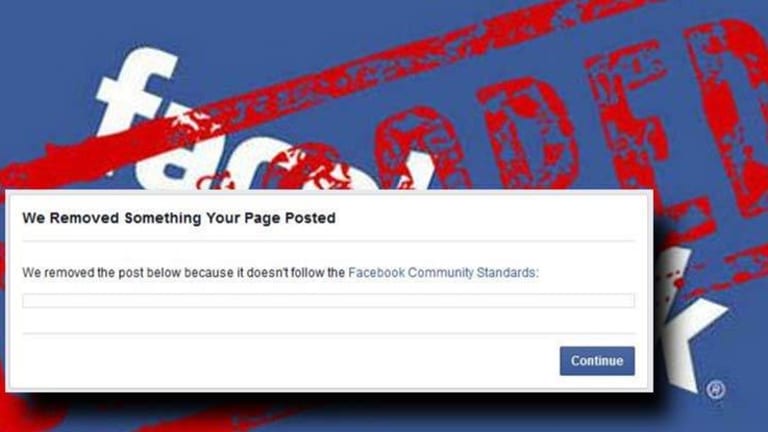 Facebook Caught Deleting Anti-Racist Posts While Allowing Hate Filled Calls for Violence
Facebook has a dirty little secret that most people don't know.
The social media giant Facebook is no stranger to controversy. Just this year, they announced that they are banning all talk of firearms, ammo, and gun parts trading. But there is another form of censorship that only page admins can see, but is affecting everyone -- the deletion of peaceful posts.
It is the mission of the Free Thought Project to foster the creation and expansion of liberty-minded solutions to modern day tyrannical oppression. We feel that the internet has given way to a revolution of consciousness by providing for the massive and instantaneous exchange of information across the globe.
The Free Thought Project feels that the internet is a place that can either ruin or expand the minds of individuals, and that choice is up to you. Hateful and obstinate ideologies cloud the web and often the minds of those who can't see through them.
The truth can be repugnant to those unwilling to hear it and the result of such obstinance manifests itself on Facebook in an ominous manner -- through censorship.
About once a month, a member of the Free Thought Project staff is banned from Facebook for posts that decry racism or call attention to government corruption, and we are not alone. Other pages, like The Antimedia, Police the Police, and End the Drug War, also experience the same censorship.
These post removals usually end in a 30-day ban for the activists who shared them. And, when Facebook is feeling really edgy, they will ban every admin on the page for posting one of these controversial, yet entirely peaceful memes.
The most recent act of censorship by the social media giant happened on Wednesday when Facebook removed a post made by the Free Thought Project that decried racism.
The post above had over 30,000 likes and was shared tens of thousands of times prior to its removal and the subsequent banning of the member who posted it.
This meme is merely a quote of the famous comedian
">Jeremy McLellan. It is not hateful, it does not call for violence, and it is not racist in any way. However, Facebook pulled it.
But that's not all.
Below is a post made to the Facebook page Police the Police. All it does is state a fact about a police killing, yet it was removed and the poster banned.
Here is another, posted to the Antimedia's facebook page.
It truly baffles the mind as to why Facebook is on such a rampage against this information, especially considering the fact that they allow hateful and racist calls for violence to be posted and none of those are removed. Below is an example.
The page, Down Range Firearms Training made a post in November that called for the extermination of Muslims and told its followers to prepare for violence. This incendiary and dangerous post is still visible on their wall.
In times of popular ignorance and hate, anti-racism and truth telling are punishable offenses while vitriol and hostility are rewarded.
It is up to us to shift this paradigm back to one of peace and understanding before hate filled idiots with their finger on the red button act on their rage. Violence and closed-mindedness have led us to this point and only by changing these tendencies will we truly become free.
[author title="" image="https://tftpstagingstg.wpengine.com/wp-content/uploads/2016/03/magorist-e1456948757204.jpg"]Matt Agorist is an honorably discharged veteran of the USMC and former intelligence operator directly tasked by the NSA. This prior experience gives him unique insight into the world of government corruption and the American police state. Agorist has been an independent journalist for over a decade and has been featured on mainstream networks around the world. Follow @MattAgorist[/author]