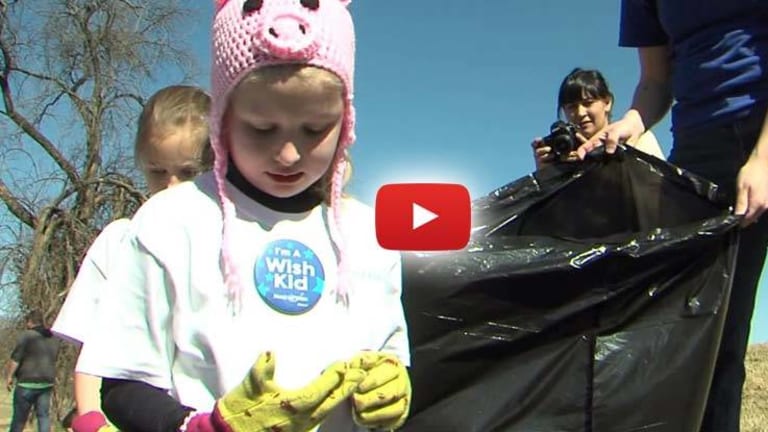 Faith in Humanity Restored -- 8-yo Girl With Brain Cancer Uses Her Make-A-Wish to Clean Up Trash
When this 8-year-old little girl was given a chance to have anything she wanted because of her brain cancer, she chose to help others.
Kansas City, MO -- In this consumerist world, where so many are infatuated with immediate gratification, those of us who see it from the outside in can often become overwhelmed with the rampant carelessness and complacency surrounding us. So, when something or someone breaks free from this paradigm of self-destruction and shines a light into the darkness, that light should be shared.
Thanks to the kind-hearted founders of the Make-a-Wish Foundation, children throughout the United States and its territories, who are facing life-threatening medical conditions, are granted a wish every 37 minutes.
Most of the wishes of the children are for trips to Disney World, or to meet their favorite singer -- and there is absolutely nothing wrong with that notion. The very idea of a dying child wishing for something outside of their own desires seemed mind-blowingly impossible -- until now.
Meet 8-year-old Amelia Meyer. When Amelia was just a little girl; she was diagnosed with brain cancer. Despite her bleak prognosis Amelia loved to go outside and play, and she did so often, as she had a fondness for nature.
"She's always been that kid I cannot get inside," her mother Jill Meyer said.
Earlier this year, Amelia was granted a wish by the Make-a-Wish Foundation and last Saturday, that wish came true. But Amelia didn't wish to meet Mickey Mouse or Taylor Swift -- she wished to pick up trash.
"I know some kids might want to go to Disneyworld and stuff, or meet famous people, but I really feel like Amelia picked the right wish," Amelia's best friend Samantha Asquith said to WDAF.
She could have had anything she wanted and this selfless, beautiful, marvelous little girl chose to clean up other people's messes.
"It doesn't look nice and another reason is because it can stay dirty and it can get animals sick," Amelia said.
According to WDAF,
Thanks to the help of Helzberg Diamonds, The Kansas City Missouri Parks and Recreation Department, the Kansas City Fire Department, the Kansas City Police Department, and hundreds of volunteers, Amelia pulled up to Swope Park, to a scene fit for a queen. She said, "I thought there was just going to be some people, not this much."

She seemed most comfortable in her own element, walking and running hand in hand with her best friends. Samantha said, "I've known her since preschool and she's just been my very best friend. She's been really nice to me and really supportive of me when I have rough times."

Hundreds helped Amelia pick up trash at Swope Park and other parks around the city. Mayor Sly James read a proclamation, naming February 27, 2016 "Amelia Meyer's Take Care Of The World Day." People in cities across the country and the world picked up trash in their hometowns in honor of Amelia. Followers on social media also joined in with by tagging posts and photos with #AmeliasWish
The selflessness and caring exhibited by Amelia are awe-inspiring. When all the negativity in the world seems overwhelming, these small, yet infinitely profound moments have a way of restoring our faith in our fellow human. Her actions should serve as an example to all. Please share her story with your friends and family so that they may be inspired by this little girl's astounding kindness.
Matt Agorist is an honorably discharged veteran of the USMC and former intelligence operator directly tasked by the NSA. This prior experience gives him unique insight into the world of government corruption and the American police state. Agorist has been an independent journalist for over a decade and has been featured on mainstream networks around the world.