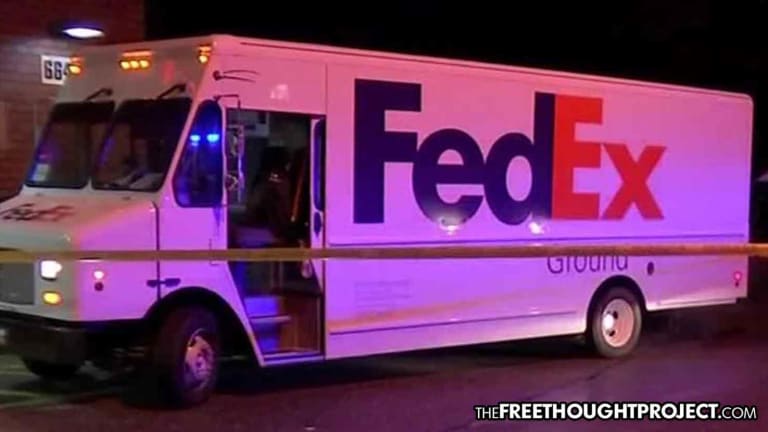 FedEx Driver Uses Gun to Kill Armed Robber and Prevents Another UPS-Like Hijacking
A potentially tragic situation, like what happened with the UPS driver in Florida, was thwarted this week because a FedEx driver was carrying a gun.
Philadelphia, PA — Earlier this month in Florida, a tragedy unfolded when two armed thugs hijacked a UPS truck with the driver still inside. The chase ended in a hail of gunfire as police failed to follow any safety protocols, used innocent bystanders as human shields, and two innocent people were killed as a result. A single variable in this situation, however, could've drastically changed the outcome. Had the UPS driver been armed, he may still be alive, along with the innocent bystander who was also killed in the unnecessary crossfire.
Adding weight to this claim is the fact that a very similar situation unfolded on Tuesday in Philadelphia. In this situation, however, when the armed thug attempted to rob and possibly hijack a FedEx driver, that driver was armed. Because the 32-year-old driver leveled the playing field with his own weapon, no high-speed chase ensued and multiple lives were arguably saved—including his own.
As the FedEx driver was attempting to deliver a package Tuesday night, he was approached by an armed robber who stole his keys to the truck and his wallet. During the scuffle, the FedEx driver was shot in the abdomen. He could have been killed but he pulled out his legally owned and registered pistol and fatally shot his would-be attacker.
The FedEx driver shot 27-year-old Jevan Lundy several times, killing him, according to Philadelphia Police Department Capt. Jason Smith.
As NBC 10 reports:
Police later found an unresponsive Lundy on the 1400 block of Creston Street and recovered the victim's FedEx ID card, the captain said. Lundy was taken to Einstein Medical Center, where he was declared dead.

Police found another man with Lundy and searched that person's car, which they believe was used to drive Lundy away from the scene of the shooting, Smith said. Officers found bullet casings on the floor of the vehicle. That man was taken in for questioning, but it was unclear if he would face charges.
"He is speaking to us, of course not portraying that he had any involvement with this robbery," Smith said.
Luckily, the FedEx driver was able to drive away from the scene and make it to a nearby parking lot where he called 911.
"He was able to tell police that he was making a delivery on the 600 block of Unruh and right when he got done making that delivery, he was approached by at least one male and he was robbed at point of gun," Philadelphia Police Chief Inspector Scott Small said.
He told police he had opened fire, and officers found his legally registered 9mm handgun inside his truck, Smith said. The victim also had a permit to carry.
"Based on the preliminary story that was relayed, it appears to be self-defense: he was shot first, he fired back," Acting Police Commissioner Christine Coulter said.
When asked about their policy in regards to drivers carrying guns, FedEx would not clarify, saying only that, "We are not at liberty to disclose details of our internal policies. All further questions should be directed to law enforcement. The safety of our team members and service providers is a top priority and we are cooperating fully with the investigating authorities at this time."
Because he chose to protect himself with a gun, this FedEx driver turned from a helpless victim of an armed robbery, to a hero. His actions not only saved his own life, but it prevented a similar situation from unfolding like what happened in Florida.
This situation will likely not be widely reported in the mainstream media as their agenda is clear. The establishment wants you disarmed and stories like this show why that is such a terrible idea.
As TFTP has previously noted, depending on the current government, life in disarmed societies can go on peacefully for a while. However, in some cases, citizens — men women and children — are slaughtered by the millions as corrupt government officials and criminals become the only ones to have guns.
Even when gun control seems to work in the short term, the scapegoatists are never satisfied. As we are seeing in the United Kingdom, politicians are now going after knives as the "evil weapon" that no law-abiding citizen should ever need.
Simply put, guns — in the hands of good people — level the playing field against guns in the hands of bad people. It is this simple. As this case and many others like it illustrates, bad guys will always have access to guns, even if you use laws to disarm them.
The protectionist attitude of taking guns from law abiding citizens to keep guns from criminals is ineffective, self-serving, one-sided and ignores the benefits of an armed society as well as history. And, it only serves to further the oppression of those who cannot defend themselves.
While it would certainly be an amazing thought to be able to live in a world without guns, that is simply not the case. Until it is the case, anyone who wants to defend themselves and their family, should be able to do so in any manner they see fit — as the only other option is tyranny and victimhood.