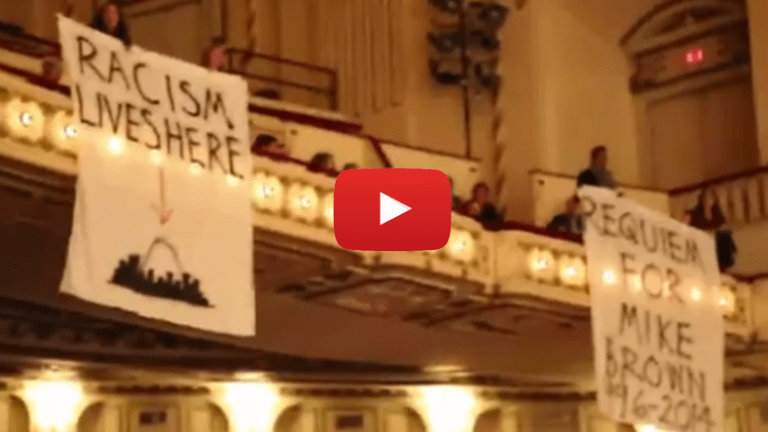 Ferguson Demonstrators Perform Stunning Protest at St. Louis Symphony Orchestra
"Which side are you on my friend? Which side are you on?"
In perhaps one of the most beautifully organized and powerful protests of recent memory, Ferguson activists organized a flashmob and went to St. Louis Symphony Orchestra Saturday evening to sing a Requiem for Michael Brown, the unarmed teenager murdered by Officer Darren Wilson.
Towards the end of the intermission, a protester stood up and began singing "Which Side are You on?", a hauntingly perfect civil rights era song, adding "justice for Mike Brown is justice for us all."
He was quickly joined in a beautiful harmony with other protesters scattered amongst the crowd. As they sang, banners were dropped from the balcony, and paper hearts with the words "Requiem for Mike Brown May 20, 1996 - August 9, 2014" were tossed from the balcony. The protesters left peacefully, while chanting "black lives matter."

The demonstration received a mixed reaction from those in attendance, but drew applause from many, including those on the stage.
There were no arrests, and every one of the estimated 50 people involved had purchased tickets for the event. The spokeswoman for the St. Louis Symphony, Erika Ebsworth-Goold told BuzzFeed that the protesters had "lovely voices" and that she wished they would have stayed to see the end of the orchestra's performance.

This uprising is getting stronger and more organized, while showing no signs of backing down.
As the two month anniversary of the murder approaches, a national call was put out for a whole weekend of demonstrations, marches, and civil disobedience.

*More details and events are coming soon.*

FRIDAY, Oct. 10 ; Justice Now - Justice for Mike Brown
3 pm Action in Clayton Directed at County Prosecutor Robert McCulloch

SATURDAY, Oct. 11 - Justice for Us All: Large Mobilization March
10 am Meet Downtown STL

Gather at Scottrade Center, 1401 Clark Ave, 63103
Permitted March to and Noon Rally at Old Court House

SUNDAY, Oct. 12 – HipHop and Hope, a day of Faith and Culture

1 pm Block Party (Location TBA)
7 pm Dr. Cornell West (Location TBA)

Direct Action Training (Time & Location TBA)

MONDAY, Oct. 13 – Moral Monday Day of Action:
Civil Disobedience & Major Demos

10 am West Florissant (Ferguson)

...with lots of activities in between these scheduled events.
For more information on attending the national call visit the Ferguson October website, follow the hashtag #FergusonOctober, and stay tuned here- as we will be on the ground reporting through out the week.