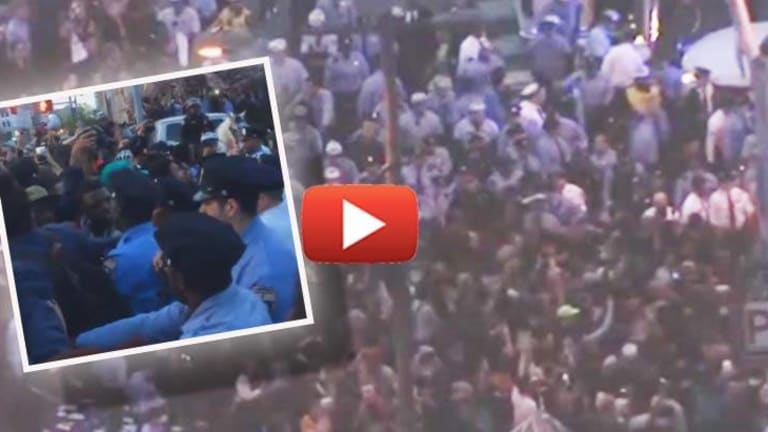 #FreddieGray Solidarity Protesters Clash With Cops in Philly, Push Through the Police Line
Protesters marching in solidarity with Baltimore Thursday, clashed with Riot police in downtown Philadelphia. The police line was breached.
Brief scuffles between activists and policemen took place downtown Philadelphia, as residents of the nation's first capital, marching in solidarity with the Baltimore protests over Freddie Gray's death, pushed through the police line.
Pushing and shoving started around 8:00pm local time, as hundreds marched from Philadelphia's City Hall into Rittenhouse Square. As the 'Philly Is Baltimore' protest march proceeded, police attempted to prevent the activists from moving further to the roads above the Vine Street Expressway.
Police had reportedly used batons to fend off the crowd. Some light injuries have been reported in the tense exchange. A police hat was knocked off a police officer and kicked around in the crowd, while cops could be seen removing some protesters who became too rowdy.

After a few minutes of tense exchanges between the authorities and activists, the police yelled and let the protesters through. Reports of several arrests are being circulated on social media.
The rally began peacefully at Dilworth Plaza and finished just shortly before 6:00pm. Yet one large group remained and continued marching towards the City Hall area.

Following scuffles with police outside Vine Street, activists on the ground reported the crowds moving towards Philadelphia's federal prison chanting "you are not alone!" There were some unconfirmed reports of protesters clashing with authorities outside the city's police headquarters.
As protested started, Philadelphia Mayor Michael Nutter said he expected it to be a peaceful protest.
"The police civil affairs unit and other components of the Philadelphia Police Department are well prepared to protect the demonstrators and citizens who need to go about their business as well," he told KYW.
Republished with permission from Russia Today