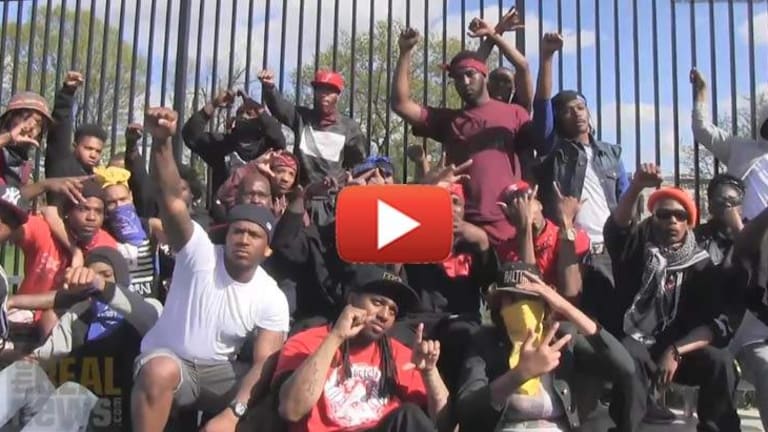 From Quelling Looters to Saving Lives, Baltimore Gangs Are Doing A Better Job Than Police
The city of Baltimore is starting to realize that the street gangs feared by so many are protecting citizens more effectively than police. They're even directing traffic!
Baltimore, Maryland - As we reported earlier this week, during the recent riots in Baltimore, rival gang members have called a truce to protect their communities. Police initially panicked when hearing about the truce and put out a warning that gang members were teaming up to "target cops." It was quickly revealed that these claims were entirely fabricated and that the gang members did not have ill intentions by calling their truce.
Members of the Crips, Bloods and BGF, Baltimore's three largest gangs, even stood with city council members during a press conference this week. The council members spoke very highly of the gang members and their recent efforts."These men have been out on the street quelling the senseless violence that has consumed our city. After meeting with them today it is clear that the notion they were planning on harming our police officers is false and simply deterred the resources we needed to focus on the individuals who instigated these riots. I applaud these young men for standing here and speaking out for our city." City Council President Bernard C. Young said.
The gang members were even out in the streets directing traffic.
Young was so moved by the efforts of the gang members that he even apologized for calling rioters "thugs."
"What we're seeing today is not about Freddie Gray. It is about the pain, the hurt and the suffering of these young people. There's no excuse for them to loot, riot and destroy our city. I made a comment out of frustration and anger when I called our children 'thugs.' They're not thugs. They're just misdirected. We need to direct them on a different path by creating opportunities for them," Young said.
"You need to make sure all these people know that this is also not a racial issue. This is about people in poverty and people that are oppressed, regardless of what color you are. We have white Bloods, we have white Crips. It's not about Color.It's not about race," one gang member told The Real News.
"We don't need the police to protect our neighborhood because we protect our own, and it's that simple," another said.
The unified gang members have actually done more than the police to prevent property from being damaged and people from getting hurt. A number of different journalists have reported that they were saved by gang members when they became trapped in the center of the riot.

Earlier this week the NRA reported that a shop owner armed with a shotgun saved Baltimore Sun journalist Justin Fenton. The journalist later came forward to say that the shop owner just stood there to protect his business while gang members rushed to his rescue. The hero was later identified as Charles Shelley, a gang member currently involved in the truce.
When tales of Shelley's actions went public, another reporter, this time Ben Jacobs of the Guardian Tweeted that "He looked out for me too!"
The Baltimore Sun caught Shelley dropping knowledge in a local church this week, the video can be seen below:
This situation also gives us a glimpse into the real solution to police brutality. Taking matters into our own hands and providing services to our community better than the government does, can effectively render the government obsolete over time. This economic strategy has many times been called "Agorism."
For those of you not familiar with the term "Agorism", it is a strategy of noncompliance. It works by using counter-economics and underground markets as a way of keeping power in the hands of the average people, thus slowly diminishing the power and relevance of the control structure.
Growing food, starting mutual aid or charity groups, using bitcoin, homeschooling, running a small business without licenses, bartering and starting community currencies are all examples of Agorist activities. Some Agorists are even so bold as to create businesses that will challenge existing state monopolies. We saw an example of this earlier this year when Detroit residents created their own community protection agencies because the police were no longer responding to 911 calls.
It is as simple as finding a need in your community for a particular good or service, and attempting to provide that value without any sort of interaction with the government or any other unchosen 3rd parties. In other words, the basic idea is to try solving the problem yourself, with your community instead of waiting around for a politician to make the problem worse.
As the man below explains, one thing that is often forgotten is that many of today's street gangs have roots in activist groups. Often these groups sought to provide protection for communities that were being ignored or oppressed by police.
John Vibes is an author, researcher and investigative journalist who takes a special interest in the counter culture and the drug war. In addition to his writing and activist work he organizes a number of large events including the Free Your Mind Conference, which features top caliber speakers and whistle-blowers from all over the world. You can contact him and stay connected to his work at his Facebook page. You can find his 65 chapter Book entitled "Alchemy of the Timeless Renaissance" at bookpatch.com.