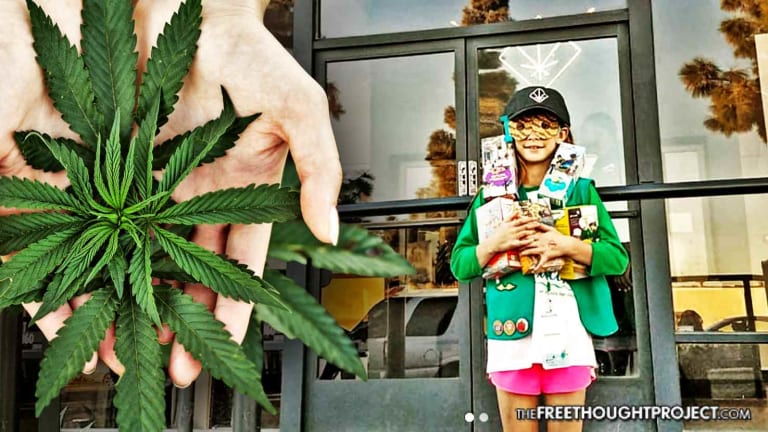 Genius Girl Scout Sells Cookies Outside Marijuana Dispensary and MAKES BANK
A young Girl Scout proved her knowledge of the business world as she found her target audience in front of a marijuana dispensary and sold a record amount of cookies.
San Diego, CA — A young entrepreneur, with the foresight to target her audience, sold a record-breaking amount of cookies over the weekend in only six hours. Knowing that marijuana often carries the side-effect of making people hungry, a 9-year-old girl set up her cookie enterprise right outside of a marijuana dispensary.
The dispensary, likely seeing the potential for a mutually beneficial arrangement between the two businesses, then put out an Instagram post with the scout in an adorable picture, holding several boxes of cookies. "Get some Girl Scout Cookies with your GSC today until 4 p.m.! Have a friend that wants to #tagalong? Bring them with - shopping is more fun with friends anyways," the company wrote. "GSC" refers to a product flavored like Girl Scout Cookies.

According to the local news, the scout's father said his daughter sold more than 300 boxes.
While the Girl Scouts' rules state that booth sales cannot start for another week, the girls are allowed to sell from wagons as long as a parent is present. That is exactly what happened here. "So if that's what they say they were doing... then they were right within the rules," said Alison Bushan, of Girl Scouts San Diego. The idea of a girl scout selling cookies out in front of a pot shop is not without controversy, however. As News 10 reports, Girl Scouts of America Colorado was prompted to issue a statement in 2014 after a scout reportedly sold more than 100 boxes of cookies in two hours outside a San Francisco dispensary. "If you are wondering, we don't allow our Girl Scouts to sell cookies in front of marijuana shops or liquor stores/bars," the organization's Colorado branch tweeted. However, this move was contradicted later by Kelly Parisi, the chief communications officer from Girl Scouts of the USA, who told the LA Times that each region makes "all decisions on how the cookie program is run. As always, our primary concern is the safety and well-being of the girls we serve." "As Girl Scouts, we assume good intent,'' Girl Scouts spokesperson Mary Doyle said in a statement to TODAY. "Should we learn that a girl is in violation of a cookie program standard or guideline, we almost always discover that the parent was unaware of that rule." Naturally, the front of a pot shop is magnitudes safer and far better of an image than the front of a liquor store. It is also important to note that many dispensaries provide not only recreational marijuana but also medicinal which makes them no different than a Rite Aid or Walgreens. In fact, selling cookies in front of a pharmacy—as is common practice across the country—is arguably more detrimental to the image of the Girl Scouts than peddling cookies in front of a store that sells a plant that makes people happy. Why? Well, pharmacies have been caught illegally doling out dangerous opioids by the millions which are killing record numbers of Americans every year. It is also important to point out the effects of legalizing marijuana and the reduction in harm and crime it causes. If this girl chose to sell cookies in front of places where weed is sold in illegal states, rest assured, it would not be a safe environment. However, because it is legal in California, all the negative traits associated with prohibition, like crime and the police state, subside—an important lesson to be learned. Rest assured, however, that as more free market loving girl scouts try their fate at selling cookies to a target market in front of marijuana dispensaries that the regulators will likely move in to ruin it. Indeed, if lemonade stands in California are any indication of what's to come, we may see Girl Scouts fined and shut down for operating a business in front of a pot shop without the proper permit. Luckily, however, humanity seems to be winning as even consumers of mainstream media appear to support the little girl's entrepreneurial spirit as a whopping 90 percent of those polled by the Today Show thought it was okay, while the other 10 percent should probably go to a dispensary.