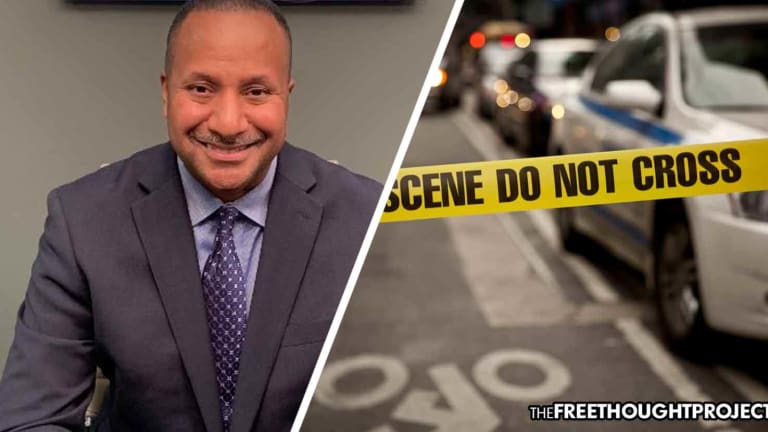 Good Cop Quits the Force and Has Made It His Mission to Expose Cover Ups in Police Shootings
After leaving the department, an ex-Philly cop has made it his mission to expose police departments who cover up shootings of citizens.
Terrance Jones was a cop for years. However, he has since had a change of heart about his job and after leaving the department, Jones made it his mission to investigate police shootings and expose coverups and lies if he finds them.
Jones is a former Philadelphia police officer who quit that job and became the founder of the non-profit Total Justice. Jones is the sole member of the non-profit and operates it completely unfunded.
Jones describes himself as a "highly decorated" officer who set records for arrests and who served on elite unites. Jones even admitted to being involved in two police shootings himself. According to the Philly Inquirer:
He shot and paralyzed one man, Carlos McLeod, while responding to a convenience-store robbery in 1992. McLeod told investigators he was trying to help the store clerk; Jones told them McLeod had pointed a gun at him. In the end, an internal investigation found Jones acted within departmental guidelines — but McLeod won a civil settlement of $2.2 million.

The other man, 20-year-old Thomas Webb, was killed when Jones, who was off duty, believed Webb was stealing his car in 1998. Then-District Attorney Lynne Abraham declined to file charges, finding the shooting "was unintentional, during a struggle over the [officer 's] gun."
Though he has devoted his life after policing in the 90s to exposing police lies, Jones said it was an injury that knocked him off the force. He didn't begin his new work until years later.
Jones is not without criticism either. Webb's younger brother, Brenton Webb, watched Jones in the media recently, and expressed anger and confusion.
"He's a ... hypocrite," Webb said. "He did exactly what he's trying to prosecute. He is that person. Whether it's money-motivated or out of guilt, I don't know."
But Jones doesn't do it for the money. He pays for the investigations himself and travels across the country to investigate police killings.
So, it may be out of guilt instead. Either way, Jones has helped conduct numerous independent investigations, assisting various law firms, as well as chapters of the NAACP, at the request of shooting victims or their families.
"Terence is an amazing investigator. When we take this to legislators, to the police, we need to have that investigation and that research," said Coby Owens, a Delaware civil rights organizer. "Black people are being killed at an astonishing rate. We need for police to view us as civilians."
His most recent investigation involves the shooting death of 30-year old Lymond Moses who was shot and killed by Castle County police officers early in the morning on January 13, 2021.
Police claim they were investigating a suspicious vehicle when Moses drove away, but quickly found himself blocked in at a dead end road. Police then claimed Moses made a U-turn which converted his vehicle into a weapon as he drove at them, leaving them with no other option but to open fire on him. Moses was pronounced dead at the scene.
WDEL reported that family members wanted police to release any body cam or dash cam footage of the incident, and they're questioning why New Castle County police officers were operating on a suspicious vehicle complaint inside Wilmington City limits.
Police have said nothing, so Terrance Jones was called in to investigate.
The Philly Inquirer reports:
Jones paced a dead-end street in a public-housing complex in Wilmington as if coaxing answers from the wind whipping by. He dragged a tape measure across the street, noting its dimensions. He stooped to examine each loop of orange spray paint on the pavement. He scrutinized video on his phone from TV news reports on a police shooting of an unarmed Black man, including footage of a Nissan Altima riddled with bullet holes. Then, he videotaped an identical Nissan trying to drive the route that police had described, and finding it physically impossible.
After investigating the scene, Jones came to a single conclusion, "This shooting of Lymond Moses, it's a false narrative," he said. "Lymond Moses was murdered."
Jones expressed this concern on local news stations, calling out New Castle County Police Chief Colonel Vaughn Bond, Jr., and demanded his resignation.
"They staged this crime scene," said Jones. "Police Chief Bond is covering this up."
"He can't even tell us the truth," shouted Jones. "He cannot give this family any answers to what happened to their loved one."
Jones estimates that he has investigated roughly 60 cases since 2005 in which the killer cops have faced no charges. However, his investigations have proved to be very helpful for the families of the victims pleading their cases in lawsuits.
Jones is providing a much needed service in today's law enforcement environment. All too often, police department conduct their own investigations and leave out important details and immediately exonerate their officers. Independent investigations do not have the same impetus so an actual investigation takes place. Many times, these independent investigations — like the one of Lymond Moses — find that cops are lying or covering up what actually took place.