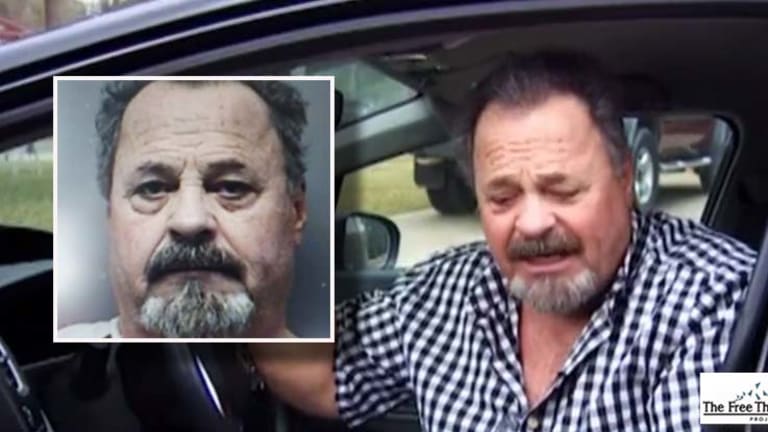 Hero Cops Bust Elderly Man for Visiting His Dying Grandchild Because He Had an Illegal Plant
A California grandfather and legal marijuana patient was arrested and charged with felony possession of medical marijuana while traveling in Texas.
It's bound to happen. When one state enacts certain freedoms for its residents, traveling between states can become legally problematic. Much like the freedom of same-sex couples to wed was challenged in states which didn't recognize same-sex unions, the freedom of medical marijuana users to be able to travel intrastate is being challenged, and sometimes unintentionally.
Phillip Blanton, a California grandfather and medical marijuana (mmj) patient has been charged in Texas for possessing his legally acquired prescription drug from CA. That drug is cannabis and it's illegal in Texas. Blanton was stopped on Jan. 1, when he was driving from Newton, CA to Houston, TX. The grandfather was traveling to see his 20-year-old granddaughter who has Stage 4 Hodgkin's Lymphoma.
He was stopped in Decatur, TX, and his vehicle searched after Blanton admitted he had a marijuana pipe in his possession. He told reporters what happened, "I said, 'Officer, I don't have any illegal drugs on me. Everything I got is prescription from my doctor,'" to which the officer responded, "'If that dog finds anything, you're going to jail.'" Blanton has held his mmj card for 10 years in California.
After four ounces of marijuana, including edibles, was found in the trunk of his car, Blanton was then notified he was under arrest. "I said, 'What? Are you kidding me? I'm a patient. I'm a grandfather -- not a drug dealer.' I'm there in handcuffs feeling like a total loser…a second-class citizen."
Therein lies the problem with having one state regulate marijuana like alcohol, and another state who opposes such regulations. Free travel between states, while in possession of marijuana, is illegal in most cases. Now, Blanton is facing prison time if convicted, all for going to visit his granddaughter and traveling with his pain medicine in tow.
Blanton spent the night in the Wise County jail, posted his share of the 20,000 dollar bond, and is fearfully waiting for the court to determine a trial date. For his part, Blanton said he's going to fight the charges. "I'm not a recreational user. I've been a medical user for the past 10 years," he said. "What's going through my mind is terror. I'm a 67-year-old grandpa who loves his family very much and wants to see his granddaughter who's battling for her life." He added, "My daughter and son-in-law are already going through hardship with my granddaughter. We didn't tell her that papa has been arrested. I feel so bad because I came here to uplift my family." He told the police officer, "All I want to do is just see my granddaughter."
But he was unable to talk his way out of the arrest and the charges. He has, however, kept the news of his arrest a secret from his grandchildren, hoping to spare them from the pain of knowing their grandpa might go to prison for bringing his prescription medicine to Texas.
Ironically, Blanton is familiar with the way things work in prison. That's because he used to serve in the CA prison system as a minister, working with inmates in drug and substance abuse and prevention programs. Hopefully, Blanton will take the opportunity to challenge the arrest and potential conviction in court in order to help set a precedent in Texas for other law-abiding individuals who wish to travel across state lines AND take their medicine with them.
According to KHOU news, the reason Blanton was charged with felony possession and not misdemeanor possession was because he possessed more than 2 ounces of marijuana, mostly edibles. But edibles are not the same as flower marijuana. Edibles may weigh more but that doesn't mean there were four ounces of marijuana in the four ounces Blanton had in his possession.
According to the report, the former minister had six dozen cookies in a gift bag in his trunk. That may seem like a lot, but the relatively small amount of marijuana found in those cookies will likely be considered by the court if his case ever goes to trial. If the officer had been more aware of the way concentrates are used, potentially he could have used discretion when he charged the CA grandfather and former minister with a felony, instead of a misdemeanor.
Blanton admitted to reporters he now wishes he hadn't been as forthright in speaking with the officer about what he had in his possession. His admission led to the lawful search of the vehicle. When it comes to marijuana possession, cannabis users would do well to exercise their 5th amendment rights to remain silent. In such cases, it is better for the police to find probable cause to search the vehicle instead of an mmj patient giving the LEO such probable cause. Cases like Blanton's serve to illustrate just how out of touch law enforcement officers are with the way the country is heading as it relates to medical marijuana.
While the Blantons await the outcome, the time is now to act. Cannabis users really must become proactive, politically speaking, in order to ensure that when they wish to travel to another state, that they can do so without leaving their medicines behind. All it takes is one precedent to be set at the Supreme Court level, and other states will begin to relax their border war on drugs, of which marijuana is arguably the least dangerous.
Ironically, if Mr. Blanton had, indeed, made it all the way to Houston without being stopped, he would have been able to enjoy his medicine without fear of going to jail. That's because, as The Free Thought Project has reported, city officials have formally announced they will no longer be taking marijuana users to jail. Kim Ogg, the newly elected District Attorney said, "I've never felt good about putting marijuana users in the same jail cells as murderers. It's just not fair, it doesn't make any sense, and our country is resoundingly against that," after making the announcement anyone with marijuana possession charges would be diverted around jail.