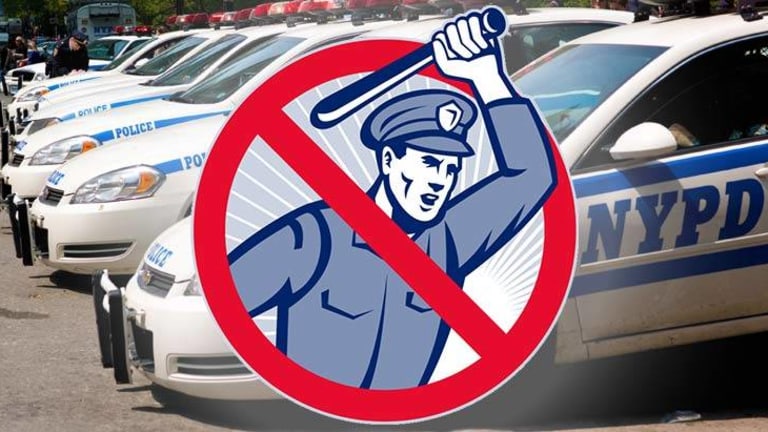 Citizens Group Pushes to Disarm the NYPD And Create "No-Cop Safe Zones"
Citizens in New York come together to keep their neighborhoods safe from police violence and abuse of power.
New York, New York - A group of activists and concerned citizens who are fed up with abuse from the NYPD don't want police reform, they want bullies out of their lives for good.
The group, who call themselves "Disarm the NYPD," not only want to disarm the police force as their name implies, but they also want to create safe zones within the city where cops aren't allowed to go while on-duty. Within these safe zones, residents will create their own businesses and charities to replace the existing structure of law enforcement and dispute resolution.
One member of the group told reporters at Waging Nonviolence that "We feel that the police have proven that they're not responsible enough to carry arms due to the fact that they've been killing people so consistently for so many decades, we feel that they should be disarmed immediately. We've all been organizing for years," said the member of Disarm NYPD. "After Ferguson, we got really inspired and started organizing during the demonstrations. And we figured — since it's getting warm, and especially since that Ferguson report came out — that we need to start taking more action. We can't let things fall apart. We have to keep the pressure on the police."

"We want to use these copwatch patrol units … to keep the pressure on [the police] so they can back up, and when they back up, we want to try to fill that space with something that can create new, revolutionary potentials. And we'd like everyone to take part in that," they said.
Jose LaSalle of Copwatch has recently teamed up with the group and said that "We're not doing this just for ourselves, we're doing this because we want to create an impact on the community and empower the community."
What is happening here is an incredible example of agorism, which is the primary long-term solution in the fight against police brutality.
For those who are not familiar with the term "agorism", it is a strategy of noncompliance that uses counter-economics and underground markets as a way of keeping power in the hands of the average people, thus slowly diminishing the power and relevance of the control structure.
Growing food, starting mutual aid or charity groups, using bitcoin, homeschooling, running a small business without licenses, bartering and starting community currencies are all examples of agorist activities. Some agorists are even so bold as to create businesses that will challenge existing state monopolies, like we are seeing here in New York with alternative protection agencies and arbitration services.
Authority is made to be abused, and as long as police are given the special legal and economic treatment that they currently enjoy, the authority that they derive through those protections will continue to be abused. There is no reason why the vital function of community defense should be monopolized by the state, which is traditionally corrupt in itself.
Decentralized policing is already happening in many parts of the country. For an example, check out this video below, and learn about how decentralized groups that are not affiliated with the government are making the communities that they live in safer, without the need for aggressive force.
John Vibes is an author, researcher and investigative journalist who takes a special interest in the counter culture and the drug war. In addition to his writing and activist work he organizes a number of large events including the Free Your Mind Conference, which features top caliber speakers and whistle-blowers from all over the world. You can contact him and stay connected to his work at his Facebook page. You can find his 65 chapter Book entitled "Alchemy of the Timeless Renaissance" at bookpatch.com.