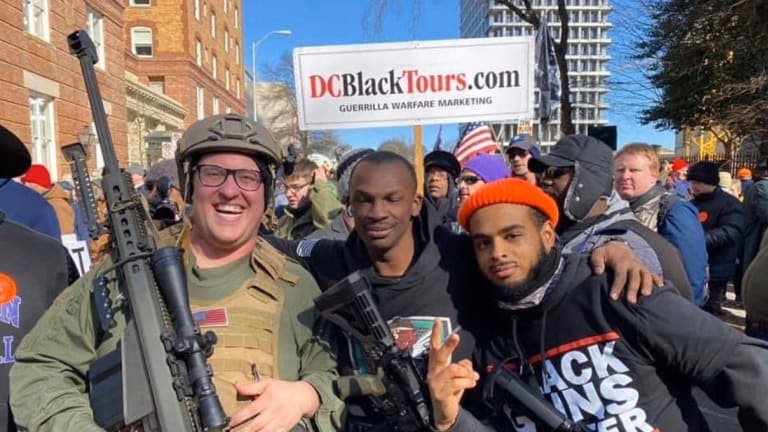 Black Open Carry: Why Gun Rights and Civil Rights Need Each Other
The right to self defense is the right from which all other rights derive, and few Americans are aware of the racist roots of gun control.
The racist roots of gun control:
The history of gun control laws goes back much further than most American are aware. Perhaps the first known attempt at disarming citizens in the new world occurred in 1751 when the French Black code was enacted requiring colonists to "stop any blacks, and if necessary, beat any black carrying any potential weapon, such as a cane."
This attempt to disarm blacks was repeated under United States' rule 50 years later when the U.S. purchased the Louisiana territory. According to a paper published in the Kansas Journal of Law & Public Policy:
When the first U. S. official arrived in New Orleans in 1803 to take charge of this new American possession, the planters sought to have the existing free black militia disarmed, and otherwise exclude "free blacks from positions in which they were required to bear arms," including such non-military functions as slave-catching crews.
The Klan's favorite law:
Upon the defeat of the confederacy in the Civil War, many southern states enacted "Black Codes" that barred the newly freed slaves from exercising their basic civil rights. One such example of these new laws was an act passed in the state of Mississippi that stated:
no freedman, free negro or mulatto, not in the military service of the United States government, and not licensed so to do by the board of police of his or her county, shall keep or carry fire-arms of any kind, or any ammunition, dirk or bowie knife, and on conviction thereof in the county court shall be punished by fine
After the passage of these laws, numerous studies concluded that the newly freed slaves had essentially been rendered defenseless against groups like the Ku Klux Klan. Disarming them, essentially made them slave once again.
When Republican congressmen passed the Freedman's Bureau Bill attempting to secure the right to bear arms for Blacks in the south, the Supreme Court overturned it in what was known as The Cruikshank decision. This decision emboldened groups like the Klan, who in turn began gaining control over local governments to pass racist new laws. As Reason magazine noted:
In deference to the Fourteenth Amendment, some states did cloak their laws in neutral, non-racial terms. For example, the Tennessee legislature barred the sale of any handguns except the "Army and Navy model." The ex-Confederate soldiers already had their high quality "Army and Navy" guns. But cash-poor freedmen could barely afford lower-cost, simpler firearms not of the "Army and Navy" quality. Arkansas enacted a nearly identical law in 1881, and other Southern states followed suit, including Alabama (1893), Texas (1907), and Virginia (1925).

As Jim Crow intensified, other Southern states enacted gun registration and handgun permit laws. Registration came to Mississippi (1906), Georgia (1913), and North Carolina (1917). Handgun permits were passed in North Carolina (1917), Missouri (1919), and Arkansas (1923).
The Disarming of Martin Luther King Jr:
King was known to keep firearms to protect himself against his many enemies. In fact, he actually applied for a concealed carry permit in 1956 — but thanks to a racist and corrupt government — he was denied.
In Alabama, where King applied for the permit, the state had laws on the books which allowed police to individually deny constitutional rights of citizens, arbitrarily.
Alabama was a "may issue" state at the time, meaning they were under no legal obligation at the time to issue the permit. Instead, police had final say in whether an application was approved.
In a "may issue" state, a concealed carry permit is only issued if the local governing authority believes such issuance apropos. This tyrannical legislation allows the state, via sheriff's offices and/or local police departments, to stand between the citizen and the constitutional right to keep and bear arms.
UCLA law Prof. Adam Winkler explained this approach in an article for HuffPo:
Most people think King would be the last person to own a gun. Yet in the mid-1950s, as the civil rights movement heated up, King kept firearms for self-protection. In fact, he even applied for a permit to carry a concealed weapon.

A recipient of constant death threats, King had armed supporters take turns guarding his home and family. He had good reason to fear that the Klan in Alabama was targeting him for assassination.
Winkler added:
In 1956, after King's house was bombed, King applied for a concealed carry permit in Alabama. The local police had discretion to determine who was a suitable person to carry firearms. King, a clergyman whose life was threatened daily, surely met the requirements of the law, but he was rejected nevertheless. At the time, the police used any wiggle room in the law to discriminate against African Americans.
"We are proposing armed self-defense as it relates to the situation with black people here in America when it comes to dealing with police departments," says Charles Goodson, founder of the Huey P. Newton gun club, an open carry group based in Dallas.
In an interview with ReasonTV in 2015, Goodson and others spoke about their goals and how they hope to accomplish them. And historian Thaddeus Russell talked about the long, intertwined history of the gun rights and civil rights movements, from slave revolts to Reconstruction-era resistance to the Klan to the Black Panthers.
"One of the great untold stories about the civil rights movement was that it required violent resistance from blacks to be effective," says Russell.
Approximately 7 minutes. Produced by Zach Weissmueller. Music by Tim Sky and Flausch Gau.