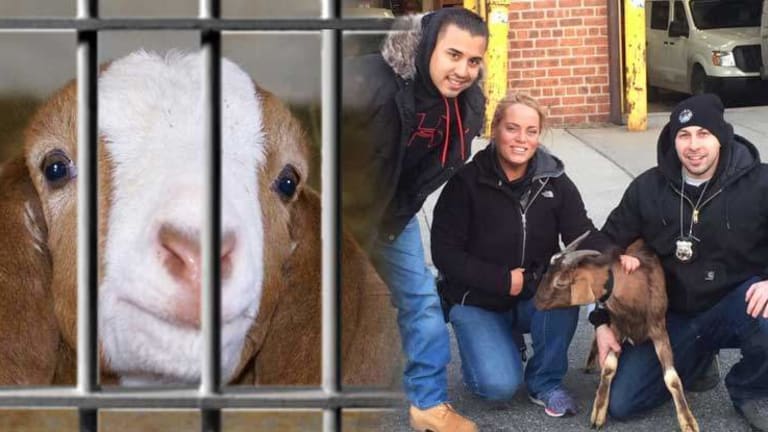 This is What 'Public Service' Looks Like -- Cops Use Own Money to Rescue Innocent Baby Goat
These NYPD officers went above and beyond the call of duty to save an innocent creature from being slaughtered
Queens, NY - On Monday, January 18th, officers from the NYPD's 103rd precinct located a baby goat that had broken loose from a local slaughterhouse and was wandering in traffic. After successfully capturing the goat, these officers went above and beyond the call of duty to save the life of an innocent creature.
According to reports, the goat had escaped from a slaughterhouse near 180th street and Merrick Ave. in Jamaica Queens. Several witnesses told police, that the baby goat was nearly hit by a car, as reported by the NY Daily News.
When Officers from the 103rd precinct's anti-crime unit arrived on the scene they were able to successfully corral the animal on 178th St. near 110th Ave. in St. Albans.
Upon capturing the goat, whom they nicknamed "Merrick," the officers decided that they did not want to return the animal to the slaughterhouse, knowing it would most likely be killed. In a true demonstration of what it means to "serve and protect" Officers Anthony Fernandez, Danny Gasperetti and Sgt. Mary Humburg paid the slaughterhouse $40 of their own money for Merrick, and saved the baby goat from certain death.
"I love animals," Sgt. Humburg stated, "He was just a baby. How could I let it get killed?"
Two days later the 103rd precinct posted pictures of the officers with Merrick on Twitter
Just four days after his daring escape, Merrick was moved to an animal sanctuary in Suffolk County Long Island. When reached for comment, Sgt. Humburg stated simply "He deserved his freedom." The 103rd precinct also followed up with a tweet showing Merrick at the animal sanctuary.

The act of compassion demonstrated by these officers, while rare, is not entirely unique. As the Free Thought Project previously reported, Officer Randall Frederick of the Round Rock Police Department was responding to a disturbance call when he was bitten by a family dog. Instead of shooting the dog, Officer Frederick soothed him thus preventing a violent scene from becoming fatal.
At a time when so many Americans continue to grow increasingly frustrated with law enforcement over the senseless killing of not only American citizens, but their dogs and cats as well, it is truly inspiring to see officers exercise a characteristic that makes us distinctly human, empathy.
Johnny Liberty is a researcher and investigative journalist. You can follow him on twitter 
103 Precinct AntiCrime Team...Sometimes you get guns,sometimes you get goats! It's not just a job,it's an adventure. pic.twitter.com/hLhAj026p1
— NYPD 103rd Precinct (@NYPD103Pct) January 20, 2016
">@LibertyUnltd