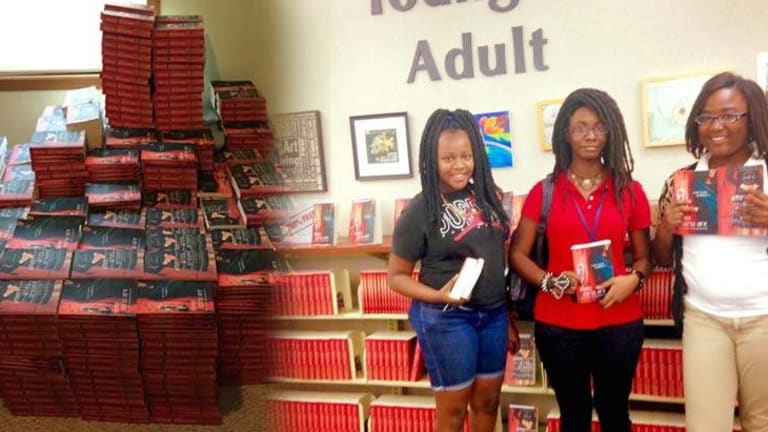 After a High School Banned a Controversial Book, The Internet Struck Back in a Remarkable Way
A high school's attempt at censorship was met with an outpouring of resistance from across the country.
Charleston, SC -- At West Ashly High School in Charleston, South Carolina there once lived a book titled Some Girls Are by Courtney Summers.
Some Girls Are is a book about bullying, girl on girl violence and sexual violence. It is geared toward adolescence to help teach them about some of life's tribulations.
The book was not required to be read at all; it was only given as a choice. But this was too much for one parent who felt that she needed to step in and prevent all students from reading it.
According to the National Coalition Against Censorship:
Late last month, a parent of a student at Charleston's West Ashley High School was alarmed by some of the language and themes in Courtney Summers' Some Girls Are, which was one of the two choices on the summer reading list for Honors English I. The novel deals frankly with topics like sex and drug use among teens. The parent wrote a letter to the editor of a local newspaper and then filed a formal complaint with the school over the book, which she called "smut," even after the school added a third option.

That complaint, according to school policy, should have triggered a formal review. But principal William Runyon decided the book should be removed.
The very thought of a book being banned in the 21st Century would be laughable if it weren't an unfortunate reality. As The Free Thought Project reported last month, according to a recently released Harris Poll survey, the number of Americans who would support the banning of books has doubled between the years of 2011 and 2015.
It's not just the random mom who wants to shield their child from the horrors of human anatomy and its functions either. Many people wanted to ban books that were controversial and opposed their religious beliefs. Some of those surveyed wanted to ban the Bible, while others wanted the Koran banned, others wanted any books banned that supported the ideas of creationism, and still others wanted to ban atheist texts.
How can we call it The Land of the Free without everyone else attempting to limit your mental horizons, right?
Fortunately, in the case of West Ashley High School, their story has a happy ending.
After Kelly Jensen, a blogger at Stacked, got news of the book being pulled from the list, she put a call out to her readers for help. According to Jensen:
As my gears began turning, I thought about the public library and wondered if I knew someone down there. Andria Amaral's name stood out in my head after what she and her library said and did following the tragic loss of their coworker Cynthia Graham Hurd in the Charleston shooting.

I picked up the phone, called her, and asked if she'd be up for trying something out. Without hesitation, Andria was in.

On July 30, I put out a call to my readers at STACKED, asking if they'd be willing to donate a copy or two of the book. The book was available for $1 at Book Outlet, and I said I'd be happy to send any amount of books down there on my own dollar. Andria would receive them all, then she'd distribute to the teens.

The response was phenomenal.
Over 830 copies of the book came in from all over the country.
As Jensen was thinking about a message to place inside every book to explain why they were there, she came up with the idea to contact the book's author. Courtney Summers, responded and here's what she wrote:
When I found out Some Girls Are was removed as a title for West Ashley High's summer reading program following the complaints of one parent, I was saddened and disappointed. One of the reasons I write my novels is so that teenagers living the harsh realities depicted in them will read them and feel less alone. We don't protect teens by censoring their reality and in doing so, we often deny them a lifeline. Books provide us with the opportunity to empower teens by letting them have a say and a choice in what is relevant to their lives.

I'm deeply grateful to Andria Amaral of Charleston County Public Library, Kelly Jensen of Stacked Books, and the countless people who donated copies of Some Girls Are for giving that say and that choice, back to you, the students of West Ashley High.
Eventually, the books were distributed to several libraries where they would receive a warm welcome and make their way into the hands of those who wanted to read them -- in spite of the censors.