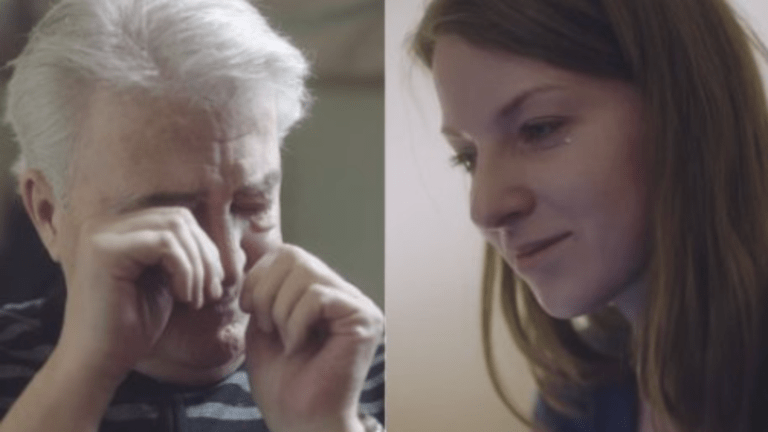 The Homeless Read Mean Tweets About The Homeless in Heartbreaking Awareness Campaign
A new campaign using the hashtag #HumansForHumans is spreading like wildfire after a group called Raising The Roof Canada produced a short, yet unforgettable, YouTube PSA. The video shows people without stable shelter reading mean tweets. The goal of the campaign is to remind everyone that we are all human beings with feelings.
"I was enjoying a latte when I saw a hobo girl across the street. I almost vomited. Get back to your side of the bridge. No 1 Likes u," read one of the tweets.
" width="790" height="444" frameborder="0" allowfullscreen="allowfullscreen">
The gut-wrenching video is modeled after the popular Jimmy Kimmel segment where he has celebrities, and even the president, mean read tweets about themselves online. The difference with this video, is that nobody should be laughing.
"If home is where the heart is, does that mean homeless people are heartless?" Another awful tweet reads.

"Far from it," a woman named Cheryl who has been without a residence for 7 years tearfully replies.
The group also uploaded a series of individual responses from each of the readers, as well as videos the group responding to questions from the public, which can all be viewed here.
" width="790" height="444" frameborder="0" allowfullscreen="allowfullscreen">
Another video was uploaded by the group titled "What the Homeless Want You To Know," where the group let viewers know how much simple acts of kindness can mean. They remind the world that they, too, have feelings, and we should all stand together. We are all still people who are breathing, still have a heart beat, love, and have sadness. Be kind to each other, you never know what someone else has been through.
" width="790" height="444" frameborder="0" allowfullscreen="allowfullscreen">
While watching these videos, one can't help but wonder what kind of impact reading such ignorant and hateful messages may have on a person. Carolann Barr, executive director of Raising the Roof Making told CBC News that each person had two or three pre-interviews before going on camera and making sure the individuals were fully prepared to read hurtful statements was a big concern.
Barr continued on to explain that while the tears were hard to see, all participants were happy to help humanize homelessness.
"The fact these words caused so much pain and created so much emotion was proof that people living with homelessness feel second class," Barr stated. "The words hurt."