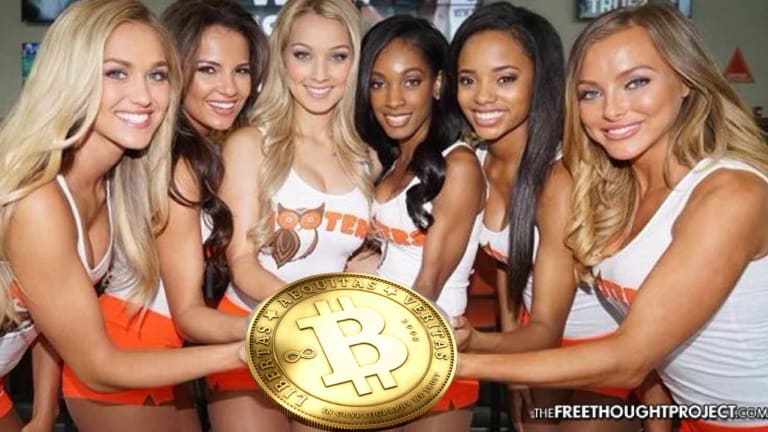 "Eating A Burger is Now A Way to Mine Cryptocoins": Hooters Rewards Are Now on the Blockchain
You can now mine cryptocurrency and trade with other members for merely eating a burger at Hooters and joining the rewards program.
Proving the incredible power and desire to adopt the blockchain, companies are moving to incorporate it into their brands and it is having incredible results. In December, the Long Island Ice Tea Company rebranded itself as Long Blockchain—sending their stocks through the roof—seeing it triple in value. Now, an affiliate of the popular Hooters 'family' restaurant has just experienced similar success.
The stock market apparently loves the blockchain.
Chanticleer Holdings, a franchisee, investor, and minority shareholder of Hooters of Americasaw its stock soar by 50 percent after the company announced that it would be moving its reward programs to the blockchain.
As Ars Technica reports, Chanticleer Holdings owns a number of different brands, most of them burger-related. These include Little Big Burger in the Northwest, American Burger Co. on the East Coast, and the national BGR chain.
"Eating a burger is now a way to mine for cryptocoins," said Dennis Becker, CEO of Mobivity, the company that's helping Chanticleer jump on the cryptocurrency bandwagon. "Every meal enjoyed at any Chanticleer Holdings brand will accrue currency for the consumer that can be used for future meals or traded with other consumers."
By moving their rewards program to the blockchain, Chanticleer Holdings apparently illustrated to investors that they are innovative enough to send their stock soaring to record highs in a single day. The Nasdaq-traded stock had a market value of only $8 million through Friday — which surged to $12 million Tuesday — so it's clearly buyer beware.
While this may seem like an innovative move, this appears to be a newfound trend among smaller companies who are seeing insane gains by merely associating themselves with the blockchain.
As CNBC reports, Longfin surged 1,342 percent in two days in mid-December to a market value of more than $3 billion after buying a cryptocurrency company with no revenue. The rally spurred the company's CEO to say "this market cap is not justified."
Indeed, these gains are not very sturdy and after seeing such a massive surge Chanticleer Holdings fell on Wednesday—but is still well above its 3-month trend. 
When companies trading on the stock market are making massive gains by merely associating themselves with the cryptocurrency world, it means that blockchains and decentralized money are what the future demands. What's more, is that this most revolutionary move away from the money controllers and the state has only just begun...humanity's best days are in front of us!