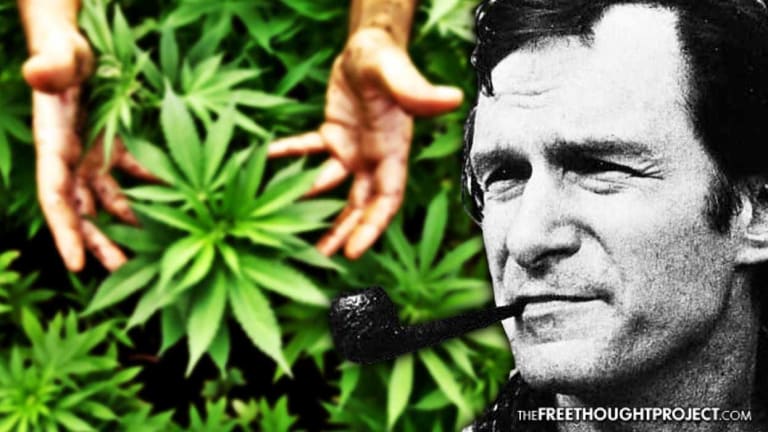 RIP Hugh Hefner—47 Years Ago this Playboy Helped Start a Cannabis Revolution
Hugh Hefner and the Playboy Foundation provided the first funding grant to the National Organization for the Reform of Marijuana Laws.
Hugh Hefner died at the age of 91 on Wednesday, and while he is most popularly known as the founder of Playboy Magazine, he was also a strong advocate for cannabis legalization, and his charitable organization provided the first funding grant for the National Organization for the Reform of Marijuana Laws.
The nonprofit organization, commonly referred to by the acronym NORML, was founded by Keith Stroup in 1970. At the time, he said he had reached out to a number of foundations asking for funding, only to be turned down because the concept of legalizing cannabis was not mainstream. However, Stroup said he got the idea to reach out to the Playboy Foundation when he was smoking cannabis with a group of lawyers who worked for Ralph Nader in Washington D.C.
"One of [Nader's] young lawyers named John Esposito said to me, 'Keith, have you checked with the Playboy Foundation?' We were in the process at that point of sending funding proposals out to any foundation we could identify where we thought it might be possible that they would give us some funding. And frankly, on the first 8 or 10 we sent out, I didn't get anything back but standard rejection letters. I hadn't even been allowed to come and interview personally. So clearly, it was still considered by most foundations too hot to handle."
Stroup said he figured there was no harm in reaching out to the Playboy Foundation, and when he did, he received a phone call from a representative saying they were interested. That phone call led to a meeting in D.C., which led to a meeting in Chicago with Hugh Hefner and the board of directors.
"It was kind of a historic moment for NORML," Stroup said. "Hefner almost immediately embraced the idea and certainly, although he was technically just chairman of the foundation board, you can imagine that since he owned 90 percent of the stock in the company that funded the foundation, he basically could do pretty much what he wanted."
Stroup noted that Hefner was a cannabis user who began smoking as an alternative to alcohol. "Hefner had been someone who used to have been an alcohol drinker, but had given up alcohol some time ago, and had become a marijuana smoker," Stroup said. "He had a personal interest in the issue that it should be legal, it's better for people than alcohol."
After the business meeting, Hefner and the Playboy Foundation offered Stroup a $5,000 grant for NORML—the first one he had been offered. Stroup said he was conflicted on whether he should accept the money at first, because he had received so many rejection letters that he pursued a traditional job, and had just been hired.
"I wasn't quite sure I wanted to pass up this job opportunity for what was a $5,000 grant, and after the first couple of months we would have used that money up, and I wasn't sure there would be any other money to follow, but the more I thought about it, I realized this is either something I believed in and wanted to take a risk with, or it wasn't and the fact that someone was willing to put up some money suggested that maybe it was a risk worth taking, so I accepted their grant, I passed up the chance to take a traditional job again, and I never looked back."
Nearly 50 years after its inception, NORML is now a thriving organization that is actively working towards its mission to "move public opinion sufficiently to legalize the responsible use of marijuana by adults, and to serve as an advocate for consumers to assure they have access to high quality marijuana that is safe, convenient and affordable."
In a statement on Hefner's death, Stroup described the original Playboy as a pioneer who helped awaken millions of Americans to the reality that cannabis prohibition is "a misguided and destructive public policy."
"Hugh Hefner, or "Hef" as he preferred to be called, played a crucial role in the early days of NORML. At a time when most Americans were accepting the government's "reefer madness" propaganda, Hef, through the Playboy Foundation, provided NORML with our initial funding in early 1971, and became our primary funder all during the 1970s. And by focusing attention in Playboy magazine on some of the most egregious victims of the war against marijuana smokers, he helped us convince millions of Americans that marijuana prohibition was a misguided and destructive public policy. Hefner was a fearless cultural crusader who believed deeply not just in the right to sexual freedom, but also in civil rights and the right to privacy. May he rest in peace."