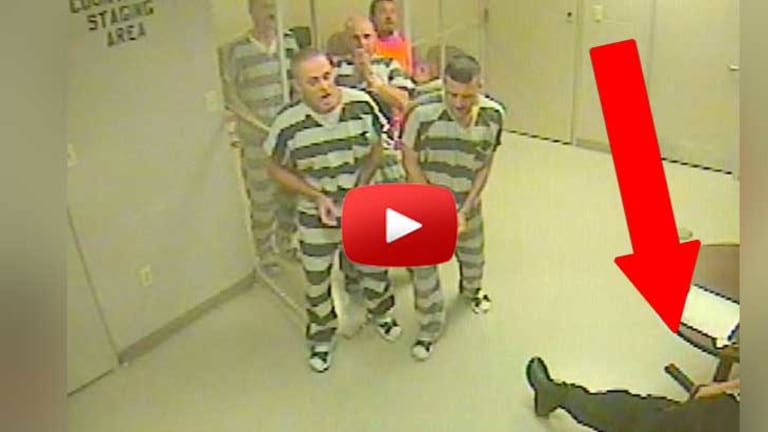 WATCH: Inmates Break Out of Their Cell -- To Save Guard's Life
Facing the prospect of being shot, eight inmates broke out of their holding cell, to help an unconscious prison guard in the middle of a heart attack.
Parker County, TX -- (RT) Facing the prospect of being shot, eight inmates broke out of their holding cell, in order to help an unconscious prison guard they witnessed slump over. Once out, the prisoners then banged on doors to get help for the correctional officer.
"He just fell over," said inmate Nick Kelton told WFAA-TV on Thursday about the incident that happened June 23. "Looked like an act. Could have died right there."
Wanting to get help for the officer, Kelton and seven other inmates began shouting. With no response, throwing their combined weight against the cell door, they forced it open. Still handcuffed and shackled, finding the guard with no pulse, they continued yelling for help, and this time, officers upstairs in the District Courts Building courtroom could hear them. "We were worried they're going to come with guns drawn on us," Kelton said.

As one of them reached for the guard's radio to call for help, police rushed into the holding room and corralled the inmates before realizing there was a medical emergency.
Parker County Sheriff's Sgt. Ryan Speegle said he did not know what to expect when he got downstairs.
"He had keys," Speegle said. "Had a gun. It could have been an extremely bad situation."
Speegle first saw the inmates handcuffed and shackled, standing over the guard. He put them back in the holding cell without realizing the guard was in trouble. Realizing what was going on, deputies started CPR, then paramedics arrived and shocked the guard to restart his pulse.
Capt. Mark Arnett believes prisoners certainly helped the guard, and likely saved him.
"He could have been there 15 minutes before any other staff walked in and found him," Arnett said.
This is not the first time inmates have arrived at the aid of their jailer. Several prisoners at the Orient Road Jail in Tampa, Florida rushed to rescue the guard, as seen on video, during an attack by another inmate who had him in a choke hold.