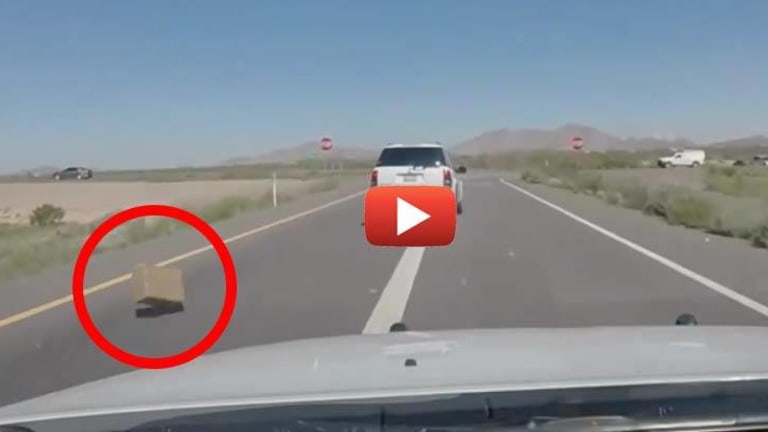 Insane Dashcam Footage Shows Suspects Throwing Multiple Bales of Marijuana at Police Car
Luckily no innocent motorists were injured during the attempt to arrest the illegal plant dealers.
Casa Grande, AZ -- Incredible dashcam footage was released Sunday from a high-speed chase involving Pinal County Sheriff's Office and suspected marijuana traffickers.
During the chase, the suspect began tossing bales of marijuana out of the windows as their car sped down the freeway. The resultant video was chaotic, to say the least.
Bales flew by the officer in pursuit, some exploding into the air as they hit the pavement at such high speeds.
According to WTSP, Jim Knupp, a Pinal County Sheriff's Office spokesman, said a deputy was monitoring traffic along the highway near Trekell Road when he spotted a 2006 White Trailblazer traveling at high rate of speed.
"When the deputy caught up with the vehicle, he attempted to perform a traffic stop," he said in a news release. "The vehicle began to accelerate to speeds in excess of 100 miles per hour and the occupants began to throw bales of marijuana out of the vehicle onto the roadway."
Units from MCSO soon joined the pursuit, and deputies finally stopped the vehicle after laying down spike strips in the vehicle's path, which deflated its tires.
"During their interviews, the men indicated they were offered $1,000 by a female in Phoenix to drive the Trailblazer to I-8 to pick up unknown packages," Knupp said.
If the state wasn't actively engaged in kidnapping and caging people for voluntarily exchanging money for plants, this chase would have likely never happened. Luckily none of the innocent motorists were hurt during this pursuit.
Authorities say that they are unaware of the total amount of marijuana tossed from the vehicle because most of it was picked up by motorists in the wake of the chase.
At any one time, 59,300 prisoners charged with or convicted of violating marijuana laws are behind bars. Of those, 17,000 are behind bars for possession ONLY, not trafficking.
Enforcing marijuana laws costs an estimated $10-15 billion in direct costs alone. Not to mention the sustained costs of incarceration of the individual who has done nothing to harm anyone. It is estimated that the money spent enforcing useless marijuana laws is double what we spend on education in this country.
Countless lives are ruined every year as the state locks people away or worse, for possessing a plant. The time is now to end this ridiculousness before another innocent life is ruined or taken in the name of controlling what people can put in their own bodies.