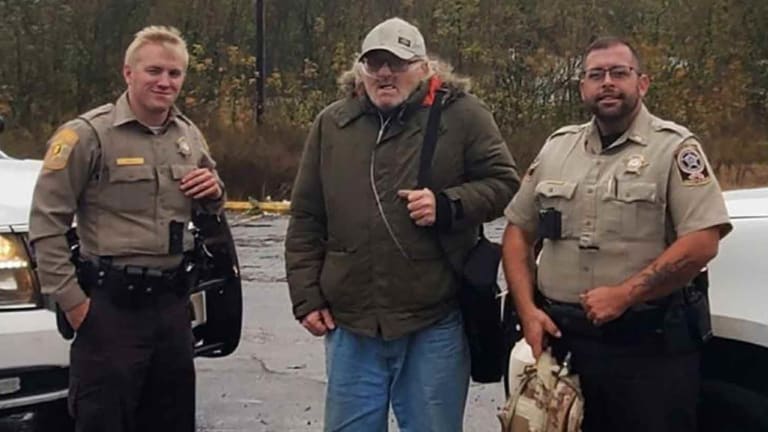 Instead of Arresting Disabled Veteran For Hitchhiking, Cops Drove Him 100 Miles to Doctor
Instead of arresting a disabled veteran for hitchhiking, cops helped him and set off a chain reaction which made the world a better place.
Huntsville, AL — In the state of Alabama, it is illegal for people to walk along the roadways and solicit rides from motorists. This act is known as hitchhiking and it is explicitly outlawed in Alabama Code Title 32. Motor Vehicles and Traffic § 32-5A-216. According to the code, "No person shall stand in a roadway for the purpose of soliciting a ride." Given the duty of police officers to enforce the law and their history of beating, kidnapping and caging people for this type of violation, one would think that when officers passed Gerald Baldwin, a disabled veteran, hitchhiking down the highway, they would have arrested him. However, a handful of cops in Alabama just proved us wrong and their actions have made the world a better place.
Baldwin is a disabled veteran who has no means of transportation but who was trying to get to a doctor's appointment nearly 100 miles away. Having no one to bring him, Baldwin grabbed his oxygen tank and started down the highway. When a Walker County Sheriff's Office Deputy came across the disabled veteran — who has cancer — walking down the street with his oxygen, he restored our faith in humanity and gave the man a lift — instead of arresting him for hitchhiking.
When the deputies learned that he was hitchhiking to get to a doctor's appointment for cancer some 100 miles away, multiple departments came together to help him out. The Morgan County Sheriff's Office made a post on Facebook explaining how multiple departments came together to get the hitchhiking veteran to his appointment. They didn't just bring him there, however, they brought him back home too!
On Wednesday in Alabama, a Walker County Sheriff's Office Deputy came across a man walking down the road with an oxygen tank and learned he is a Disabled American Veteran trying to walk/hitchhike from the Jasper area to Huntsville for a Dr. Appointment he was told he could not miss. With no way to get there, he said he started walking.

The deputy acted quickly and escorted the Gulf War Veteran to the Cullman County line where a Cullman Sheriff Deputy picked him up. The deputy then transported him to the Morgan County Line where a Morgan County Sheriff Deputy took over and met a Madison County Sheriff Office Deputy in Huntsville who finished the trip and took the man to his appointment.
After an overnight stay, we were happy to do it all again today..... in reverse to help get the man back home.
https://www.facebook.com/MorganSheriffOffice/photos/a.618618998215654/2470406843036851/?type=3
Baldwin had to stay overnight to see the doctor and the deputies made all the arrangements to bring him back home after his visit.
The good deed of the deputies did not go unnoticed either, and according to WAFF, a woman in Oklahoma sent the Facebook post to a man named Lance Baldwin, living in Pennsylvania.
Baldwin realized the man in the photo was his father who he hadn't talked to in more than five years, according to the news outlet.
"I couldn't bring myself to message him. It's just a lot of bad blood between us," Lance Baldwin said. "But I knew his health was declining. He had cancer surgery the last time we spoke. I should have been there more."
He said, "I've read that post probably a dozen times over and over again. I still can't believe that they went as far as they did to get him to where he needed to be, then to do it again in reverse to take him back home."
The son added, "I'm not a religious person, but somebody was up there watching."
Because these deputies chose to help a random man hitchhiking instead of arresting him, a father and son who haven't spoken in years are being reunited. Lance Baldwin told the news outlet that this act has inspired him to reach out to his dad.
"Even more now, after seeing that post and seeing him, I will probably do that here this weekend, is reach out to him," he said. "He's a tough old man...He's always been my superman."
This is what public service is. This is what happens when police choose to help instead of escalate and arrest. These deputies refusing to arrest a man for hitchhiking and helping him instead has turned a potentially horrific situation into a beautiful one that will make the world that much better. Now, if all cops would follow their lead.