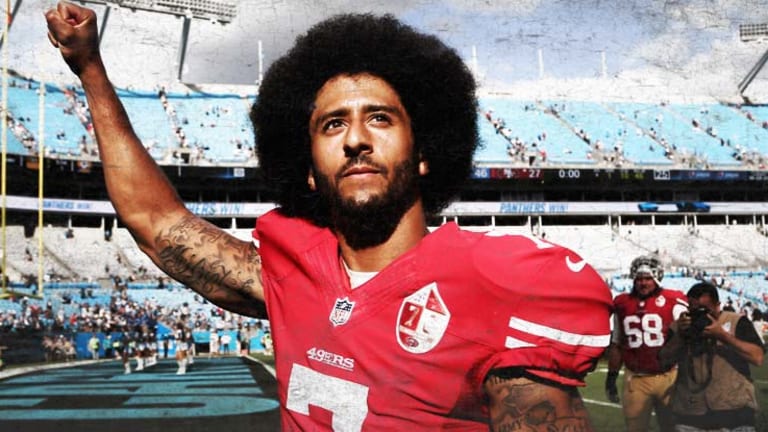 After Bravely Calling Attention to Police Brutality, Colin Kaepernick Chosen for 49ers' Highest Honor
San Francisco 49ers players have voted for quarterback Colin Kaepernick to receive the Len Eshmont award, the team's most prestigious award.
San Francisco 49ers players have voted for quarterback Colin Kaepernick to receive the Len Eshmont award, which is described as the team's most prestigious award. The award is given to the player who "best exemplifies the inspirational and courageous play of Len Eshmont," according to the 49ers' website. The Eshmont Award has been given to NFL Hall of Fame 49ers like Joe Montana, Steve Young, Roger Craig and Jerry Rice. This is Kaepernick's first time winning any team award during his six seasons in San Francisco.
The award comes after a season overshadowed by controversy centered around Kaepernick's decision to kneel for the national anthem in protest against social injustices such as police brutality. Colin Kaepernick's protest became one of the most divisive issues of discussion during the 2016 election because many critics think it is disrespectful to the service of soldiers and police officers. Players on other teams were constantly asked about their thoughts on the protests, and many criticized it for the same reasons. The national discussion became a volatile mix of politics and race fueled by the competitive nature of conversation that defines American sports and pop culture.
The controversy also generated many extreme responses as critics showed their displeasure by burning Kaepernick's jersey, which eventually became number one on the league's sales charts in the weeks following the protests. At an Alabama high school football game, the crowd cheered after a local pastor said players who don't stand for the US national anthem should be shot.
Kaepernick's protest inspired many other athletes around the country to kneel for the national anthem as well in solidarity with his message calling for the country to live up to the values of equality in justice. He was first joined by teammate Eric Reid and then other NFL players began to kneel in support or raise one fist while standing, like the 1968 Olympic protest for black equality. The Seattle Seahawks and Kansas City Chiefs also showed support with the entire team locking arms as opposed to kneeling. High school football players, sometimes even entire teams kneeled for the anthem to show solidarity.
The protests spread to other sports with U.S. Women's National Team soccer star Megan Rapinoe kneeling before a team game. WNBA players joined the protests, including the entire Indiana Fever team before a playoff game. College volleyball players joined, as well as various other college athletes.
Eventually, media was forced to acknowledge that many veterans were in support of Kaepernick's right to kneel for the singing of the Star Spangled Banner, as well as in support of the message behind it. The hashtag #VeteransForKaepernick became a trend on Twitter at one point.
Nate Boyer, a former Green Beret and Seattle Seahawks long snapper, wrote an open letter to Colin Kaepernick in support of the protest, which was posted by Army Times. Boyer says he initially felt anger toward Kaepernick but that he has changed his mind and has appreciation of what Kaepernick did. Boyer said "not only does he every right to do that, but I respect him," after he listened to Kaepernick's reasoning for his protest.
Kaepernick also commented on the political situation when explaining his actions because he felt neither Hillary Clinton nor Donald Trump represented the values of America, and the choice became the lesser of two evils which do not represent the changes America needs. These comments were largely ignored by media while focusing on the military and police angles.
You have Hillary who has called black teens or black kids super predators, you have Donald Trump who's openly racist. We have a presidential candidate who has deleted emails and done things illegally and is a presidential candidate. That doesn't make sense to me because if that was any other person you'd be in prison. So, what is this country really standing for?
Trump commented on the controversy by saying that he should leave America.
"I think it's personally not a good thing, I think it's a terrible thing. And, you know, maybe he should find a country that works better for him. Let him try, it won't happen."
The 49ers addressed the protest in a statement issued by the team's front office saying "we recognize the right of an individual to choose and participate, or not, in our celebration of the national anthem" because they are basic American principles of freedom.
In a scathing letter addressed to Jed York, the 49ers CEO, the Santa Clara Police Officers' Association threatened the team with an ultimatum demanding the team silence Kaepernick or lose their police protection services at 49ers games.
"These intentional acts and inflammatory statements by Mr. Kaepernick are insulting to the members of SCPOA. It is apparent, that the 49ers organization is aware of Mr. Kaepernick's actions. These actions have occurred while Mr. Kaepernick was acting as an employee of the 49ers and at 49er facilities in Santa Clara. The 49ers organization has taken no action to stop or prevent Mr. Kaepernick from continuing to make inaccurate, incorrect and inflammatory statements against police officers, which include members of the Santa Clara Police Officers Association."
Colin Kaepernick did not announce his protest in any way when it began because it was not meant to generate publicity. However, it was simply an expression of his current thoughts. The protest started during the first preseason game on August 14, but it did not become a national issue until the third game on August 26 after a writer covering the team tweeted a photo showing Kaepernick sitting on the bench, however, the photo was of the entire field and not specifically of him.
After the game, Kaepernick responded to media questions on the subject saying that he sat because the values represented by the anthem are not consistent with the oppression of people of color and patterns of police brutality. Two days later, he gave extended statements to the media for about 20 minutes to explain his actions, because of the national conversation focusing on his protest.
"I'm going to continue to stand with the people that are being oppressed. To me, this is something that has to change. When there's significant change and I feel that flag represents what it's supposed to represent, and this country is representing people the way that it's supposed to, I'll stand."

"This stand wasn't for me. This is because I'm seeing things happen to people that don't have a voice, people that don't have a platform to talk and have their voices heard, and effect change. So I'm in the position where I can do that and I'm going to do that for people that can't."

"It's something that can unify this team. It's something that can unify this country. If we have these real conversations that are uncomfortable for a lot of people. If we have these conversations, there's a better understanding of where both sides are coming from."

"I have great respect for the men and women that have fought for this country. I have family, I have friends that have gone and fought for this country. And they fight for freedom, they fight for the people, they fight for liberty and justice, for everyone. That's not happening. People are dying in vain because this country isn't holding their end of the bargain up, as far as giving freedom and justice, liberty to everybody. That's something that's not happening. I've seen videos, I've seen circumstances where men and women that have been in the military have come back and been treated unjustly by the country they fought have for, and have been murdered by the country they fought for, on our land. That's not right."
Many fans and analysts also criticized Kaepernick's protest as a distraction to the team's goals, however, the award shows the true spirit of football players who will support their teammate for showing courage. Kaepernick took over as the starting quarterback on October 16 in Week 6 against Buffalo and finished the season as the starter.
As reported by ESPN, center Daniel Kilgore said that he initially did not understand why Kaepernick chose to protest but changed his opinion after a players-only meeting called by Kaepernick to allow his teammates to ask questions of him.
"After Kap stated his case today, and seeing where he is coming from, I do stand with Kap when he says 'enough is enough' against crime and the violence and discrimination and racism," Kilgore said in August. "I believe that enough is enough. But I could see why people would think it's bad with the national anthem and the military."
Kaepernick showed more proof of his genuine actions with the initiatives he took after the controversy. In September, he announced that he was "donating the first million dollars I make this year to different organizations" that fight police brutality.
Kaepernick also hosted a free youth camp called Know Your Rights, a "free campaign for youth to raise awareness on higher education, self-empowerment, and instruction to properly interact with law enforcement in various scenarios," as the website explains. Hundreds of black and Latino children attended the camp, which took place in Oakland and he plans to expand the program beyond the Bay area.
Kaepernick has stated his reasoning many times for those who were willing to listen. "I am not looking for approval. I have to stand up for people that are oppressed. ... If they take football away, my endorsements from me, I know that I stood up for what is right."