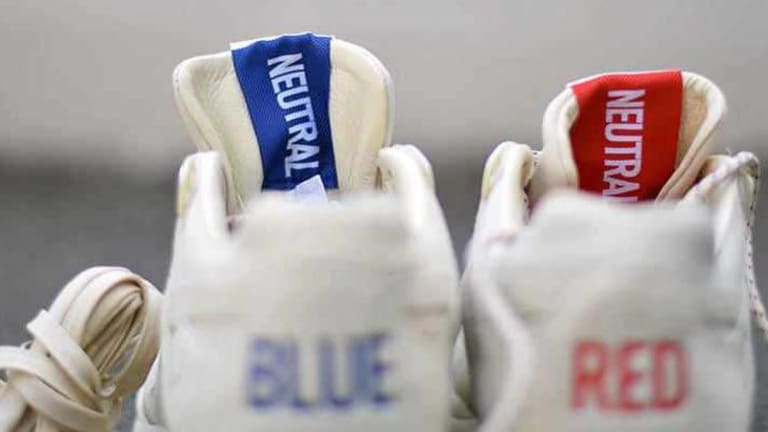 Kendrick Lamar and Reebok Collaborate on Sneakers to Promote Peace Among Rival Gangs
The idea is simple yet brilliant; Promote peace through style.

Rapper Kendrick Lamar recently signed a deal with Reebok to design a line of sneakers, and the design that he came up with may be one of the most thought-provoking concepts to be applied to footwear.
Lamar's design is an artistic call for peace between rival gangs, focusing on the red and blue colors that have become infamous throughout the long war between the crips and the bloods.
Lamar chose to apply his design to the classic Reebok Ventilators, with each sneaker having a white base, but one shoe has red stitching and lettering while the other has blue. The word "Neutral" is also printed on the inside of each shoe.
The shoes will be on sale in two weeks in Europe, where they will sell for roughly €130, or about $143. There is still no word as to when they will be available in the US.
Kendrick Lamar has been outspoken about the need for gang unification in the past, and this is a theme that reoccurs often is his lyrics and even on his album covers.
Lamar is also outspoken when it comes to the issue of police brutality. Just last week he released a new video for his song "Alright," which made very strong statements about police in America.
One thing that is often forgotten is that many of today's street gangs have roots in activist groups that sought to provide protection for communities that were being ignored or oppressed by police. These groups became less organized over the years, lost their way and turned to corruption. However, a truce could help these groups return to their roots, where they provide protection and services for their community.
In fact, this is already happening. Several months ago, during the Baltimore riots, we reported that the Crips, Bloods, BGF. These major gangs called a truce to protect their communities from bad cops, looters and anyone else who was a potential threat to people or property in the city.
" width="790" height="444" frameborder="0" allowfullscreen="allowfullscreen">
" width="790" height="444" frameborder="0" allowfullscreen="allowfullscreen">
John Vibes is an author, researcher and investigative journalist who takes a special interest in the counter culture and the drug war. In addition to his writing and activist work he organizes a number of large events including the Free Your Mind Conference, which features top caliber speakers and whistle-blowers from all over the world. You can contact him and stay connected to his work at his Facebook page. You can find his 65 chapter Book entitled "Alchemy of the Timeless Renaissance" at bookpatch.com.