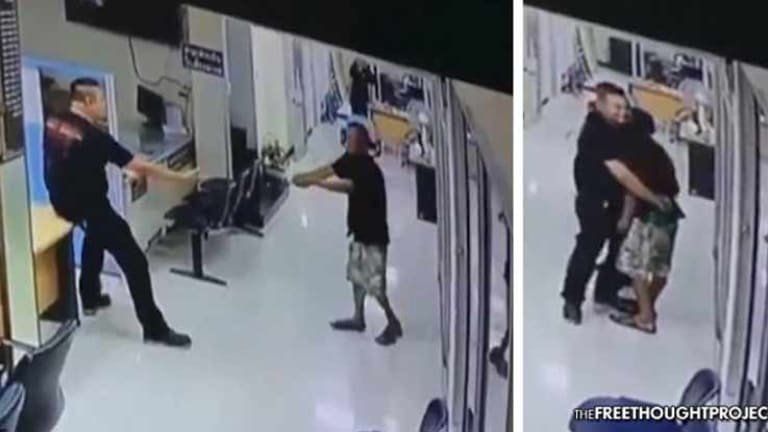 WATCH: Hero Cop Stops a Knife Attack With Love & A Hug — NOT Violence
A distraught man walked into a police station with a knife looking for suicide by cop. However, the cop showed him love and it ended in the most incredible way.
Bangkok, Thailand — A cop on the other side of the globe just showed the world that cops can actually stop a person armed with a knife — without killing them. Not only was violence not used in disarming the man but the exact opposite — love.
In video after video after video, we see police needlessly escalate situations to deadly force prior to attempting any heroic action, or even less lethal action, or simply backing up when confronted with people holding knives.
Mentally ill individuals have a 1,600% higher chance of being killed by police than anyone else, regardless of race. All too often, we see good people, who are in need of medical help - gunned down by officers because they 'fear for their lives' due to a complete lack of training in dealing with the mentally ill.
When the extremely rare case of police officers stopping an armed assailant without killing them is captured on video, the world needs to know. While celebrating the officer(s) who stopped the man without killing him is important - what's more important is showing other officers and their apologists that it's possible to solve these problems without deadly force.
The example below is one amazing way of stopping an armed man. And, while it is important to note that not all knife attackers will not respond in a similar manner, this officer clearly assessed the threat and made the decision to spare a life instead of end it.
Behold the power of love.
According to a report in Nine News, the name of the police officer is Anirut Malee, and the assailant is a former musician, who at present is employed as a security guard.
Anirut told Thai Visa News: 'He used to be a musician but had been working as a security guard for three days and had not been paid. On top of this, he had had his guitar stolen and it was all stressing him out.
Nine News states that Malee while speaking to Sanook News said that the man was very anxious after not being been paid for three days. "I heard him out and sympathized and said I had a guitar to give him, and suggested we go out for a meal together," Mr. Malee said.
Instead of being killed for his poor decision, the unnamed assailant was sent to a hospital for an evaluation of his mental state and no charges were reported.
Video of the incident has since gone incredibly viral, and for good reason.
To those that don't think this sort of approach is possible in America. Think again.
The Free Thought Project has actually reported on it.
David Bundy, 39-year-old Roanoke Rapids resident, called 911 in 2015, and said that he had been "hearing voices" and was feeling suicidal. An officer soon arrived at his home, where the man answered the door armed with a knife. The events were all caught on the officer's body cam. Officer Jamie Hardy first calmly talks to the troubled man, and then uses minimal force to subdue and disarm Mr. Bundy, who is then put into protective custody -- which, for once, was actually protective.
As a result, Bundy was able to take a step back from the brink, and now thanks and credits Hardy for saving his life. Not all people with suicidal thoughts are like David Bundy, and Lord knows not all police officers are like Jamie Hardy, but in this case—thanks to a body cam—we can see an ever rare video of a policeman acting like a true peace officer. More importantly, we see a man with a badge acting like a courageous but compassionate human being.
"Nobody wants to hurt anybody else...our job is, you know...protecting people," Officer Hardy stated.
David Bundy and family had an emotional reunion with Hardy. Bundy was expressing his gratitude while choking back tears saying, "He...he saved my life." Both of Bundy's parents were so emotional and grateful they couldn't get a word out as Bundy's mother managed to give her son's savior a tearful hug.
Roanoke Rapids Police Chief Charles Hasty told reporters
"It could have possibly been a deadly force situation, and those skills he used prevented that."
Those skills were love and compassion.