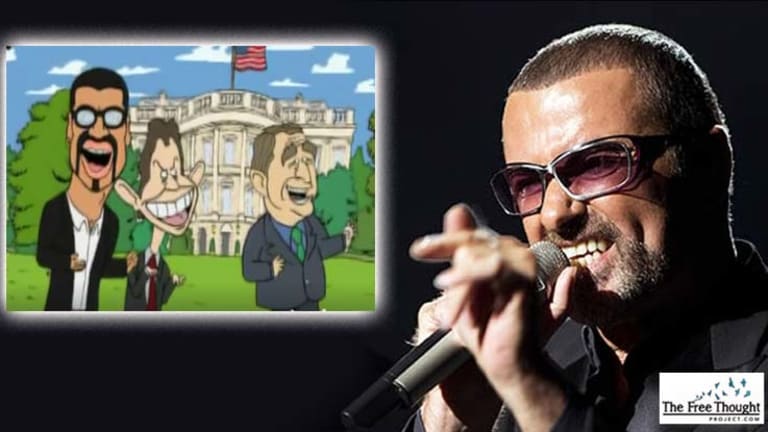 Rare George Michael Video Resurrected After His Death Shows He Opposed the War Before it Was Cool
George Michael (late) speaks out against the second Gulf War against Iraq in a previously suppressed music video and BBC interview.
Fans, critics, followers, and haters may not know that the late George Michael, UK pop singer who passed away on Christmas Day (2016), was an outspoken anti-war activist. Michael, whose album "Faith" sold 20 million copies, shared his anti-war opinions in an interview with the BBC (2003) just three weeks before the controversial preemptive invasion of Iraq, the contents of which have recently resurfaced.
Speaking with BBC interviewer Tim Sebastian, Michael shared his fears that the U.S. was using the events of 9/11/01 for the purposes of revenge to get back at those who had destroyed the World Trade Center towers. He also targeted former Prime Minister Tony Blair with his criticisms as well. "I'm scared about Mr. Blair and his attitude to the future….September 11th was so obviously directed at America to provoke a response, and the response was supposed to be revenge," he said. Michael intimated that the UN coalition against Saddam Hussein was simply a delayed "knee-jerk" reaction, something he considered "pointless."
Michael, who initially supported and voted for Blair, lost faith in the man after the singer says he "removed idealism from politics". Michael stated to go to war with Iraq wasn't a Christian action to take. "This is not ethical is it? This is a Christian country, with supposedly a Christian leader who somehow thinks the answer to the future is preemptive action," against Hussein, something Michael likened to the creation of the atomic bomb. Michael told Sebastian that Blair was "bullying the UN" by saying the "UN needs to prove its relevance", a supposed quote Blair made of the UN.
Michael said he supported Blair until the public simply disagreed with the former prime minister. "I want somebody who leads on his convictions until 90 percent of the public disagrees with him," he said when asked by Sebastian what kind of Prime Minister Michael would want. Going further Michael said, "You're not paid to put people's lives in danger and ignore their opinion on that very subject. No one is paid to do that," he said remarking the majority consensus in the UK was against the preemptive war against Iraq. "You cannot do this at the moment when the entire fundamentalist terrorist network around the world is waiting for this to legitimize what they want to do," Michael said sounding a lot like others who said the terrorists were simply attempting to draw major world powers into their idealistic jihadi struggle.
Sebastian questioned whether or not Michael wanted a serious debate on the subject. Michael responded by saying that was precisely the reason why he wrote the song "Shoot The Dog" and created the animated music video. All he said was done to use humor to be able to engage in conversation about the misguided motives for war in the Middle East. Michael denied his actions were "anti-war" but rather done with the intention to bring the subject "into the mainstream" conversation.
Michael said his lightbulb moment occurred when he was "absolutely aware" after he watched President George W. Bush speaking from Capitol Hill on 9/11/02 when the World Cup was being played and everyone breathed a sigh of relief that no more attacks had taken place. Michael apparently knew he had to speak out against such preemptive attacks and plans for revenge in Arab countries.
When the musician turned activist did eventually come out and speak out against Blair, Bush, the planned Gulf War II, he also got criticized, as Sebastian mentioned, by other musicians. Noel Gallagher, (UK musician) was quoted by the BBC interviewer as saying, "George is now trying to make social comment. This is the guy who hid who he actually was from the public for 20 years. Now all of a sudden he's going to say something about the world. I find it laughable. That's before you get to the song (Shoot the Dog) which is diabolical."
Michael responded by defending his sexual preferences as well as his rights to think for himself. He said, "I think that's a laughable statement. What the fact that I did not want to share my sexuality with the world in this current media atmosphere…the fact that I did not want to share my sexuality with the world means that I have no right to talk about politics?"
Michael then called Gallagher an unintelligent man and said his criticisms were lacking credibility. "He's not someone you should throw quotes at me from really," but added if they really wanted to get better source criticisms they wouldn't have to look far. Michael stated Rupert Murdoch, owner of FOX, had repeatedly attacked Michael on a number of occasions, across continents, and in various FOX owned newspaper outlets. "Mr. Murdoch attacked me solidly on SkyNews, in The New York Post, and in The Sun. And what he would do would be he would print these slurs in the New York Post in such a way that when they reprinted them in The Sun…I could only sue on the basis of it being reprinted from the American Source," a source which was protected by the Freedom of Speech made much harder to sue. Michael said he was upset being called a "pervert" simply for getting caught "cruising" (looking for a sexual partner).
Michael said of his anti-war activism, "This is something that threatens the lives and the lifestyle of people I love. This is a lot more important that trying to discourage people from taking drugs and telling them that they really should pay for their CDs."
In what is now over a decade old interview, Michael stated the American media was in collusion with the Bush administration to conceal from the American people, facts related to the preemptive strike against Iraq. He said Americans are, "not anywhere nearly as informed by their media as we are." Michael called for pause in dealing with Saddam Hussein, and for coalition countries to not take action. He also stated that citizens of the UK really did not want a war in their own homeland and said, "I honestly think that the majority of British people have no idea what we're doing here, on our own with the Americans."
Of course, history would show that Michael's comments against the coalition's invasion of Iraq in 2003 fell on deaf ears. The U.S. invaded Iraq, conquered the Iraqi army killing thousands in the process, removed Saddam Hussein, and touched off a civil war both in Iraq and Afghanistan. The conflict gave rise to millions of jihadi motivated individuals, and when Barack H. Obama encouraged the Arab Spring, Islamic revolutions commenced in Tunisia, Egypt, Libya, Qatar, and Syria, resulting in the millions strong mass migration of displaced refugees. Who knew one act of retaliation would have created so much chaos? Apparently, George Michael did. Rest in peace George.