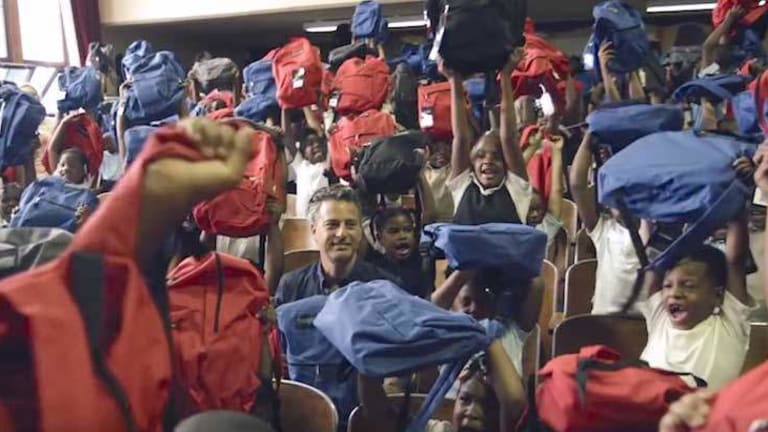 Lawyer Buys Backpacks Full of Supplies for Every School Kid in Detroit
A caring Detroit lawyer just showed the world the astonishing power of one individual's kindness.
Detroit, MI - In a city that is rife with unemployment and poverty, many residents of Detroit, Michigan have struggled to provide their children with backpacks and school supplies. Not having the proper tools for school can make learning a more difficult endeavor.
One man, Mike Morse, has stepped up to this challenge, providing every child in the Detroit elementary public school system with a backpack filled with school supplies like markers, erasers, folders, pencils, notebooks, and other educational goods.
The selfless act, by the Mike Morse Law Firm, which invested nearly half a million dollars into the project, provides a model for others, with the financial means and will, to be able to assist people more directly.
The 23,000 backpacks filled with school supplies cost roughly $20 each, and were welcomed by smiling students beginning a new school year.
"I think it teaches them that there are people out there in the community that care about them," Mike Morse said in a video discussing the project. "They want them to succeed, they want them to win at life."
Filmmaker Sean O'Grady, spoke with a family new to Detroit who were extremely limited financially which made them unable to afford school supplies for their twin fifth-graders.
"As a result of the donation, they now have all the supplies they need to start the year. The entire family of 5 was incredibly grateful and it was really moving," O'Grady said, according to the Good News Network.

"They heard nothing but bad things about Detroit before moving there, but this helped them realize that there are generous people everywhere."
The Mike Morse Backpack Fund is now collecting donations to go toward helping to expand the program to include every elementary student in Michigan.
This amazing story shows the power of one person using their means to assist their community voluntarily, without the use of any legalized theft (taxes), coercive force or bureaucratic waste.
Mike Morse has created a model for others across the nation to follow that is making a tangible difference in the city of Detroit.
Please share this amazing story if you want to see more people helping one another and less government sponsored theft, waste and bureaucracy.