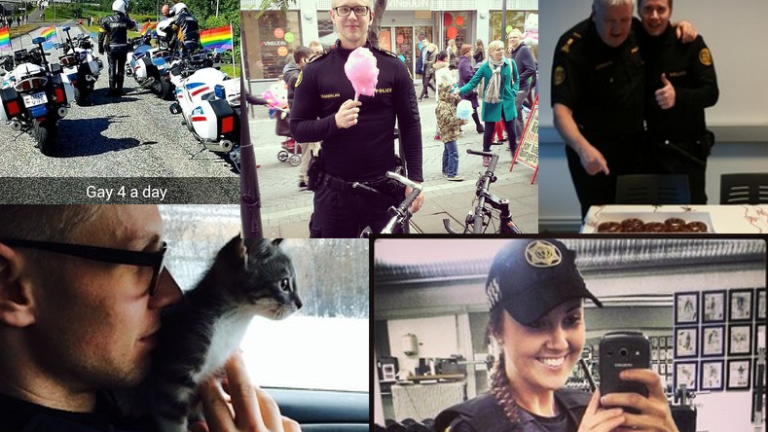 Meet the Most Lovable Police in the World and Their Fascinating Instagram Account
We've searched high and low, and we've finally found the most lovable police force in the world, and their amazing Instagram account. Seriously it is pure gold!
In Reykjavík, a city of approximately 325,000 people, the citizens are heavily armed- while the police are unarmed.
The only officers that carry firearms are on a special force called the Viking Squad, who are rarely used, unlike the estimated 50,000 SWAT deployments per year here.
Hard drug usage is low and Iceland has one of the lowest crime rates in the world, including a near absence of gun violence by citizens as well as police, with only one police shooting on record- ever.
Unlike our "brave men and women" (ha) in blue in the United States, these officers serve and are part of the community they protect, and it does not go unrecognized. With nearly 300 photos and over 75,000 followers, their Instagram is cute, clever, and unarguably endearing.
Lets compare some of the differences, shall we?
Here is an officer from Reykjavík with an adorable kitten.
Meanwhile in the United States...
In Reykjavík, officers don't take themselves too seriously and posted this awesome photo to their Instagram with the hashtag #Selfie. There is also this gem- Meanwhile in the United States...

Like everyone else, these Icelandic officer's also like to take regular selfies when they are just feeling good and confident. United States, well...

The caption for this one has nothing to do with arresting or hassling this man, it simply translates to "summer is preparing for arrival, this will be a great summer." Here at home...

Ok, Reykjavík, now you must be trolling. US attempt... They also enjoy skateboarding- We give credit when it is due, and hey look, we have a skateboarder cop, too!

Skateboarding cop aside, the United States Police could really learn a thing or two from these Icelandic officers.
Maybe instead of shipping our officers to Israel to learn about drones and more ways to violate our privacy and harm us, we should send them to Iceland to learn about peace and nonviolence.
Here are a few more of our favorites.