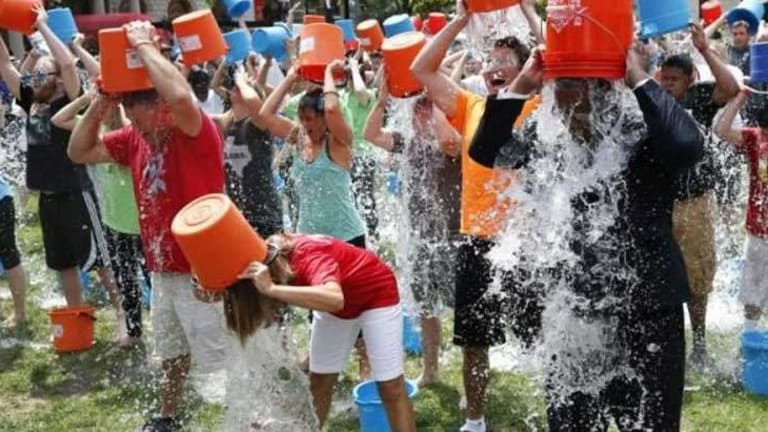 Remember the 'Ice Bucket Challenge'? It Actually Worked, Leading to Remarkable ALS Breakthroughs
The much-maligned Ice Bucket Challenge has lead to a breakthrough in the study of ALS and a potential cure!
Baltimore, MD – A grad student at John Hopkins Medical School, in Baltimore, Maryland, has reportedly made a potentially game changing breakthrough in the battle against ALS, which he is partially crediting to the Ice Bucket Challenge, a social media campaign that took Facebook by storm.
Around this time last year the Ice Bucket Challenge became a viral Internet sensation, as people's newsfeeds were filled with videos of friends pouring buckets of ice water on their heads in an effort to raise awareness about amyotrophic lateral sclerosis, commonly know as ALS or Lou Gehrig's disease.
The catch was that once nominated for the challenge, one could either choose to take the challenge or opt out and donate to an ALS research charity.
As the social media campaign became a viral sensation, it also became the target of criticism, with some claiming that the heavy attention to ALS would take away from donations to other worthy causes. Others were duped by a story that first appeared on a "satire site," which incorrectly claimed that the vast majority of money collected by the foundation was spent on "fundraising, overhead, executive salaries, and external donations."
Now one year later, after raising over $220 million dollars in donations, grad student Jonathan Ling and his professor Philip C. Wong Ph.D. believe their research could lead to slowing the progression of the disease or even a potential cure in the future.
According to a report in The Washington Post:
The breakthrough research unravels the mystery about a protein called TDP-43. About a decade ago, researchers discovered that ALS patients often had clumps of the protein outside the nuclei of their brain cells, but it was unknown whether that was a cause or an effect of the disease.

In a study of the protein in mice cells, published last week in the journal Science, the Johns Hopkins scientists detail how TDP-43 — which is supposed to decode DNA — break down and become "sticky." They are unable to properly read the DNA and the cell dies within a few days.

When the researchers inserted a special protein designed to mimic TDP-43 into the neurons, the cells came back to life and returned to normal. That's sparked fervent interest that the treatment could possibly be used to slow down or even halt the disease.
At the height of the Ice Bucket craze, during August and September, over 17 million people—including numerous celebrities— uploaded their own videos, driving charitable giving to over triple what the organization had received in the previous year, according to the Good News Network.
Wong's team has been researching ALS for almost a decade, but the duo partially credits the millions brought in by the challenge as being crucial in allowing for the financial backing to pursue "high risk, high reward" research.
"Without it, we wouldn't have been able to come out with the studies as quickly as we did," said Philip Wong, a professor at Johns Hopkins who led the research team. "The funding from the ice bucket is just a component of the whole — in part, it facilitated our effort."

"The money came at a critical time when we needed it," Wong said.
It's estimated that there are around 15,000 Americans currently living with ALS, which usually kills those diagnosed within two to five years. Currently there is no cure for ALS, with it accounting for roughly 7,000 deaths annually.
While the Ice Bucket Challenge was criticized by some on social media, with a 4,100 percent increase in donations for ALS research from 2013 to 2014, from $2.8 million to $115 million, the campaign seems to have found just the right niche to drive charitable giving.
The next phase of the research for Wong's team will entail conducting more experiments to see if the mimicking protein could be used as a model to treat mice. If successful, human trial would be the final step. Fixing the dysfunctional protein will take time, and undoubtedly more research money.
The researchers hope to use this breakthrough as a platform to call for people to once again participate in the Ice Bucket Challenge and help raise awareness and funding for ALS research.
" width="790" height="444" frameborder="0" allowfullscreen="allowfullscreen">
Jay Syrmopoulos is an investigative journalist, free thinker, researcher, and ardent opponent of authoritarianism. He is currently a graduate student at University of Denver pursuing a masters in Global Affairs. Jay's work has been published on BenSwann's Truth in Media, Truth-Out, AlterNet, InfoWars, MintPress News and many other sites. You can follow him on Twitter @sirmetropolis, on Facebook at Sir Metropolis and now on tsu.