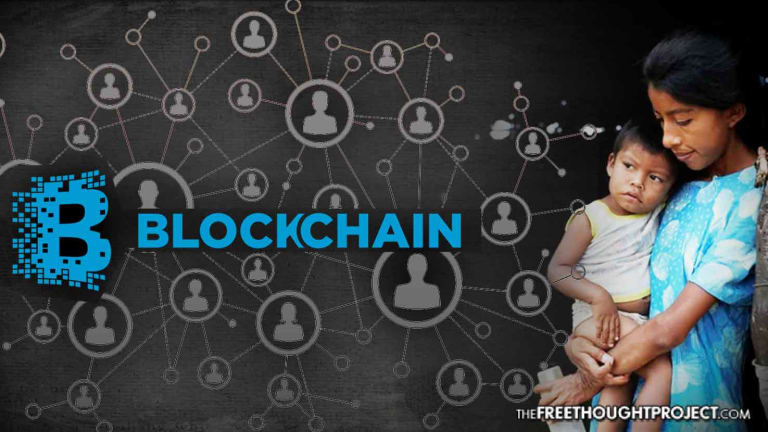 As Malnourishment Skyrockets in Venezuela, Unique Blockchain Technology Used to Feed Starving Kids
The face of philanthropy and charity is changing thanks to the blockchain. The power to affect positive change in this world is no longer centralized among the few, but spread out among the many.
All too often, the blowhards within the political establishment jump at any chance they get to smear blockchain technology and cryptocurrency—writing it off as a tool of criminals and black markets. However, nothing could be further from the truth. As the example from Venezuela below proves, blockchain technology is enabling a level of philanthropy unlike the world has ever seen.
Earlier this year, the U.N. children's agency UNICEF said it was seeing clear signs of a growing malnutrition crisis in Venezuela, but it lacked data to give precise information and to tackle the problem effectively.
"While precise figures are unavailable because of very limited official health or nutrition data, there are clear signs that the crisis is limiting children's access to quality health services, medicines and food," UNICEF spokesman Christophe Boulierac told a regular U.N. briefing in Geneva in January.
"When it's about fighting child malnutrition, it's not a time for discussing, it's time for action," Boulierac said. "Acting to fight malnutrition requires data, and there's not enough official data right now and there's not enough coordination."
While the UN waits for the proper data to take action, others aren't waiting. Fundación Sin Tabú , a non-profit Venezuelan organization that runs various social programs, has found an unlikely partner on the blockchain to help fund their new project to feed children. That partner is DASH. 
As the Diario Bitcoin reports, "the organization, which began participating in the Dash Venezuela conferences at the end of last year, has been able to raise, since then, a significant fund with digital currency, which has allowed significant economic support to strengthen the six social projects that [sic] lead."
Using the Dash funds, the non-profit is opening a soup kitchen to feed "at least one meal with the quality and nutrients that children need" to less fortunate children in the area.
As Dash Force News Venezuelan NGO Helps Feed Children with Dash
">reports, the initiative was part of the Alimenta Un Sueño program, which was a collaboration of many organizations, including the Alimenta Venezuela foundation. The program estimates that it will benefit 50 school-aged children, which will help greatly since the organization estimated that the number of malnourished children in the capital increased from 54% to 68% over just four months in 2017.
The reason using Dash is so effective is that the currency in Venezuela has been printed to the point that it devalues on a daily basis. Holding it only makes one poorer. That's where Dash comes in.
The inflation in Venezuela is so bad that it is very unwise to hold wealth in Bolivars. Many citizens have to immediately buy groceries with the Bolivars that they earn through their job or convert to USD to hold their wealth or else they risk losing much of their value over a couple weeks or months. However, many are now converting into cryptocurrencies, including Dash. This is important to note since many in the developed world complain that cryptocurrencies are too volatile to be used as currencies. In countries such as Venezuela, where getting USD usually requires going to a black market and paying a premium, cryptocurrencies provide an easier and cheaper way to hold wealth in a relatively stable state. This has come quite in handy for many organizations like Fundación Sin Tabú, who not only need their donations to hold their value, but also find new sources of donations. The Dash community has demonstrated itself to be a very helpful and caring group, which appeals to charity organizations.
While the scope of this single project may be particularly small at the moment, the possibilities to affect change on a massive scale are increasing daily.
As the Free Thought Project reported last week, Dash is also funding projects in Africa, to make sure children have access to healthy food, an extensive library, and athletic activities. The program centers around a soccer team called the Dash Leopards and they are the first in the world to be funded by blockchain technology.
The effort was organized by Slottle Addams, a software developer, network engineer, and university lecturer, who is also responsible for Dash-Africa, a group dedicated to promoting cryptocurrency in the region and organizing programs and events to enrich local communities. Addams then hired Hangberg coach and mentor Ricardo Phillip, who is well known for getting kids involved in sports.
"The aim of Dash Leopards is to motivate the kids and provide them with life insights so that we can send them on their way to successful lives," Phillips said. "In Hangberg our kids are faced with a lot of negativity, so our aim is to introduce something positive into their lives. With the addition of the under-15 players in February, our numbers will be up to 45 so we are growing all the time."
A sponsorship from Dash pays for everything the organization needs—from uniforms, balls, and goal posts, to meals and other amenities. Thanks to this program, 25 young soccer players from Hout Bay had the opportunity of a lifetime to compete in an overseas tournament later this year.
On a daily basis, TFTP receives messages and emails from people asking what they can do to peacefully fight the establishment and help make a better world. Many people feel that being an individual doesn't allow them to have any influence. However, that is not the case.
As Samuel Adams said "It does not take a majority to prevail… but rather an irate, tireless minority, keen on setting brushfires of freedom in the minds of men."
You can be the change you want to see right now. It is as simple as choosing to abstain from the violent corrupt old system and participating in the new and peaceful system that hands the power back to the people. DASH is a major part of this system.
DASH digital cash takes the control the banking elite has over money and gives it back to the people and, as the cases in Venezuela and Africa illustrate, it is working. It is the ultimate weapon in the battle against the money changers and information controllers.