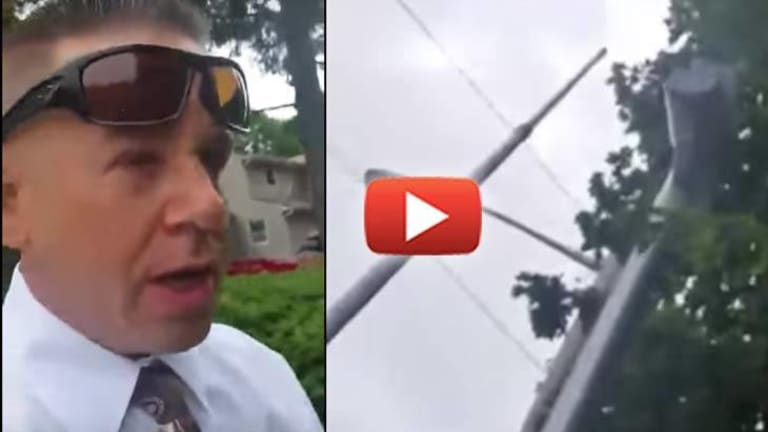 "Red Light Robin Hood" Man Makes Video Showing How to Disable Traffic Cameras in Just 1 Minute
A long Island man is being revered as a hero by the citizens for his traffic camera activism. However, the police don't agree and they arrested him.
Long Island, N.Y - 42-year-old Stephen Ruth was recently arrested for disabling traffic cameras, and even making YouTube videos of him in the act, showing other people how they too can disable traffic cameras fairly easily. In the past, it has not been unusual for people to vandalize traffic cameras anonymously and in the dark of night, but for someone to do it proudly and broadcast it on YouTube is truly unprecedented.
Ruth was frustrated after receiving six tickets, and wanted to make a statement about the revenue generating scam, so he decided to get creative.
In the video, Ruth used a pole to shift the view of the camera into the sky, saying that he saved innocent drivers "at least 10,000 today."
As soon as the video went viral, Ruth quickly became known as the "Red Light Robin Hood" and was soon arrested by police as well.
"[The red light cameras are] abusive. People are making full stops and they're still getting tickets. Make a right after making sure no one is coming on the left, and you still get the ticket in the mail,"Ruth told NBC 4 New York.
"It's abuse on the hard-working American and with the taxes we pay; it's not necessary," he said, adding that he was proud of what he did, even though he got arrested. In fact, Ruth said that he was fully prepared for an arrest.
"Naturally, I thought I was going to be arrested. I thought it was a cause I was willing to fight for and I am still willing to fight for otherwise I wouldn't be incriminating myself on Facebook," he said.
Suffolk Police Commanding Officer Milagros Soto says that Ruth is a criminal and not a hero. "[The red light cameras are] placed at specific locations where there's been high rates of crashes. Tampering with these cameras is a crime," Soto said.
Ruth was charged with four counts of second-degree obstruction of governmental administration and four counts of third-degree criminal tampering.
" width="790" height="500" frameborder="0" allowfullscreen="allowfullscreen">
John Vibes is an author, researcher and investigative journalist who takes a special interest in the counter-culture and the drug war. In addition to his writing and activist work, he organizes a number of large events including the Free Your Mind Conference, which features top caliber speakers and whistle-blowers from all over the world. You can contact him and stay connected to his work at his Facebook page. You can find his 65 chapter Book entitled "Alchemy of the Timeless Renaissance" at bookpatch.com.