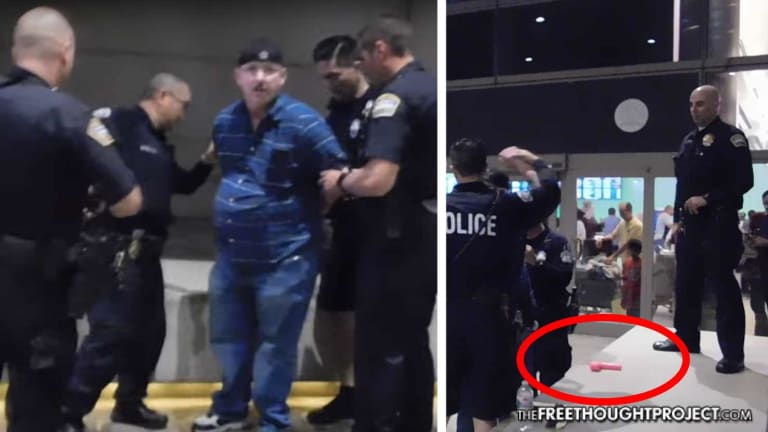 WATCH: Man Swarmed by Cops, Detained, Cuffed—for Carrying a Pink Dildo
A man was held at gunpoint, detained, and handcuffed by police at an airport for carrying a bright pink dildo in his gun holster.
A man was held at gunpoint, detained, and handcuffed by police at Los Angeles International Airport for being in possession of a bright pink dildo. The man, who has yet to be identified, packed his pink marital aid in a holster, strapped to his waist and held in place by a belt.
While it seems safe to say that the man was baiting police into arresting him for open-carrying a dildo in his gun holster, the encounter appears to be the work of First and Second Amendment auditors who were just as prepared to film the encounter as police were to respond to a possible "man with a gun" scenario.
"Jack," as his friend referred to him, was approached by several officers with high powered rifles, pistols, and other weaponry. They were quick to detain him, placing him in handcuffs, and then rifling through his belongings.
They first removed the pink dildo from his holster, emptied out all of his pockets, and then began to correspond with him using written messages, because he was reportedly hearing impaired.
Jack's friends were also prepared to film the pink pocket rocket event. They swooped in from many angles and refused to be shooed away from officers insisting they step back. One of Jack's friends said, "I'm more than 10-feet," adding the Supreme Court said he only has to be that distance away from official police business.
While being detained, Jack yelled aloud, "Why are you pushing me?" He can also be heard yelling, "You're dealing with someone who is deaf!" It is unclear if Jack is actually deaf or also attempting to play the role of a hearing-impaired person who has made contact with police.
As TFTP has reported, police encounters with individuals armed with guns often end with the citizens being killed by police, and according to some, have been used to propagandize the issue of gun ownership in America.
Deadly encounters with police officers have also occurred when one party is hearing impaired. Jack and his team seem to know this and are exploiting their freedoms for the sake of bringing awareness to the methodologies of the police state when dealing with gun owners and citizens with disabilities.
The videos were uploaded by a group known as the California Guardian. In the caption to the" target="_blank" rel="noopener"> Youtube video uploaded on Thursday, a description was given, which reads:
"While waiting for his flight from California to Texas TXsheepdog was detained outside the Tom Bradley terminal of Los Angeles International Airport for concealed carry of a pink dildo."
Following the link to TXSheepdog's channel we've uncovered a little bit more about the dildo packing activist known in the video as "Jack". His channel describes him as:
"TXSHEEPDOG72 is an independent journalist based in Texas. I am devoted to protecting and advancing civil liberties and civil rights in the United States of America. My videos are intended to entertain and educate those who violate these rights and those who wish to enjoy those rights."
It seems the group's activities have more to do with being able to walk around freely without being stopped, questioned, detained, or harassed. For those who are novices to the work of activists, those freedoms are known as civil liberties.
While Jack was obviously attempting to draw attention to himself, by wearing a holster inside an airport terminal, he is also evidently very concerned about being able to have the freedom to protect himself and the public without having to depend on the reaction time of the police to keep the general population safe. Engaging in one's Second Amendment rights to keep and bear arms, presumably for groups like California Guardian, should not stop at the airport terminal.
After about 12 minutes of tension-filled, adrenaline pumping, marital toy action, Jack was allowed to go on his way. But should he have even been stopped in the first place? Was his detention lawful? Should he have been placed in handcuffs? Were any of his civil rights violated at any time? Feel free to comment below.