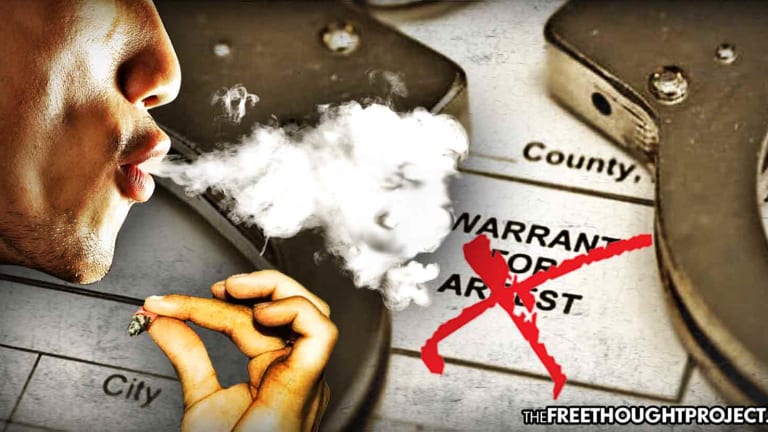 Paradigm Shift: Instead of Jailing People, New York Drops Thousands of Arrest Warrants for Weed
Forced to confirm to a shift in the paradigm on locking people up for marijuana, New York announced they will be dropping thousands of active arrest warrants.
Manhattan, NY — As TFTP reported earlier this year, after multiple district attorneys in the state announced that they will refuse to prosecute people who are arrested for possessing marijuana, New York City Mayor Bill de Blasio ordered the NYPD to stop arresting people for smoking marijuana in public. Now, however, they have taken it to another level by throwing out thousands of active arrest warrants for marijuana possession.
In May of this year, the Free Thought Project reported that New York City District Attorney Cyrus Vance Jr. announced that his office will refuse to prosecute people for possessing and smoking marijuana. Now, Vance is dropping over 3,000 open marijuana cases dating all the way back to 1978.
Vance noted that this action will serve to address racial disparities in the prosecution of marijuana offenses.
Vance moved to vacate 3,042 outstanding warrants and dismiss the underlying charges before New York City Criminal Court Judge Kevin McGrath. The judge said the cases must be sealed within 90 days, according to Reuters.
"By vacating these warrants, we are preventing unnecessary future interactions with the criminal justice system," Vance said in court. "We made the decision that it is really in the interest of justice."
While this is certainly a step in the right direction, it doesn't go far enough. It seems that Vance may be simply trying to relieve his office of the burden of prosecuting harmless marijuana smokers and attempting to claim to be the good guy along the way.
According to Reuters, Vance said that dropping all the charges would relieve his office and the court system of a massive burden. However, this move only applies to misdemeanor and violation cases in which a warrant was issued because the defendant failed to appear in court. It does not apply to any cases where a defendant was convicted, or to more serious charges like selling marijuana.
It is important to point out that Vance and de Blasio alike are not the good guys here. However, they are forced to react as the act of kidnapping and caging people for marijuana has become so reprehensible in the public eye that they are the ones who look like criminals—not harmless pot smokers.
They are politicians, moving with the current shift in the paradigm which shuns throwing people in cages for victimless crimes.
"With marijuana legalization likely to occur in our state in the near future, it is critical our city plans for the public safety, health and financial consequences involved. While I still have real concerns we must work through, it isn't difficult to see where this is headed, and any responsible policymaker must prepare for that eventuality. My focus now will be helping to craft the critical regulatory framework that must come before legalization is realized," de Blasio said earlier this year, confirming his reaction.
Despite a handful of reefer madness politicians clinging on to their war on marijuana, they are a dying breed. What's more, legal weed is the answer to so many woes currently facing the country today.
In states where cannabis has been legalized, society has not fallen apart—but has improved in many ways.
In a recently published research study in a peer-reviewed journal, Melvin D. Livingston, Tracey E. Barnett, Chris Delcher, and Alexander C. Wagenaar, it was shown that rates of opiate deaths dropped significantly in states that where cannabis was legalized.
A study published by the American Public Health Association found that states with legal medical cannabis have lower rates of traffic fatalities than states with full prohibition. The researchers analyzed 29 years of data in the Fatality Analysis Reporting System.
Another new study has indicated that the Boston Police Department has drastically increased the number of homicides they solved since they stopped making arrests for marijuana. The homicide clearance rate increased by 10 percent following the decriminalization of marijuana in the area.
The study reviewed every homicide in Boston between 2007 and 2011 and found that the department was hardly spending any time or resources to hunt down murderers. This is not a simple oversight and is obviously due to the fact that police departments don't have much of a financial incentive to solve murders.
Although the study does not mention the factors leading to the increase in solved murders, the clearance rate coincides with the decriminalization of marijuana.
As reported by the Denver Post in 2015, Colorado employers added more jobs in June than they had in any single month since official counts began back in 1939. As expected, the population has also grown in Colorado now that there is more freedom and more opportunity. According to the report, since legalization went into effect the average numbers for paychecks are also higher.
With all of this evidence, it becomes clear that legalization actually improves society, as opposed to "creating concerns for public health and safety" as the fearmongering politicians suggest.
The only thing a marijuana user has to fear from using marijuana is the state.