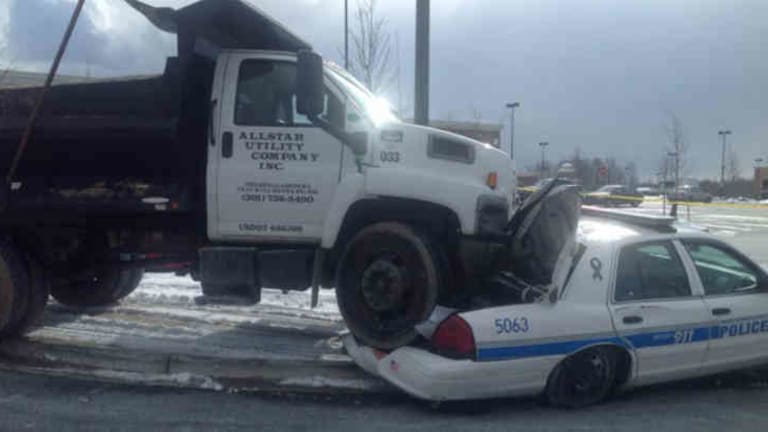 Maryland Man Snaps, Uses Dump Truck to Demolish Two Police Cars
Prince George's County, MD -- A rogue dump truck driver, apparently snapped Wednesday, and crushed two police cruisers.
Police tweeted that the accident happened in the parking lot of the Woodmore Town Center shopping center. The police cars were empty at the time. The Prince George County police are saying that the man intentionally hit the police cars and they have arrested him. They released the following statement Wednesday morning:

Two of our officers are lucky to be alive this afternoon after a dump truck driver intentionally rammed his truck into two PGPD cruisers, crushing one of them. This occurred at 11:39 am this morning at the Woodmore Shopping Center near Rt. 202 and I-95.The suspect is in custody. Our officers were outside their cruisers at the time.There were no injuries to the officers or the suspect. We are working to determine the suspect's motive.This incident is still unfolding.
The PGPD say that the man in custody will likely face 1st degree assault and related charges for this crash.

The photos in these tweets from the Prince George Police Department are strikingly similar to those taken back in 2012 in Orleans county, Vermont.
Roger Pion, after being arrested for marijuana possession, took his father's tractor down to the station and demolished every vehicle in the lot, causing $300,000 in damages.
In October we reported that Pion was not prosecuted in the charges relating to that incident.