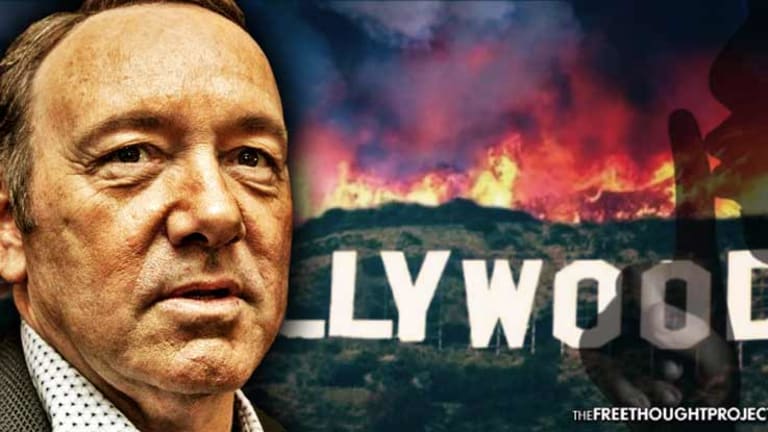 'He's a Pedophile'—Mainstream Media Silent As Kevin Spacey Accused of Trying to Rape 15yo Boy
Another man is speaking out against Kevin Spacey, and he is accusing the actor of attempting to rape him when he was 15 years old.
Award-winning actor Kevin Spacey became the latest subject of the Hollywood sex scandal earlier this week when he was accused of attempting to sexually assault a teenage boy, and now, among a host of other allegations surrounding his inappropriate behavior, Spacey is being accused of attempting to rape a 15-year-old boy.
On Sunday, Star Trek Discovery actor Anthony Rapp unveiled Spacey's sexual preference for young teenagers, alleging the actor attempted to have sex with him in 1986 when he was 14 and Spacey was 26. The news Spacey may like young boys may come as a shock to some, but the most damning story to date was published by Vulture on Thursday, which describes an ongoing sexual relationship Spacey may have had with another teenage boy.
The unnamed anonymous actor told Vulture that Spacey attempted to rape him when he was just a young teenager. According to the report, "At the age of 14, he says, he began a sexual relationship with the actor, who was then 24, that ended with what he describes as an attempted rape. The man is now a 48-year-old artist living on the East Coast with a long-term partner, and he wishes to remain anonymous."
The report claimed the man is known to staff at the magazine the New York. He reportedly told Vulture, "I have worked really hard to have a nice life and feel safe, and I'm not giving that up for him ... I don't want them to be able to find their way back to me."
The man said he first met the Spacey when he was 12 years old, and Spacey was an acting coach at a Westchester County weekend acting class. When asked what the name of the acting class was, the man replied it had no name, but went on to describe the activities involved.
"It was an hour of movement, an hour of acting, and an hour of musical comedy. It was in a church ( Saint Thomas's Church in Mamaroneck, New York), and it was a bunch of kids between the ages of probably 11 and 18, singing and acting."
After another meeting, the two exchanged phone numbers and began a sexual relationship, according to Spacey's accuser. The report claims that the information was confirmed with several of the man's close friends and his therapist.
The man, who is now in his late forties, admitted he was in an incestuous, pedophilic relationship with his 24-year-old cousin at the time he met Spacey. He described the nature of his relationship with his pedophile cousin:
"It's a shameful moment in the history of my family. But my cousin had sexually abused my older brother when my brother was 11 and he was 17 or 18. He was forgiven by my family and kind of invited back into the fold. My mother told him [to stay away from me]: "If you touch [him], I'll kill you." But then I start sleeping over at his house and wearing his clothes, and that goes on really for a year before anybody asks me any questions."
The man said the second time he met Spacey, the two were in a park and went for a walk, all the while his parents looked on. He was 14 and in the throes of a sexual relationship with his older family member, and he said he was available to engage sexually with Spacey but remembers the A-list Hollywood actor attempting to seduce him.
"He was kind of in high seduction mode and gave me his phone number and asked me to call him. He said, 'I want to see you, and I want you to come to my apartment.' He said he'd always been really drawn to me at the acting classes, but had stayed away because I was 12. So I'm like [laughs] … now that I was 14. That was probably a 15-minute walk, and then I went back to be with my parents."
Understandably, the man admitted he was excited to be getting so much attention from such a famous actor who had taken an interest in him. "I felt like I'd won the lottery. A little drunk with it and very delighted with the attention," he told Vulture. He said the very next day after the walk in the park, the two began a sexual relationship.
"I called him on the phone the next day, and he told me how he was in love with me and wanted to see me. I went and saw him at an apartment he was renting on the Upper West Side. He had a black Labrador named Snake. He might've been walking that dog in Central Park when we bumped into him that night. We started a sexual relationship that first visit, which mostly involved me f—ing him."
The man said he does not remember the two doing much talking, but claimed the encounter was full of "physical activity," and he remembered feeling like he was cheating on his much older cousin. Ironically, the man said he confided in his director, Liz Swados, and said she helped him leave the incestuous relationship with his cousin.
Even though the man made no mention that she knew anything about the relationship he was having with Spacey, he said, "She helped me get out. She ... explained to me also that 25-year-olds don't have sex with 14- and 15-year-olds, that that's wrong, that I was not the guilty party and I could leave."
Apparently, the man who was a boy at the time did not realize the same could be said of his sexual relationship with Spacey. The interview with Vulture continued with the man describing the ongoing sexual relationship, which he said lasted several years until he was 15, and Spacey wanted anal sex from the relationship.
"Of course I have a 24-year-old boyfriend and I'm going out to punk clubs. I'm lying to my parents about all of this....I'm very caught up in the drama, and it's now early winter. So now I'm 15. He was in a different apartment, also on the Upper West Side, and I called him from a pay phone, like you used to do, and said, 'I'm close by. Can I see you?' I had like 15 minutes before I had to meet my parents and some family friends for dinner. He told me to come over, and I went to the apartment. And I thought we were going to kiss and tell each other we loved each other and I was going to go. But he wanted to have sex, and this time he wanted to f— me, which had never happened to me before."
He described in vivid detail how Spacey allegedly attempted to rape him. *A warning to our readers the following account is very graphic.* 
"I guess he must have come up behind me and yanked down my baggy jeans, and he goes to fuck me and I'm like, 'No, I don't want to.' And he pushes hard, and grabs me, and starts shoving up against my asshole, and it hurts like a motherf—er. I again tell him no, and he tries again. I am strong enough, thank God, both somewhere in my brain and in my body, to get him off of me. I'm sturdy, thankfully. I throw him off of me and I run crying down the stairs and out into the street and then suck it all up and go have dinner."
He admitted to somehow still being obsessed with Spacey for quite some time after the alleged attempted rape, but then realized, in his mind, Spacey was simply a sexual predator.
"I would call him that to his face. I would call him a pedophile and a sexual predator. When I turned 25, I looked at every 14-year-old boy I could see, to try to understand what those men had seen, because I still on some level thought I had been a tiny adult. That whole year I was 25, I tried to just see the ones who were like six-foot-two, and 200 pounds — they all looked like children. They all looked like somebody who was 10 years old four years ago. Nobody looks fuckable. Nobody … I couldn't conjure it up. I couldn't conjure up the desire. It was nauseating to think of having sex with them, and that was, I think, certainly when I understood, on a very deep level, these men were fucked up. Up until then, I just thought about him as somebody who had really done me wrong and tried to rape me, but not as somebody who had functioned as a predator. And then, if you're interested in sexual predation, you start to read about it, and you realize all these patterns and techniques, and it all kind of falls within a set of practices.
The man admitted to carrying around a lot of guilt and shame by keeping the encounter inside and not telling anyone. He also said he feels strangely compelled to say he was flirtatious, willing, and desiring to have a sexual relationship with Spacey, but says it took him a long time to understand that wanting to have sex and being raped by an adult are two entirely different things. He said he is proud of Rapp for coming forward but does not want every facet of his life scrutinized by internet sleuths. That is why he says he prefers to remain anonymous yet still speak out.
"The low-level guilt that I've kind of carried all this time of knowing, in my brain, that these people repeat offend. They don't stop. It's never one and done. Pedophiles, sexual predators, that's part of it. So knowing full well that he was continuing to do this, that he was out there at large, has made me feel ashamed. So that makes me want to talk. I'm grateful to Anthony Rapp for talking, that opened that door for me. Obviously the most right thing is to put my name and speak, and the second most right thing is to be anonymous and speak. And that's what I can do. If it was 1977 and it was a newspaper, and I didn't feel like the world was going to swarm in through the wormhole of my phone and invade my life and strip me of things, and if I also didn't feel like that was going to become my name … I don't want that to be my name."
Since Vulture's explosive story broke about a 15-year-old accusing Spacey of attempting to rape him, the mainstream media has steered clear of any reference to the report. Not only did they not report the story, they chose to run with the story that members of the House of Cards staff have accused the actor of sexual harassment, giving Spacey a pass on being accused of attempted rape, which is a much more serious crime.
In fact, on ABC World News Tonight with David Muir, the only reference to the Spacey scandal was this one line, "Several new accusers have now come forward."
If the allegations of the man now in his forties are true, there may still be a number of men who were assaulted, harassed or victimized by Spacey when they were young, whose stories could help take down the accused Hollywood pedophile.