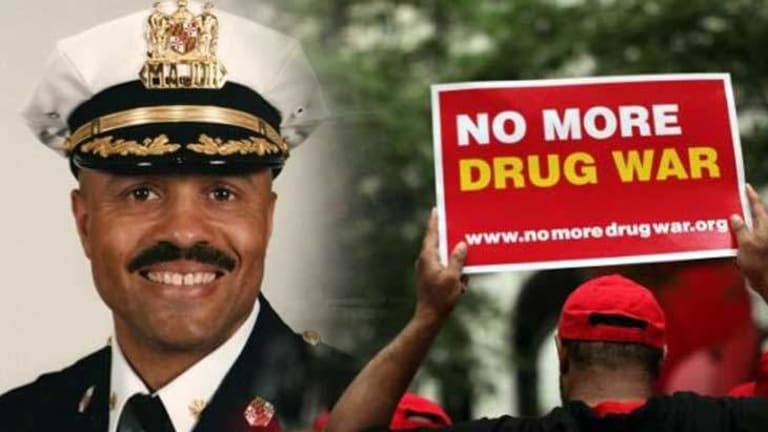 Is Hell Freezing Over? Narcotics Cop is Fighting to End the Drug War - And He's Getting an Award For It
Attention America: This is what a "Good Cop" does. Please pay attention.
Neill Franklin is unusual among cops—he recognizes that the War on Drugs is a war on people. Having witnessed fellow officers die in the line of duty for useless reasons that infringe on basic rights, he calls out the "ignorance and greed" that is spawned by current drug laws.
On Saturday, Franklin received the H.B. Spear Award for Achievement in the Field of Control and Enforcement at the Drug Policy Reform Conference in Arlington, VA.
"Franklin is being honored for his influential work changing hearts and minds both inside and outside the law enforcement community."
The 33-year law enforcement veteran worked for the Maryland State Police, including undercover and as the head trainer, and then the Baltimore Police Department where he reorganized its education and training division.
Franklin was able to overcome the role of order-following foot soldier and apply logic to see the failure and immorality of the war on drugs.
In 2010 Franklin became executive director of Law Enforcement Against Prohibition (LEAP), where he leads police, judges, prosecutors, prison superintendents, DEA agents in the fight for drug policy reforms. It takes a brave person to speak out in these professions, risking the ridicule and threats from their colleagues who cling to the absurdity of prohibition.
"Ultimately what has defined most of the world's greatest social justice leaders was their ability to self-reflect and to, when necessary, change course in order to meet the needs of the people they speak for and serve, rather than the political end that might be expedient or aggrandizing," said Asha Bandele, director of the advocacy grants program at the Drug Policy Alliance. "Major Neill Franklin stands as testimony to this as he has bravely challenged deeply upheld tenets that guided his 33-year career as part of Maryland's law enforcement community, in which he not only saw fellow officers die in the line of duty, but scores of men and women needlessly be herded off to prison because of a failed policy that made no one safer, and no neighborhood better."
The H.B. Spear is among many awards bestowed by the Drug Policy Alliance to those making extraordinary progress to end the war on drugs. Their annual conference was held in Arlington, VA on Nov. 18-21, which "brings together more than 1200 leading international experts, treatment providers, researchers, policymakers and key activists at the leading global forum on drug policy reform."
Neill Franklin has written several articles on the topic of drug laws as director of LEAP.