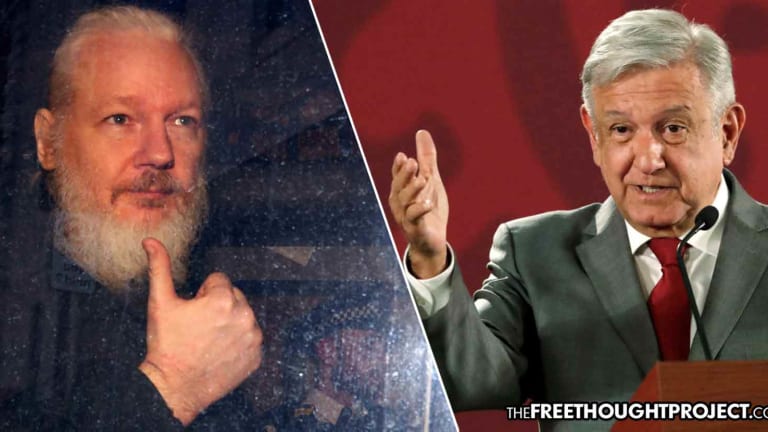 Mexican President Calls for Assange's Release, Demands 'He is No Longer 'Tortured'
Mexican President Andrés Manuel Lopez Obrador called out the horrific treatment of Julian Assange while calling for him to be released.
(Defend WikiLeaks) — At a press conference in Mexico City on Friday, Mexican President Andrés Manuel Lopez Obrador called for imprisoned Wikileaks journalist Julian Assange to be "pardoned and freed." President Obrador also called for an end to the "torture" of Assange.
Responding to a question on Assange and the diplomatic cables WikiLeaks published in 2010, Obrador said (in Spanish, original below):
"I express my solidarity [with Assange] and hope that he is pardoned and freed. I don't know whether he has said that his actions were confrontational to norms or to the political system, but what the cables demonstrated is the workings of the global system and its authoritarian nature, these are like state secrets that have became known thanks to this investigation, thanks to these cables, and I hope that this is taken into consideration and he is freed and he is no longer tortured."
The reporter's question and the President's remarks can be viewed here (from the 44:00 mark).
Barry Pollack, representing Assange in the United States, said:
"President Obrador today expressed the grave concerns that everyone who values a free press and open democracy should share. The United States has always set an example for the world with its First Amendment values. The unprecedented indictment by the United States of a publisher for Espionage is contrary to those principles."
Thursday the European Federation of Journalists denounced the "continued arbitrary detention and psychological torture of Julian Assange", in a statement joining the National Union of Journalists and the International Federation of Journalists to oppose Assange's persecution.
"We believe that the arbitrary detention and criminal prosecution of Julian Assange set an extremely dangerous precedent for journalists, media actors and freedom of the press," said EFJ General Secretary Ricardo Gutiérrez.
Assange is being held in HMP Belmarsh, where he awaits his full extradition hearing which is scheduled to begin February 24th in London. If sent to the United States, Assange would face up to 175 years in prison for publishing military documents and State Department cables in 2010, exposing war crimes, uncounted civilian casualties, and rampant corruption.
In today's press conference, President Obrador went on to say (in Spanish, original below)
"There are cables that came to light from when we were in opposition and they spoke about our struggle and I can corroborate that they are true, that is to say what is in them was accurate, they revealed illegal relationships, illegitimate acts, violations of sovereignty, contrary to democracy, against freedoms, this is what is in there.

So I express my solidarity, and my wish that he is pardoned and that it is considered, that he is liberated he could offer an apology. Liberating him will be a very just cause for human rights, it will be an act of humility on the part of the authority that has to decide on the liberty of this journalist, of this investigator, who managed to bring to light these cables that revealed information about what happened between governments. Not everything in those cables was legal. Most of the things that emerged violated our sovereignty, freedoms, and I insist, democracy. One cannot turn one's back on human suffering. One cannot apply the politics of the ostrich, of putting one's head in the sand. One has to speak out."
Assange's next case management hearing is scheduled for January 23rd.