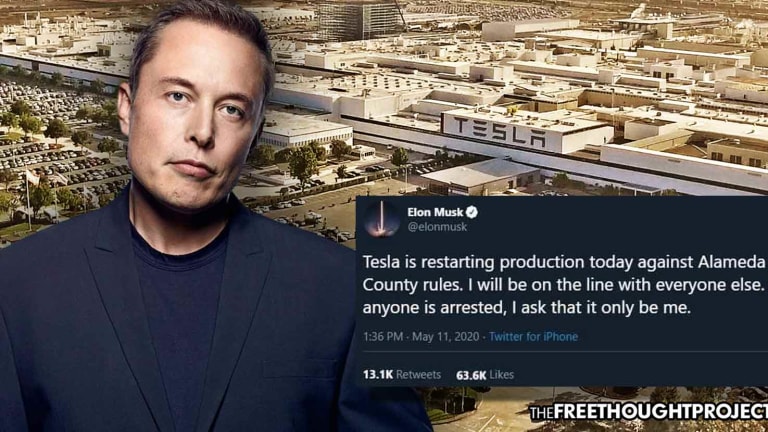 Elon Musk Openly Defies Order to Close Tesla Factory, Says He's Ready to Be Arrested
Elon Musk publicly defied the government's closure of his factory and stated on Twitter that he is opening up in defiance, even if it means he'll be arrested.
Elon Musk is no stranger to publicly stating how he feels and those who've been following him recently, know he has been particularly outspoken in his resistance to the COVID-19 lockdowns across the country. His resistance came to a head on Monday when he essentially dared cops to arrest him for reopening his factory in Alameda County.
Alameda County has a population of 1.6 million people, many of whom have been denying stay at home orders, going to the beach and other places. Most of those 1.6 million people have also been shopping in grocery stores and exposing themselves to others for months during the lockdown. However, out of this 1.6 million, there have been only 2,100 confirmed cases of COVID-19. In the entire state of California, hospital bed occupancy is at less than 10% capacity. If we look at the numbers alone, officials are losing the case for maintaining a total lockdown.
Nevertheless, businesses deemed non-essential remain closed, which includes the Tesla factory. On Monday, however, that all came to a halt when Musk tweeted, "Tesla is restarting production today against Alameda County rules. I will be on the line with everyone else. If anyone is arrested, I ask that it only be me."
Despite the claims of reopening, the billionaire entrepreneur was not arrested. Alameda County and Elon Musk have been at odds over the closure of the Tesla factory for weeks. According to CNN Business, Musk has argued that restrictions put in place by Alameda County closing non-essential businesses, where Tesla's Fremont factory is based, are overly aggressive and unconstitutional. On Saturday, the company filed a federal lawsuit against the county. Musk has also threatened to relocate Tesla's manufacturing out of California. According to Musk, the state of California had approved the dealership as an essential business but he says "an unelected county official illegally overrode" that decision. When asked about this decision on Monday, Gov. Gavin Newson deferred all questions to the county, refusing to answer for himself. "Again, it's county-led enforcement," he said. Still, Newsom said he had "great reverence" for Tesla and its founder and said he had spoken to Musk "a number of days ago." In response, Musk tweeted: "Thank you Governor Newsom!"

After Musk announced the reopening on Monday, Alameda County officials released their own statement, stopping short of explicitly demanding Musk shut down operations.
"Today, May 11, we learned that the Tesla factory in Fremont had opened beyond Minimum Basic Operations. We have notified Tesla that they can only maintain Minimum Basic Operations until we have an approved plan that can be implemented in accordance with the local public health Order," the county said.
"We continue to move closer to an agreed upon safety plan for reopening beyond Minimum Basic Operations by working through steps that Tesla has agreed to adopt," the Alameda County Public Health Department said in a statement. "These steps include improving employee health screening procedures and engaging front-line staff on their concerns and feedback regarding safety protocols."
After his tweet on Monday, Musk received an outpouring of support for his decision with the tweet receiving nearly a half million likes and tens of thousands of retweets.
It was not all support, however. Many folks claimed that Musk's decision to reopen the factory will lead to people dying. Others said he should be arrested and put in jail. Time will tell how this plays out. As TFTP has reported, Musk is a man of his word. We'd be willing to bet that the same people claiming he should be thrown in jail for trying not to go bankrupt and reopening his factory, are the same people who praised him for his actions in Flint, Michigan. When a Twitter user openly challenged Elon Musk and questioned whether he was capable of providing clean water to residents in Flint, Michigan, he responded and pledged his commitment to the cause, which sparked a campaign to help the citizens who have been neglected by local and state governments. A few months later, he made good on that promise. As we reported in 2018, the Flint, Michigan school system put out a tweet thanking him for holding true to his promise to help fix their water.

This was later confirmed in a follow up article by mlive.com who noted that Musk will pay for filtration systems at all Flint schools.
Love him or hate him, Musk is a man of action and a brilliant one at that. If he is reopening his factory it is because he has assessed the risks and knows there are few.